Celebrate Galentine's Day with the Best Girl's Night In Cookie Decorating Party
Of course we all know about Valentine's Day, but did you know about Galentine's Day? Galentine's Day falls on February 13th every year. Yep, the day before Valentine's Day. This day is all about celebrating the female friendships and bonds you have been blessed with in your life. What better way to celebrate this day than with a girl's night in?
You will want some fun rom coms, good food, delicious drinks, and a fun activity! Might I suggest a cookie decorating party with buttercream iced cookies? This is guaranteed some laughs, creativity, and, of course, dessert!
Here are my four steps on how to host the best cookie decorating party for your girl's night in Galentine's Day celebration! Plus, tips for how to host a virtual cookie decorating party for our COVID times.
Scroll down to the bottom of this page to find the "Bonus: Can This be Adapted for a Virtual Cookie Decorating Party?" to find those tips!
*This post may contain affiliate links, which means I may receive a commission, at no extra cost to you, if you make a purchase through a link. Please see my full disclosure for further information.*
Step 1: Gather your Cookie Supplies for your Galentine's Day Cookie Decorating Party
Recommended Tutorials to Follow
The easiest way to figure out the supplies you will need for your party is to follow one of my tutorials for creating buttercream iced cookies. Each tutorial contains a list of supplies you need with directions for how to create these cookies yourself. Here are some cookie tutorials I'd recommend checking out for a Galentine's Day girl's night in party – just click on the photo to be taken to the tutorial!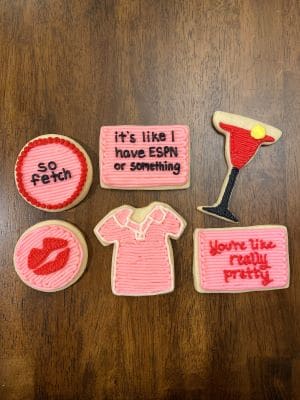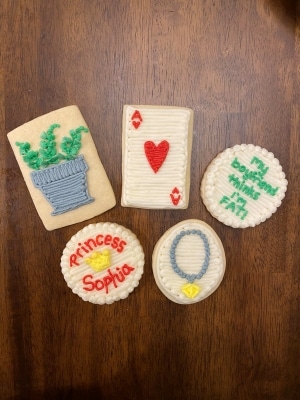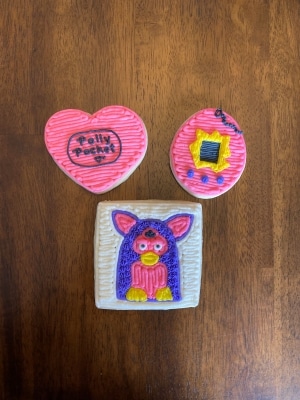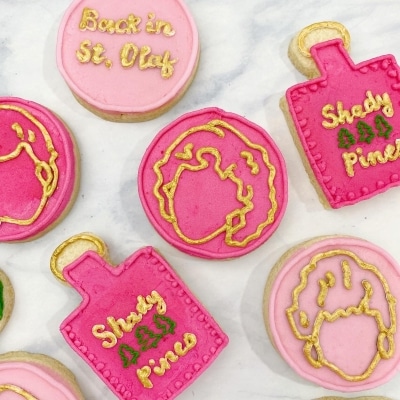 For more girly tutorials, check out my Valentine's Day Tutorials! Remember, each tutorial will walk you and your girlfriends through each step and all the specific supplies needed.
If You'd Rather Go Rogue & Design Your Own Buttercream Iced Cookies
I promise I won't be offended if you decide you want to do your own thing. It's your Galentine's Day celebration!
The best thing I'd recommend you buy is a kit that has the majority of the things you will want to create your buttercream iced cookies. I purchased this kit over a year ago and use it every single time I decorate buttercream iced cookies. The reason I'd recommend this kit for a girl's night in cookie decorating party is because it has more than just one of each item. That way, you don't have to constantly be sharing tools and waiting on your girlfriends to finish their buttercream iced cookies before you can start. The kit includes:
12 icing bags (which means you can have up to 12 different frosting colors)
16 various decorating tips
Two flat angled spatulas to smooth frosting
4 couplers (which allow you to switch tip designs between different colors of frosting)
And many other items (there's 48 items included) to help you host the best cookie decorating party
You will also need some basic cookie baking & decorating supplies, if you don't already have them:
Step 2: Gather your Party Supplies for your Galentine's Day Girl's Night In
To host the best Galentine's Day celebration, you will want to gather some essential party items. I'm talking guilty pleasure foods, tasty drinks, decorations, and some romantic comedies.
For food, I'm thinking pizza, hot wings, take out Chinese food, various chips & dips, or anything else that's not even remotely healthy. Maybe swing by the drive-thru in Taco Bell and order a few of those party packs. This is not a night to be on diet.
If you and your friends are all for the alcoholic drinks, check out this "Girls Night In" cocktail recipe book! It has great reviews on Amazon and once I'm no longer pregnant, I can't wait to try some of these myself!
Sounds like the perfection addition for your Galentine's Day celebration to me! Of course, you can also get some wine or beer if that's what your friend's prefer.
Every girl's night in party is going to need some romantic comedies playing as well. These can be played during the cookie decorating if it's a movie everyone has seen a billion times (which is likely the case). Or, play the movies to wind down the night. Here are some of my favorite Rom Coms to get you inspired!
And lastly, some party decorations. You don't need much if the focus is going to be on cookie decorating and rom com movies, but we should still set the scene. For a cookie decorating party, it's best to focus on the kitchen table or wherever you will be decorating cookies and eating food. Grab a girly plastic tablecloth, some napkins, and fun straws and plates. You could even get a way with a fun Instagram DIY photo backdrop. Take photos at the beginning of the party and then again at the end, just to see how those moods changed with the alcohol, salt, fat, and sugar!
Here are some fun finds I found on Amazon to get you inspired!
Step 3: Before the Guests Arrive
Okay, so since you are playing host for this Galentine's Day cookie decorating party, it's important to do a bit of research on how to decorate buttercream iced cookies! But don't worry, I have you covered. Hop over to my Getting Started: Learn How to Decorate Buttercream Cookies page to learn all of the basics.
I promise that decorating buttercream iced cookies is not hard! Remember that Mean Girls tutorial I linked at the top of this page? Would you believe me if I told you I created that tutorial within the first month of ever decorating a sugar cookie in my life? Well, it's true! I decorated my first sugar cookie in January 2020 and shared that tutorial January 30th, 2020!
If you are planning on following one of my tutorials, hop over to that page and do a quick read-through of all the steps first. This way you can play teacher for your friends. Remember, it doesn't need to be perfect. It's all about having fun!
Step 4: Hosting Your Galentine's Day Cookie Decorating Party!
Okay, Galentine's Day has arrived and it's time to get this girl's night in party started! I would recommend baking your sugar cookies & getting the frosting ready early on in the day. The cookies & the buttercream frosting can both be stored on the counter all day. Plus, the earlier you add the gel food dye to your buttercream frosting, the more the color will develop and deepen. 
You can also go ahead and add all of the frosting colors into the icing bags. If you are following one of my tutorials, just follow the directions there. If you are going rouge, it's best to throw couplers into each bag so that you can change out the tips as you decorate. Remember, I have a tutorial for how to do this in my Getting Started: Learn How to Decorate Buttercream Cookies page.
Now all you need to do is set up your decorations, make sure your movies are by the DVD player, and get your food ordered for delivery!
When your guests arrive, offer them a drink, serve up some food, decorate some cookies, and watch some movies! I hope you make some great memories with your girlfriends this Galentine's Day! It's all about showing love to those special friends of ours on this day.
Bonus: Can This be Adapted for a Virtual Cookie Decorating Party?
The short answer is: yes! You can adapt this for a virtual cookie decorating party. It will look different for obvious reasons and I have a few tips I'd like to share for how to do this the best way possible:
Gift all of your "guests" a cookie making kit ahead of time. Your kit should include:

cookies already baked and in the desired shapes – Limit to one cookie per design per person! This way each person makes about 3-5 cookies. To ship the cookies, follow your local shipping laws. It's best to wrap the cookies in bubble wrap and make sure there isn't any room for movement. Stick a fragile sticker on there as well. You will want a square box as well, don't use those bubble wrapped shipping packages. Worst case, the cookies break, and your guests will need to "glue" them back together with some frosting as they decorate. Of course, you can always drop them off in baskets if your guests live close to you!
premade frosting, colored and placed into the icing bags with the tips already in them – Remember this kit I recommended purchasing? Just divvy that up between guests. I would go ahead and purchase some extra tips from Michaels (usually around $2 per tip) so that guests can easily decorate their cookies. Remember to check out any of my recommended tutorials to know which tips are needed. *Note – this sounds like expenses are adding up but to be fair, you won't be purchasing any decorations and the only food/alcohol you need to serve is to yourself. You will likely come out even or it may even be cheaper if your guests live close and you don't need to ship them anything!  
a print out guide of the tutorial for all of the guests to follow – If going rogue with your own design, print off my Getting Started: Learn How to Decorate Buttercream Cookies page for everyone to reference the basics.

Have all of your guests watch the same movie – it's probably best to pick a rom com on Netflix or any streaming service that all of your guests have access to.
Tell all your guests to pick up their favorite food or snacks and to make some drinks. It's fun if everyone makes the same drink, of course, but it's not necessary.
Send out an invite via Zoom or whichever platform you prefer.
Host the party! I'd do the same order of events – make sure everyone has their drink in hand and food prepared, decorate the buttercream iced cookies, & watch the movie together while eating the cookies! If your Zoom session is short on time, you can do a conference call while watching the movie.
Save This Guide for How to Host The Best Galentine's Day Cookie Decorating Party for Later!
Use any of the social share icons on this page to share this guide for decorating buttercream iced cookies to your favorite social media site! Alternatively, hover over the image below to be able to save it to your Pinterest profile!