Getting Started: Learn How to Decorate Buttercream Cookies for Any Party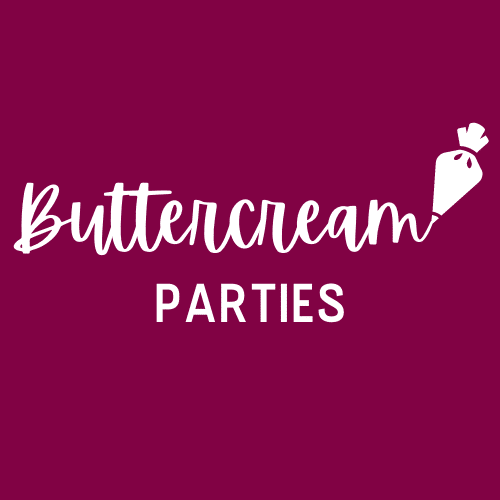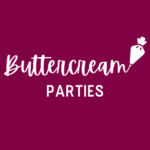 How to Decorate Buttercream Cookies for Cookie Decorating Beginners
Here is my guide to learn how to decorate buttercream cookies for cookie decorating beginners. This guide includes:
the cookie decorating tools I use and recommend
what a coupler is and how to decide if you need one with two easy questions
how to use a coupler
how to use an icing bag without a coupler
Understanding the Basics to Decorating Too-Pretty-To-Eat Buttercream Sugar Cookies
If you've never decorated sugar cookies with buttercream icing before, please check out my beginner's course! This course is designed for cookie decorating beginners who wants to learn my techniques for decorating the most delicious and too-pretty-to-eat buttercream sugar cookies. You will learn how to pipe beautiful lines onto your cookies and how to make your own cookie cutters. Check it out here:
Learn How to Decorate Buttercream Cookies
What to Purchase:
The Basics
*This post may contain affiliate links, which means I may receive a commission, at no extra cost to you, if you make a purchase through a link. Please see my full disclosure for further information.*
Of course, you will need to purchase some basic baking equipment.
I was blessed with a KitchenAid stand mixer as a wedding gift. However, if I had to purchase it on my own, I'd do it. This mixer is worth the money. Even if you don't mix sugar cookies and buttercream frosting as often as me, you will likely use it for every day baking. I even use mine to shred my chicken! 
I recommend this best rated but cost efficient KitchenAid stand mixer. It has five star reviews and it's worth it.
You will also need a rolling pin. This rolling pin is highly rated among the cookie community because you can roll even cookies to 3/8 of an inch or 1/4 of an inch, both perfect for sugar cookies. 
Make sure to purchase some baking sheets as well. I prefer to use sheet cake pans instead of smaller cookie baking sheets.
The Fun Tools Needed to Decorate Sugar Cookies
The easiest way to learn how to decorate buttercream cookies is to just start decorating cookies! You will want to purchase a few items to get started. I definitely recommend purchasing a beginner's kit. I have purchased two kits and found them both helpful. One kit has pretty much everything you need to get started and can be purchased here: 
The other kit I have is a set of tips. I haven't used any tip sizes that aren't included in this kit for any of my tutorials. Plus, this comes with two flower nails which are handy when piping roses. You can purchase this kit here: 
You can get away with purchasing just one of each size of tip. It may take you longer to do your cookies, though. If you want to stick with just one of each size for now, make sure to invest in a set or two of couplers. Couplers allow you to change the tip on your icing bag so you don't need to use as many icing bags and tips, saving you time and money. Below, I will explain how to use a coupler. For now, here is a four pack of Wilton ones from Amazon: 
For icing bags, I prefer the Wilton brand. I have tried some of the off-market ones and didn't enjoy them much. I also prefer to use the smaller, 12″ bags, so I'm not being wasteful. Here is a set of 25 12″ Wilton bags that I'd recommend:
A lot of people love the look of royal icing cookies but hate how they taste. I am one of those people. To compromise, quite a few of my tutorials include how to smooth buttercream frosting. You get a clean look that is tasty! To smooth buttercream, you will want an angled flat spatula. I love the 9″ size for cookies. You can purchase one of those here:
I prefer to use a silicone baking mat rather than spraying a cookie sheet. It is so much easier to clean and your cookies won't have an oil flavor on the bottom. I actually like to have two mats and two cookie sheets. This way, you can prepare all of your cookies at once, since most pans only fit six cookies at a time. Here is a two pack I recommend: 
As far as food coloring goes, definitely go with a gel formula as opposed to liquid. These are much more potent, and, because they are thicker, they are less likely to mess up your icing consistency. A popular pack to go with in the cookie community is Americolor. However, I purchased the Wilton brand due to the cheaper price and have loved them. Here is the link to purchase the same 12-pack that I have from Amazon: 
There is an endless supply of cookie cutters out there. My favorite brands are Wilton and Ann Clark Cookie Cutters. If you don't already own the "101 Cookie Cutters" by Wilton, you are missing out! I also love the Ann Clark Every Season cookie cutters. Check out these essential cookie cutters here: 
Make sure to check out Ann Clark's website for a bunch of fun cookie cutters, too! www.annclarkcookiecutters.com
If you aren't confident on your piping skills or you just want to add some fun to your cookies, I highly recommend using sprinkles. To hide imperfections, coat either the whole cookie or part of the cookie with sprinkles. I absolutely love Fancy Sprinkles, which you can check out by clicking on the photo below.
Setting up Your Icing Bags – How to Use a Piping Bag Without a Coupler & How to Use a Coupler
Setting up your icing bags is very simple. The two main things to keep in mind is knowing whether or not you will need a coupler and making sure you do not cut off too much of the icing bag.
You will know if you need a coupler or not by first asking yourself if any of your tip sizes need to be shared among different colors. If yes, then you will either need a coupler or you will need more than one of that tip size. The other question you need to ask is whether or not one icing color will need multiple tip sizes. If the answer is yes, you will need either a coupler or multiple bags of frosting for that color.
For how to use a piping bag without a coupler, simply put your tip into the uncut bag and push it to the bottom.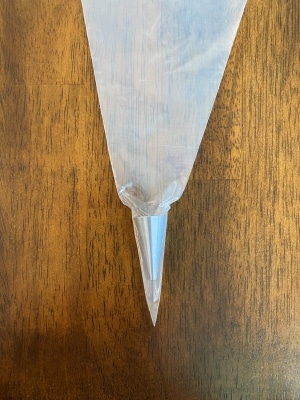 Make your cut about halfway through your tip and you should be set! So easy!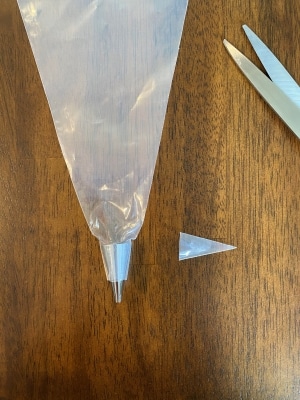 For how to use a coupler, you will first need to put the coupler into the uncut bag. Make sure you unscrew the ring around it first.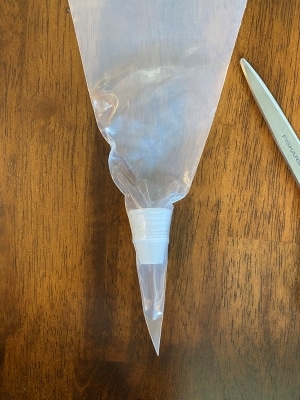 Make your cut just below the area with the threading.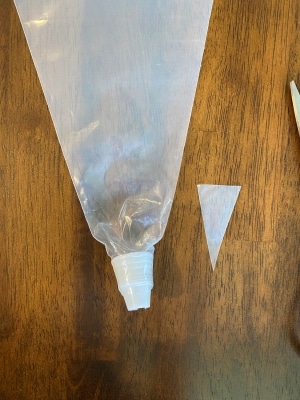 Take your tip and put it onto the end of the coupler. If you can, put the tip underneath the bag's edges.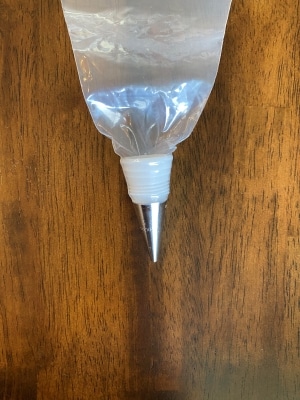 To secure the tip, you will screw the ring around the treads. I hold the bag in my hand and use my thumb to hold the tip in place while I am doing this. You can see that it's not too difficult to learn how to use a coupler and it will save you money by using less icing tips.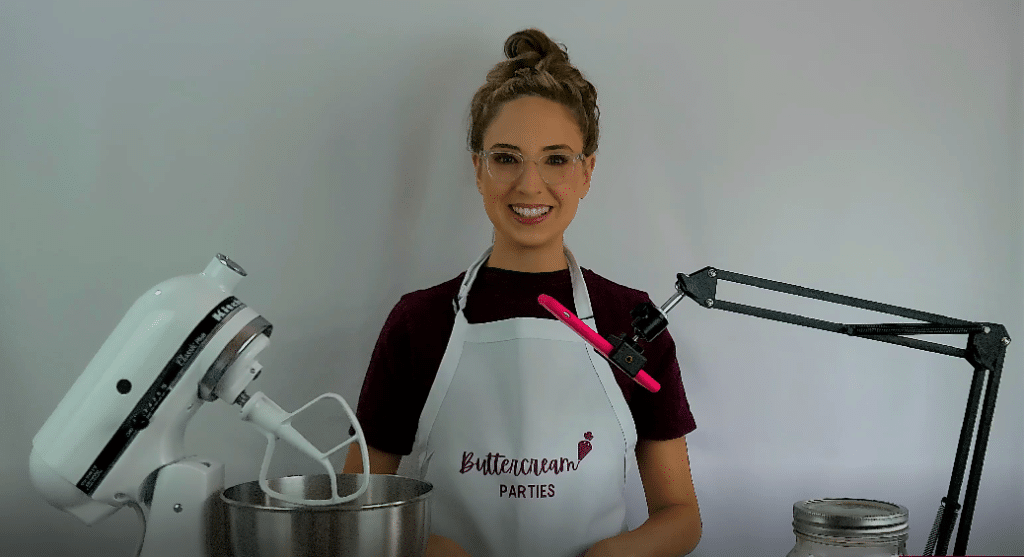 Do You Need to Individually Package Buttercream Cookies? Or Do You Need to Transport Buttercream Cookies to the Party Location?
Buttercream cookies can definitely be individually sealed as well as moved from one location to another. I probably wouldn't ship them, but you do you. If you want tips on how to make your buttercream iced cookies less fragile while still remaining just as tasty, check out my blog post here: How to Package Buttercream Sugar Cookies 
Need to Save This Page for Later?
There is so much information on this site for how to decorate buttercream cookies, you will want to come back to learn a bit at a time. To easily save this page for later, use any of the social share icons on this page to save it to your favorite social media site. Alternatively, use one of the images below to pin it to your Pinterest account! And, of course, don't forget to subscribe to my free newsletter and gain access to my top 12 tips & tricks for decorating buttercream sugar cookies. 
My 12 Tips & Tricks to Learn How to Decorate Buttercream Cookies
Make sure to download my free PDF for 12 tips and tricks to look like a professional cookie decorator! Use the form below to get your download!