Perfect Vanilla Crusting Buttercream Icing for Sugar Cookies
When we think of a recipe for icing to decorate cookies, our minds typically go the route of hard royal icing. I want to share with you that there's a better, tastier, faster, and easier way to decorate sugar cookies – with buttercream. Yep, the same buttercream frosting that you would use to frost a cake is arguably even cuter on cookies. You don't need to bite into pretty-but-rock-hard cookies just to get cute treats for your parties. All you need is the perfect crusting buttercream recipe.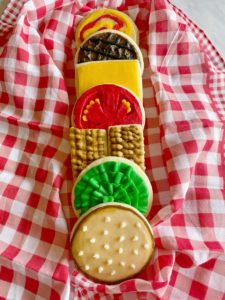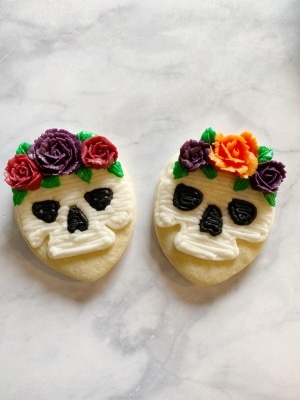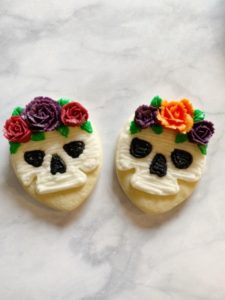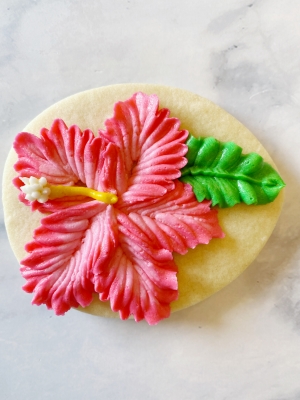 If you are a typical royal icing cookie decorator, I encourage you to branch out to the tastier side! There is a common misconception that you can't get pretty, detailed cookies with buttercream. But that is so wrong! You can use small tip sizes to get micro-details. You can paint on buttercream. You can smooth buttercream icing. You can package buttercream cookies. And the best one yet, you can get amazing texture for florals, furry animals, and more.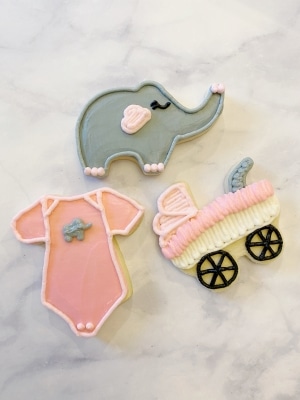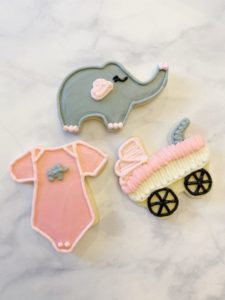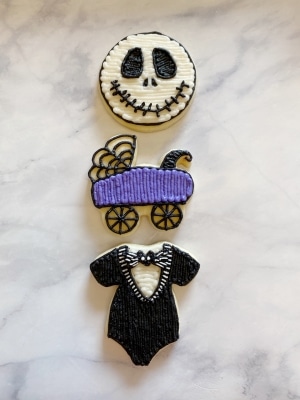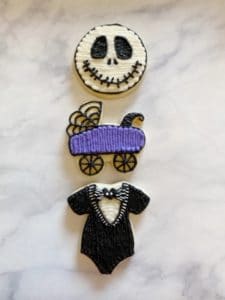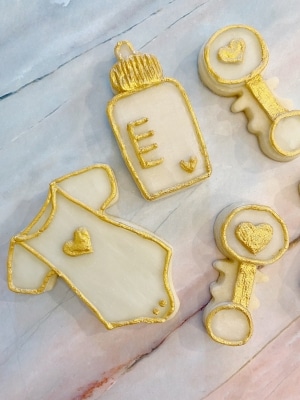 I'm sharing all about buttercream icing for sugar cookies so you can be confident in your buttercream cookie decorating skills. Follow along!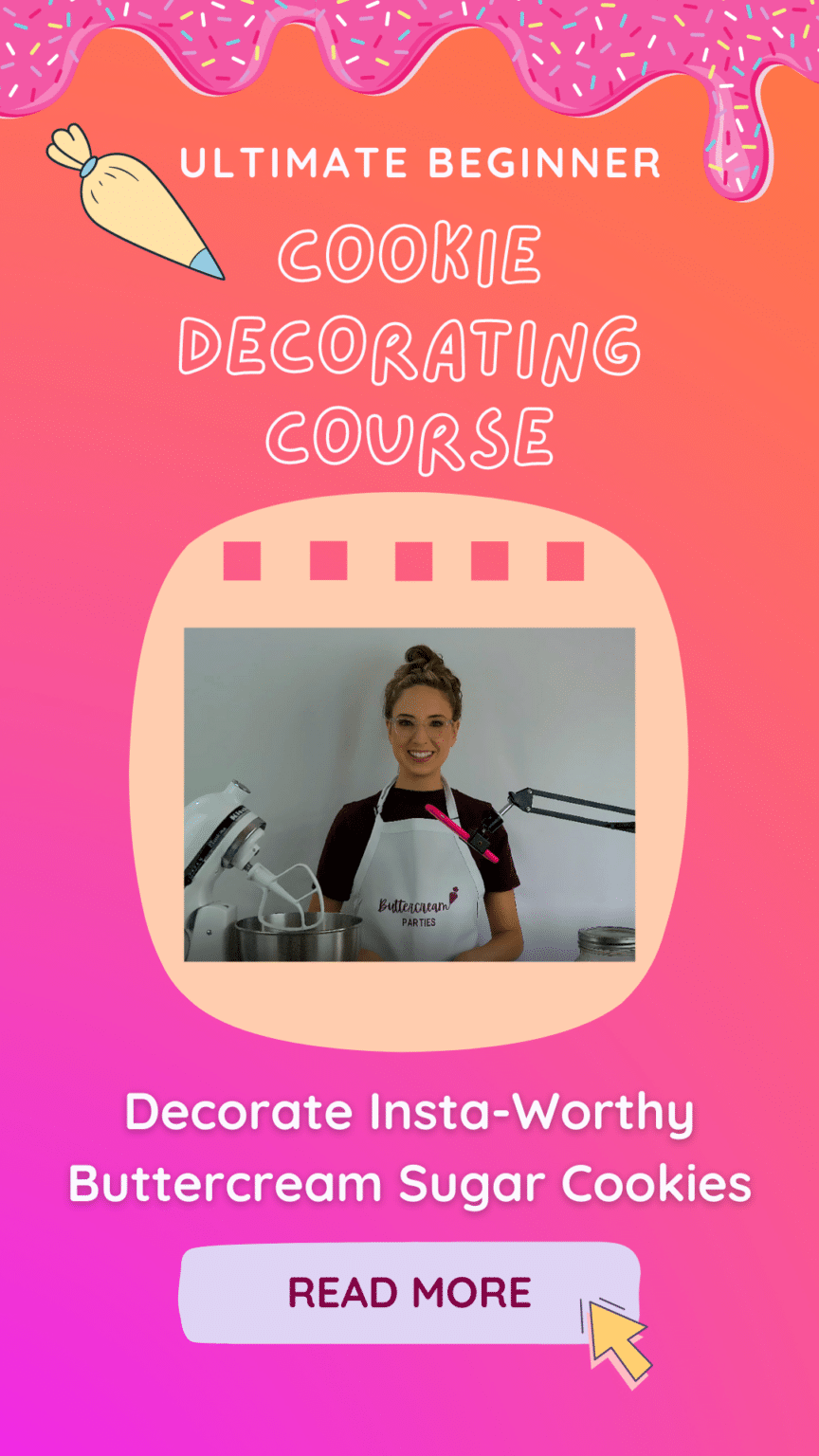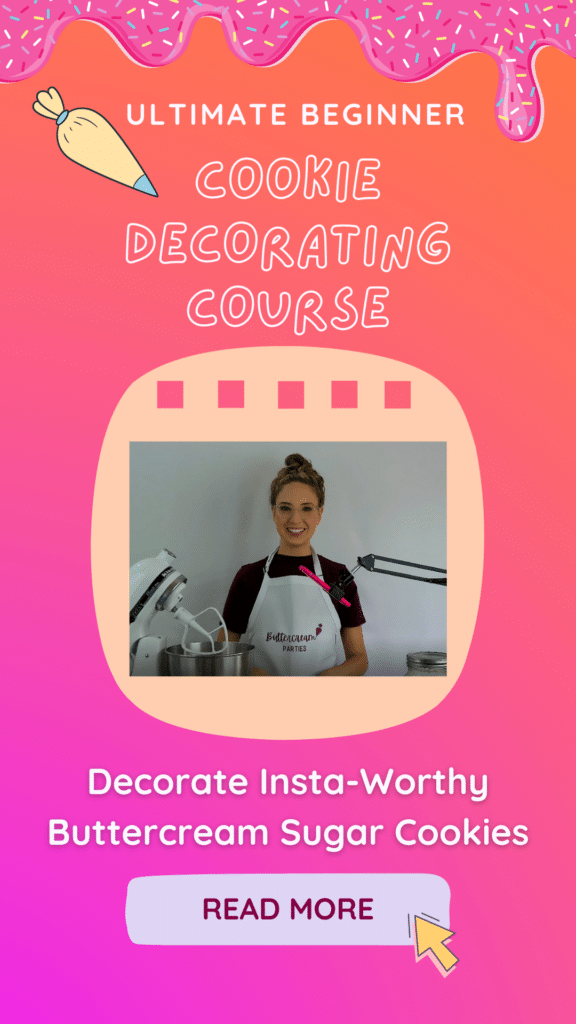 Of course, if you've never decorated sugar cookies with buttercream icing before, please check out my beginner's course! This course is designed for the ABSOLUTE beginner who wants to learn my techniques for decorating the most delicious and too-pretty-to-eat buttercream sugar cookies. Check it out here:
*This post may contain affiliate links, which means I may receive a commission, at no extra cost to you, if you make a purchase through a link. Please see my full disclosure for further information.*
Crusting Buttercream Icing for Sugar Cookies
First, I want to address what I mean by "crusting," because that's not the prettiest word. All it means is that the outside layer of buttercream will form a slight crust. This allows the cookies to be lightly touched without getting messed up. You can package them and transport them as well.
For a crusting buttercream, you will need room temperature butter, vegetable shortening, powdered sugar, vanilla extract, and some room temperature milk or cream. Yep, that's it! You can totally change out some of the vanilla extract for a different flavor as well.
To create beautiful colors of buttercream icing, I prefer to use the Wilton brand of gel colors. Always remember that as the buttercream sits, the colors will deepen. If you need a black, red, dark blue, dark purple, really any deeper color, allow the frosting to sit overnight on the counter. This will deepen up the shade without having to add a ton of gel food coloring.
I like to use the Challenge Butter brand because it is more white than other butter brands I've seen in my local market. The whiter the butter, the whiter the buttercream frosting.
The first step is to cream together a cup of room temperature butter and a cup of vegetable shortening in your stand mixer.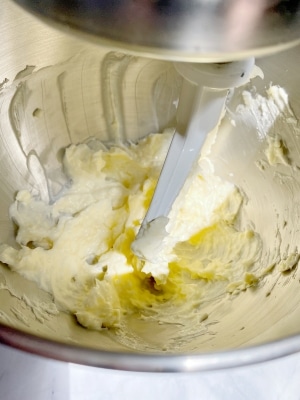 Next, put about a pound of powdered sugar into the stand mixer and slowly mix it in. You don't want to overbeat the frosting, so mix until there isn't a big powdery mess about to fly out. Keep adding powdered sugar slowly until all of it is mixed in just enough.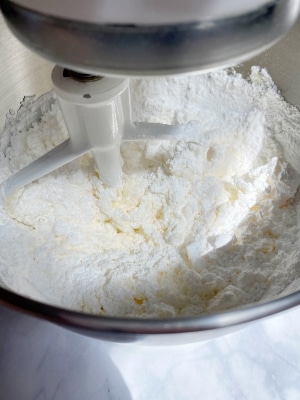 Add in the two teaspoons of vanilla extract and two to four tablespoons of room temperature milk or cream. I like to use artificial clear vanilla extract so that the frosting is even whiter. You can also mix in some of these liquids while adding in the powdered sugar if the mixture is getting too thick.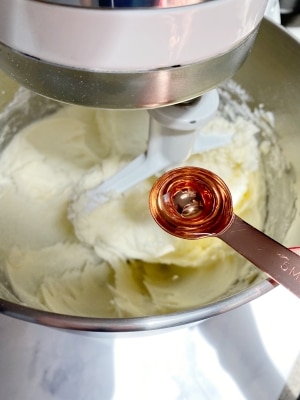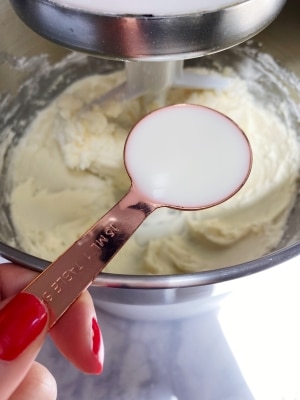 I like to keep the icing on the thicker side if I know I'm doing a lot of florals or textures in a set. But if it's a typical set with more line work or smoothing that needs to be done, go with a consistency like peanut butter.
If your set is a mixture of both florals/textures and smooth areas, go with a thicker frosting. There is no need to make different icing consistencies for decorating cookies for one set. That is something that needs to be done for royal icing with flood consistency and outline piping consistency. Just keep it all the same for buttercream.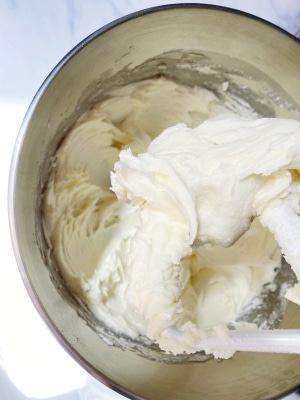 All American Crusting Buttercream Frosting Recipe
I recommend using a crusting buttercream when decorating buttercream sugar cookies. This allows the buttercream to form an outside crust, giving them a bit more protection from getting accidentally squished. This is essential if you plan to transport these cookies from your house to another location or if you want to stack or seal them.
Print
Pin
Rate
Equipment
Stand Mixer with Paddle Attachment

Measuring Spoons & Bowls
Ingredients
1

cup

room temperature unsalted butter

1

cup

vegetable shortening such as Crisco

2

lbs. plus 1 cup

powdered sugar

2

tsp.

clear vanilla extract

I use artificial

2-4

tbsp. give or take

room temperature whole milk
Instructions
In your electric mixer, use the paddle attachment to mix the butter and vegetable shortening together. 

Slowly mix in the powdered sugar, only adding as much as your electric mixer can handle at a time.

Mix in the vanilla extract and 2 tbsp. of milk. If the mixture is too stiff, add more milk. I prefer a consistency of smooth peanut butter for cookies that have a lot of line work and a slightly stiffer consistency for piping flowers.
Notes
This recipe will store nicely in the fridge for a few weeks in an airtight container. You can also leave your decorated cookies at room temperature for several days, as the frosting will be shelf-stable due to the mixture of sugar and fat.
Frequently Asked Questions About Using Crusting Buttercream Icing for Sugar Cookies
How do I prevent my buttercream from becoming grainy?
To fix grainy buttercream icing, there are a few tips I want to share with you. First, make sure that you've added enough liquid. You want the frosting to be a smooth peanut butter consistency for the majority of your decorated sugar cookies. Again, if you need a lot of florals, it can be a bit stiffer, but that doesn't mean it needs to be grainy.
Sometimes, just adding in the gel food coloring adds enough moisture back into the frosting. If the buttercream is still grainy, allow the frosting to sit at room temperature for a bit, possibly even overnight. Because we added powdered sugar with liquid, the powdered sugar needs to have time to incorporate or melt into the liquid.
Be careful with the temperature. If the buttercream frosting is too cold, the powdered sugar has a hard time mixing in with the butter and vegetable shortening. This can cause a grainy buttercream. Remember, the fats (butter and vegetable shortening) should be room temperature, or around 70 degrees.
The last tip I have for grainy buttercream is to make sure you are using the correct type of sugar. Avoid using powdered sugar made from beet sugar, which doesn't blend very well. Use powdered sugar made from cane sugar instead.
My buttercream icing is too sweet, how can I make my icing less sweet?
Crusting buttercream does need quite a bit of powdered sugar in it to create a buttercream icing that hardens. However, if you want a less sweet tasting buttercream, substitute the unsalted butter for salted butter. The salt can help offset that sweet taste.
I would encourage trying the too-sweet buttercream on your sugar cookies prior to making adjustments, however. I have found that the sugar cookie recipe I use is the perfect balance with this buttercream icing recipe.
Remember too, if you are taking a spoon of icing to test-taste it, it will be sweet. When you are decorating sugar cookies, there will be less frosting on the cookie. Unless, of course, you are making cookies covered in florals, which will have quite a bit of icing. But, typically, the amount is less than the thickness of the actual sugar cookie.
My black/red/blue buttercream frosting isn't getting dark enough, how do I create dark buttercream icing colors?
To create dark buttercream colors, you do not need to add in a whole tube of gel coloring. Instead, add in an amount that gets you about 3/4 of the way to your desired shade. Then, cover the icing with plastic wrap and leave it on the counter overnight. Don't worry the high sugar-to-fat ratio keeps the buttercream frosting shelf stable.
After the frosting has sat out for 8 hours or longer, check the top of the frosting and use that as the test. Remember, when you decorate with crusting buttercream, the outside layer crusts, and it will deepen in color a bit. If the frosting is still too light, mix in a bit more food coloring. Allow it to sit for 30 minutes and see what the frosting looks like again. Repeat this process until you get your desired shade. I find that just allowing 8 hours overnight is perfect.
One last tip I have is if you know you are needing cookies well in advance, mix all of your icing shades and put them into the icing bags. Place the icing bags into the freezer for up to two weeks. The night before it is time to decorate your cookies, move the icing into the refrigerator to defrost. Your frosting will likely be darker in color than when you first mixed it.
The colored buttercream in my icing bag is separating, how do I fix this?
This is actually normal and expected due to the mixture of water from the milk and the fat of the butter & shortening. Remember from our science classes that water and fat do not mix very well. All you need to do is massage the bag with your hands. The warmth will help to get everything incorporated again.
If that didn't work as well as you wanted, the icing probably has a lot of liquid in it. You may need to remix the icing and add a bit of powdered sugar back into it.
My buttercream icing isn't crusting but I followed the recipe, what went wrong?
Sometimes the buttercream frosting won't harden if the air temperature is too hot. If your house or event is warm, the frosting will remain soft. Try to get the cookies into an area with room temperature. You can also place the cookies into a refrigerator or a carefully packed ice chest until they crust.
You probably couldn't package sugar cookies decorated with non-crusting buttercream. However, you can definitely package and transport buttercream iced cookies using crusting buttercream. For more on this, check out my post, How to Package Buttercream Sugar Cookies.
It is not true. You can for sure achieve a smooth buttercream icing for decorated sugar cookies. This is great if you like the look of royal icing but want a tastier option. You can also add painted details onto a smooth surface. Check out my post here for how I achieve smooth buttercream icing on sugar cookies, How to Smooth Buttercream for Cookies.
Save the Recipe for Crusting Buttercream for Later
If you want to decorate the perfect "too-pretty-to-eat" sugar cookies for your parties, make sure to save this recipe! You can pin the image below to your Pinterest account or use the social sharing icons on the page.