Easy Cut Out Sugar Cookie Recipe NO CHILL
After decorating buttercream sugar cookies for about a year and a half, I've finally found my perfect sugar cookie recipe. This cut out sugar cookie recipe is no chill, meaning you can roll these out and decorate right away. That's right, we do not need to refrigerate! I love how quickly buttercream sugar cookies can be decorated, and this speeds it up even more.
I've also designed this recipe to be just a few ingredients. I want you to be able to look into your pantry and refrigerator and have exactly what you need, no special hard-to-find ingredients over here.
The no chill part of this recipe means that the sugar cookies won't spread. As long as we start with cold ingredients, we can skip the chilling and have perfectly shaped cut out cookies.
I've also included some tips for keeping the cut out shapes while moving from rolled dough to the baking sheet, to even after they bake.
Follow along for this tasty, easy no chill sugar cookie recipe!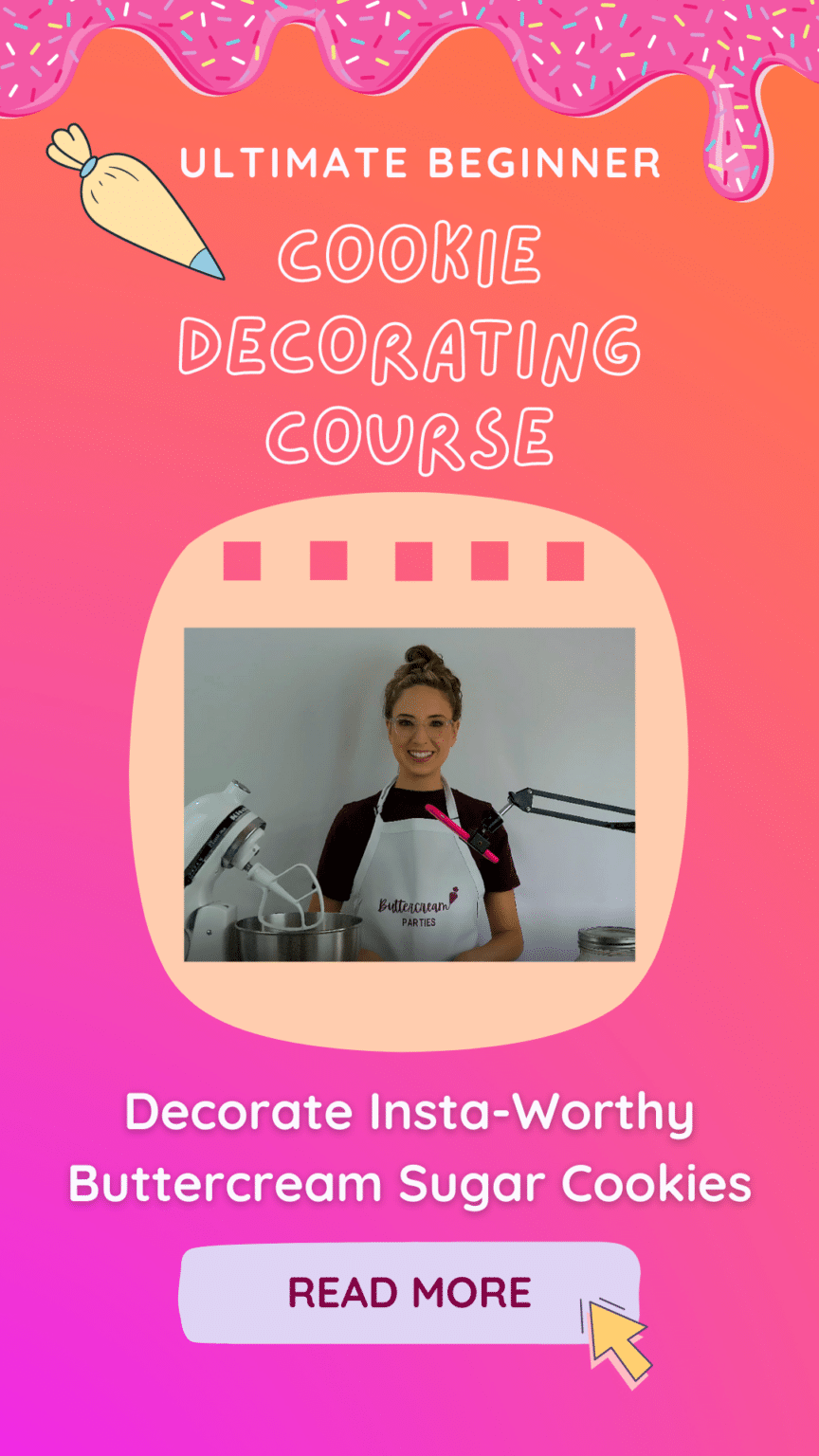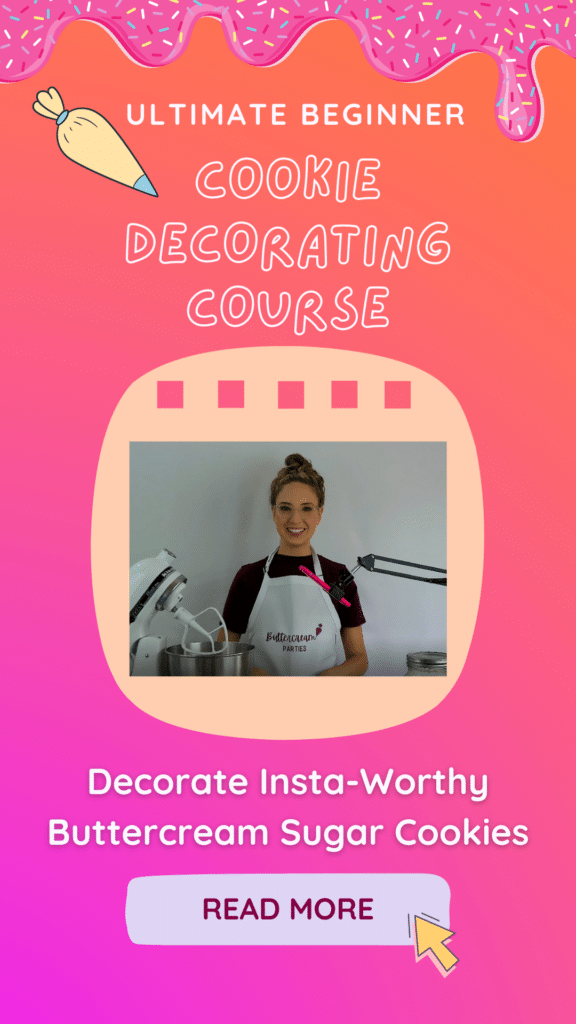 If you've never decorated sugar cookies with buttercream icing before, please check out my beginner's course! This course is designed for the ABSOLUTE beginner who wants to learn my techniques for decorating the most delicious and too-pretty-to-eat buttercream sugar cookies. Check it out here:
Jump to Recipe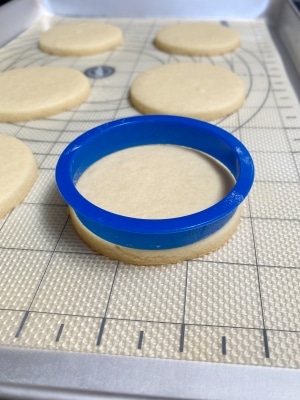 *This post may contain affiliate links, which means I may receive a commission, at no extra cost to you, if you make a purchase through a link. Please see my full disclosure for further information.*
Delicious Cut Out Sugar Cookie Recipe No Chill
For these no chill sugar cookies, you will need butter, flour, sugar, vanilla extract, an egg, and some baking powder. Yep, that's it! You can totally change out some of the vanilla extract for a different flavor as well. I know that almond extract is popular. I just prefer all vanilla.
I also like to use a duck egg instead of a chicken egg. We have about 20 pet ducks so duck eggs are easy for me to grab. Plus, duck eggs are richer than chicken eggs, which is perfect for baking! Of course, no worries if you don't have duck eggs around. I've made this recipe plenty of times with a large chicken egg and it's still tasty!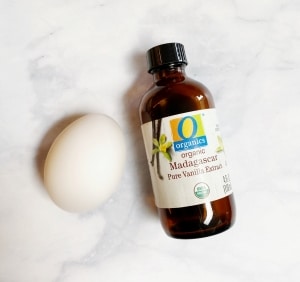 The first step is to preheat the oven to 350 degrees. We want to make sure the oven is already to temp so we don't need to chill the dough.
Next, measure out three cups of flour into a medium sized mixing bowl. Remember to use the scoop and level method. That is, use a spoon to scoop some flour into a measuring cup. Once you are near the top of the cup, level out the cup. With this method, you don't need to sift the flour. It's just so easy!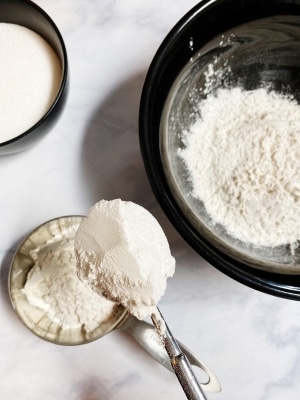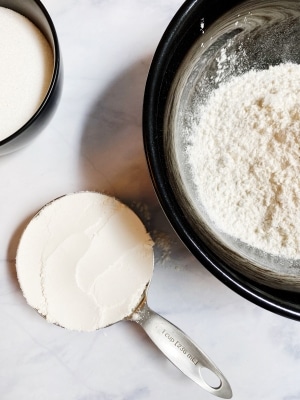 Next, mix in the two teaspoons of baking powder. I use this brand.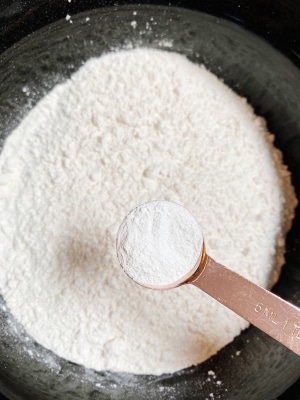 Once your dry ingredients are mixed together, go ahead and measure out your cup of sugar. Then, pull out the cold, salted butter from your refrigerator and cut it into cubes. One reason this recipe is no chill is because the ingredients are already chilled! I prefer to use salted butter to save a step of measuring out salt. Plus, the salt nicely balances out the sugar in the cookie dough recipe and buttercream frosting that will be used to decorate the cookies.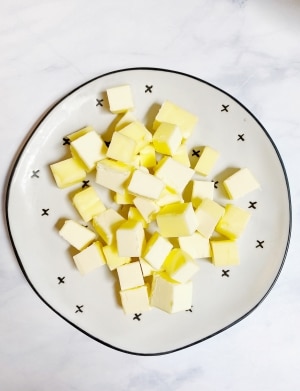 Mix your butter and sugar on medium speed in your stand mixer.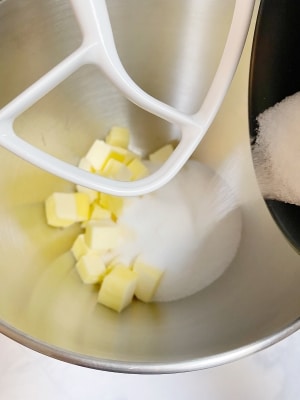 Once it is creamed together, grab your duck or chicken egg from the refrigerator and crack it into a small bowl. This little trick helps avoid shells getting into your cookie dough because you can easily pull the shells out. I especially do this when using duck eggs because they have a very thick shell compared to chicken eggs. Okay, go ahead and put the egg into the mixer.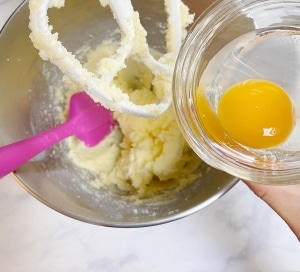 Add in the one and a half teaspoons of vanilla extract.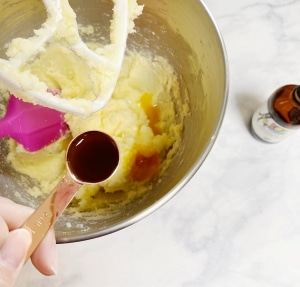 Using the spoon you used for the scoop and level method, slowly add in the flour and baking powder mixture. It's best to turn off the mixer while doing this so to not overheat the butter and egg. Remember, the colder the better for this one.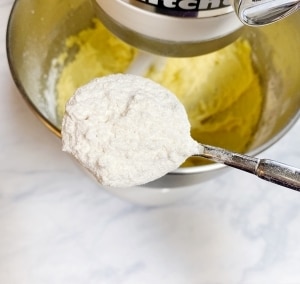 Once all of the flour is mixed in, assess the state of the dough. If it is really sticky, add in more flour. It should form a nice ball but it's okay if it's a bit crumbly. If the dough is too sticky, it will be hard to work with and it won't keep it's shape as well when baking.
Prepare a clean spot to roll out the dough and sprinkle some flour onto it.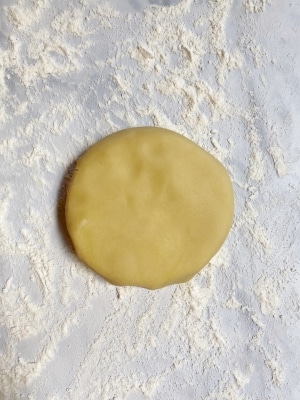 Roll out the dough to about 1/4 of an inch thick.
When rolling out the dough, I like to grab just half of the dough at a time. I find that is the perfect size to roll out and fit cookies onto my silicone lined baking sheet. Rolling out too much dough at once overworks the dough and thus, makes it warmer than we want. Overworking the dough also leads to creases in the baked dough, which isn't that pretty.
Cut out the cookies and then place them onto the lined baking sheet. A tip I like to use to get the cookies perfectly transferred over to the sheet is to NOT flour the cookie cutter. You want the cookie to slightly stick to the cutter so that you can remove the cookie from the cutter on the baking sheet itself. This helps keep the shape of the dough, reducing any chances of spread.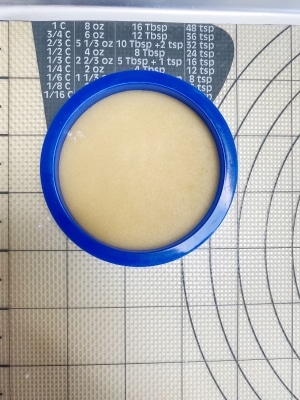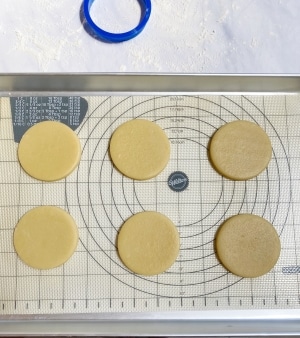 Bake the cookies for 9-10 minutes until the dough doesn't look wet in the center or the edges start to golden.
If you found that the cookies spread or changed shape a bit, quickly use a knife to push the hot cookies into the correct shape. While this cookie dough recipe is a no chill, no spread recipe, everyone's ovens work a bit differently and their houses are kept at different temperatures. Fortunately, if there is any spread at all, it should be minimal and easily fixed with a knife.
Allow these cookies to cool completely and then frost! If you aren't ready to decorate these cookies right away, store them into the freezer in an air tight container. This keeps the cookies fresh and soft.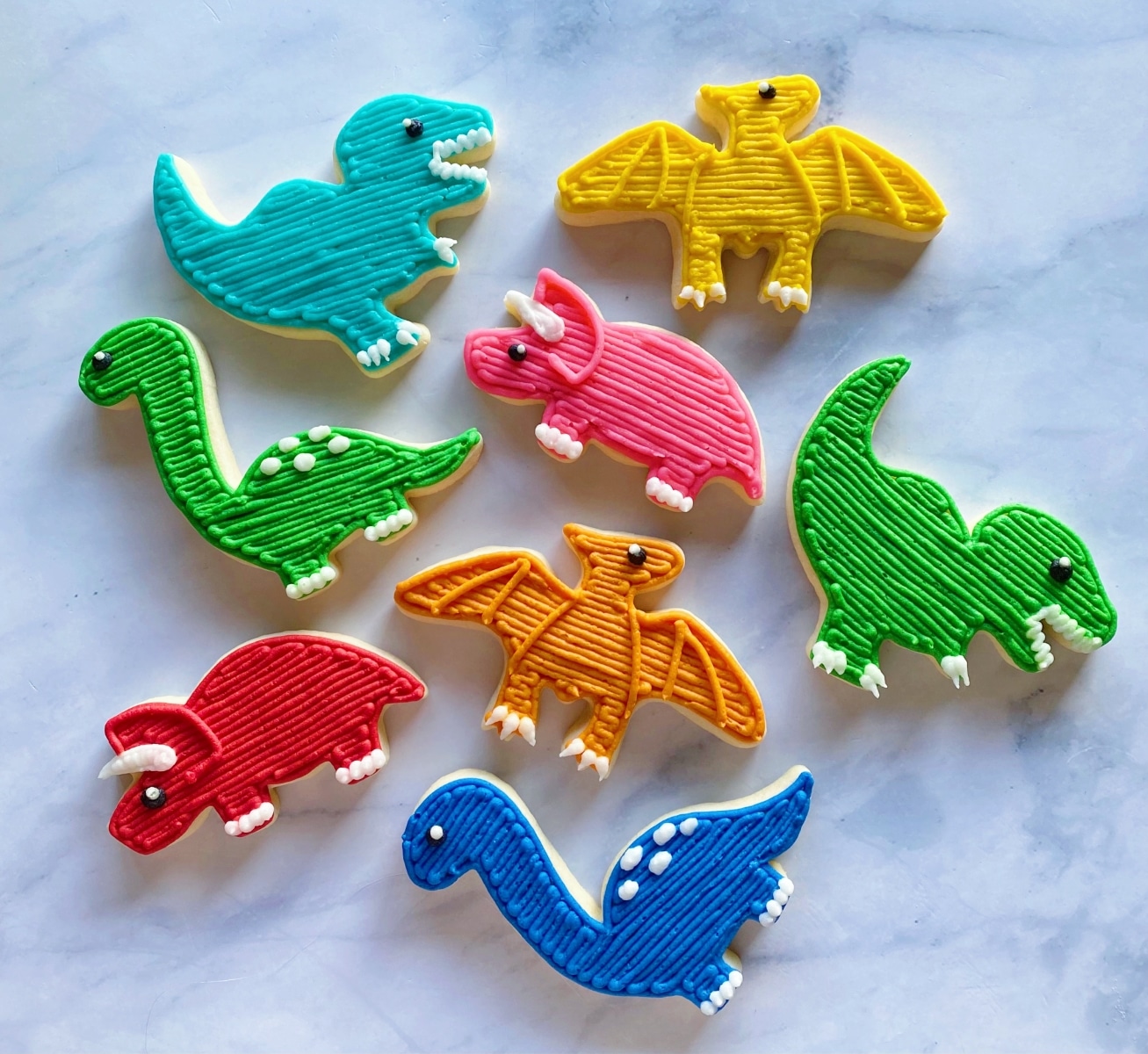 Easy No Chill No Spread Sugar Cookie Dough
These classic vanilla cut out sugar cookies are so easy! There is no need to put these into the refrigerator before baking - simply mix, roll, cut out, and bake all at once!
Print
Pin
Rate
Servings:
24
cookies depending on the size of your cookie
Equipment
Stand Mixer with Paddle Attachment

Measuring Bowls & Spoons
Ingredients
1

cup

cold salted butter

cut into cubes

1

cup

granulated white sugar

1

egg

3

cups

all purpose flour

2

tsp

baking powder

1.5

tsp

vanilla extract
Instructions
Preheat your oven to 350 degrees.

In a large bowl, mix your flour and baking powder together. When measuring the flour, make sure to scoop up the flour with a spoon and add it to your measuring cup, one spoonful at a time. This helps obtain the correct amount of flour without needing to weigh it. Once you have a cup, level it out by running a knife across the top of the measuring cup. Then, add it to the large mixing bowl and repeat for the remaining flour. Set the mixture of flour and baking powder aside for a minute.

In your electric mixer, combine the sugar and butter using the paddle attachment until they are creamed together.

Add in your egg and vanilla extract and mix to combine.

Slowly add in one cup (or whatever your mixer can handle) at a time of the flour mixture to the wet ingredients. The mixture should be slightly sticky but still form a nice ball.

On a floured surface, roll out the dough to about a 1/4 of an inch thick & cut out your cookies. A great tip is to flour your rolling pin and any cookie cutters you may be using. Transfer the cut out cookies to a baking sheet lined with a  silicone mat using a large flat spatula.

Bake for about 10 minutes and let cool on the baking sheet. The dough will be done when the center of the dough doesn't look wet and the edges are golden.
Check Out These Buttercream Iced Cookie Tutorials
Of course we need some cookies to decorate! These tutorials are some of my most popular for decorating sugar cookies with buttercream frosting.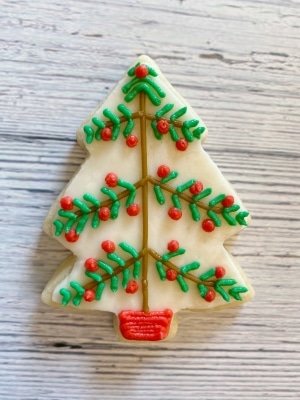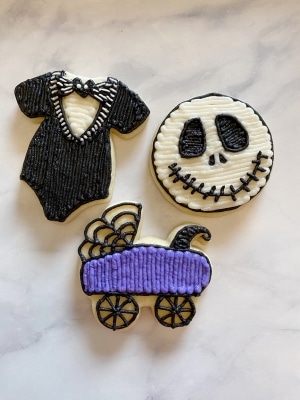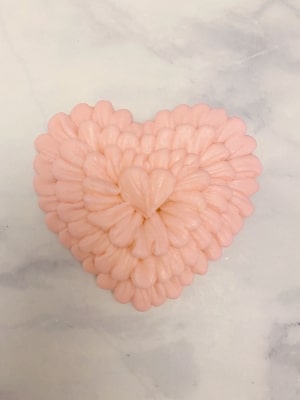 Frequently Asked Questions About Cut Out Cookie Dough
Yes, you can definitely chill this dough if you aren't ready to roll out and bake right away. I would suggest that you let the dough sit out on the counter for about 15 minutes prior to rolling, though. This will make the dough easier to roll out.
Yes, you can freeze the cookie dough. Roll the dough into a ball and then flatten it a bit into a disk shape. Cover the dough with plastic wrap and place in the freezer. I have kept dough in the freezer for up to three months and it was still good. Allow the dough to defrost in the refrigerator before using.
If your cookie dough is still spreading, there are some ways we can counteract this. First, make sure that the butter and egg were cold prior to mixing and that your oven was already preheated. You also want to make sure that you have enough flour. If the dough was still sticky when you were done mixing, you want to add a bit more flour.
You can also check to make sure that the baking powder wasn't expired. This is pretty common since we only need a bit of baking powder at a time for various recipes, so don't forget to check that expiration date.
One last recommendation is to make sure you aren't baking these cookies when your house is really hot. I live in the PNW and my house doesn't have air conditioning. Just last week, our house got up to 97 degrees! Yikes, it was hot. If I attempted to bake cookies that day, I'm sure they would have spread as the dough wouldn't have been very cold. Also, I'd be pretty crazy to turn my oven on in that kind of heat, anyway!
If your house lacks air conditioning like mine, bake the cookies early in the morning or after the sun has gone down at night. Remember, you can chill the dough if needed.
My baking powder says double acting, is this the correct one to use?
Yes, double acting baking powder is the standard baking powder. Double acting baking powder just means that it will react twice, once while cold and once while hot. You can purchase single acting baking powder, but don't use that for this recipe.
I have not had the chance to play around with a gluten free cut out sugar cookie recipe yet. If you have found a way to make these gluten free, I'd love to hear how you made them in the comments below!
Yes, these will be soft sugar cookies. Once they cool after baking, they will appear to be somewhat hard. This is perfect because we don't want to accidentally break our cookies while decorating. When you decorate with buttercream frosting, the cookies will absorb some of that moisture and they will become the perfect amount of softness.
You can also freeze your baked cookies once they have cooled to room temperature. This will keep the cookies from drying out and becoming hard if you aren't going to be frosting right away.
Save This No Chill Sugar Cookie Dough Recipe For Later