2 Easy Ways for How to Smooth Buttercream for Cookies
Do you love the look of royal icing sugar cookies but hate how they taste? Me too. In fact, I always thought decorated sugar cookies were gross because I hadn't ever tried a buttercream iced cookie.
As you may know, I started decorating sugar cookies about two years ago, ever since being introduced to buttercream sugar cookies. I absolutely love how pretty royal icing cookies are and wanted to achieve that nice smooth effect on buttercream.
In this blog post, I will be sharing my two favorite ways for how to smooth buttercream frosting for sugar cookies. There are many different ways to do this, but these two ways are the easiest and most reliable methods I have tried. One way works better for a stiffer buttercream frosting and the other way works well for any frosting consistency.
*This post may contain affiliate links, which means I may receive a commission, at no extra cost to you, if you make a purchase through a link. Please see my full disclosure for further information.*
Method 1: Smoothing Buttercream with Parchment Paper
I prefer this method of smoothing buttercream if my frosting is a bit stiff. Typically, we don't need to worry about the consistency of our buttercream too much, at least not compared to royal icing. However, there are times that I prefer a runnier frosting, such as writing or doing a ton of background fill work, and other times I prefer a stiffer consistency, such as piping flowers. I am usually lazy, though. If my set of cookies involves red roses and then another cookie with a bunch of red backgrounds, I won't make two sets of red frosting. Red frosting is difficult enough to make, am I right? So, I would make a stiffer consistency so that the roses hold shape and then just make due while I pipe in lines for a red background.
To smooth a stiffer frosting consistency, I will use parchment paper before taking a flat spatula to it. This is for two reasons:
This method uses the warmth of your fingers to smooth out the lines, leading to less work with the spatula.
As you press on your frosting, the frosting will adhere better to the sugar cookie. If you go straight in with a flat spatula, the frosting will likely pull up from the cookie in spots which can be annoying. This is especially true if the shape you are smoothing was more elaborate. You certainly don't want to redo all of your work to get an elaborate shape.
For this method, the tools you will need are:
an angled flat spatula – I use this one for all of my cookies because it is the perfect size, as opposed to a larger one that is more intended for smoothing frosting on a cake.
parchment paper
scissors
Steps for How to Smooth Buttercream with Parchment Paper
Your first step will of course be to fill in the area of the cookie that you want smoothed with your frosting. Sometimes I use a larger tip, such as a tip #12, but other times I use a tip #5 or smaller. It really depends on what my other cookie designs are in the set and what tips those ones will need. Whichever tip size you use, the nice thing is that you don't need to worry about making perfect fill lines.

I used a tip #2 for this design which will become the background for a fun cheetah print cookie.

Next, cut out a piece of parchment paper that will cover the part of the cookie you wish to smooth.
Place the parchment paper over the frosting, and, using the warmth of your fingers, smooth out the lines as best as you can.

You can also "spot" smooth areas by placing the parchment paper on just part of the cookie.

Once the majority of the lines are smoothed, carefully remove the parchment paper. Think of those temporary tattoos that you used as a kid for technique.
Now, use the angled flat spatula to perfect the lines a bit more. You shouldn't have to worry about frosting coming up from the cookie since you have adhered it better while pressing on the parchment paper. For this cookie, you'd want to just make sure you smooth the frosting outwardly, so as to not blend the colors. You may need to use the flat spatula to clean up the edges of the cookie a bit as well.
The last step is to place any details onto the cookie. It's always best to outline the edges of the cookie to really create a clean line. Here is the final product for the cheetah print cookie I made for my Lisa Frank inspired cookies.
Method 2: Using the Freezer to Smooth Buttercream
I consider this method to be the "all purpose" method for how to smooth buttercream. However, the biggest drawback to this method is needing freezer space. I am blessed with a second freezer in the garage, so if my fridge freezer is too full, I can move some stuff into the garage while I do this.
I consider this the "all purpose" method of smoothing buttercream for a few reasons:
This method is perfect for runnier frosting, as it will harden in the freezer, leading to less transfer onto your flat spatula.
This method still works great for stiff frosting.
Using the freezer to smooth the frosting keeps the shape of the to-be-smoothed area much better than the parchment paper method does. This is perfect for more elaborate shapes that you worked hard to create.
For this method, the tools you will need are:
an angled flat spatula – I use this one for all of my cookies because it is the perfect size, as opposed to a larger one that is more intended for smoothing frosting on a cake.
something flat to lay your cookies onto, such as a cookie sheet, Tupperware container, or platter that will fit in the freezer
Steps for How to Smooth Buttercream Using the Freezer
Fill in the area you wish to be smoothed with your frosting. Just like in method one, any size of tip works well for this. However, since the advantage of using the freezer allows for a cleaner edge, make sure that the outer edges of your shape look good.

I didn't want to lose the shape of the handle when I went to smooth this cookie, so using the freezer was my best option.

Place your cookie(s) into the freezer for at least 10 minutes. If you forget about your cookies and hours have passed, that's fine too. You may just want to have them sit for a few minutes before attempting the next step so you aren't working too hard. If you are smoothing a dozen or more cookies at once, I find it best to freeze them in batches. You don't want to be smoothing one cookie and have a bunch of them start to soften too much.
Take your angled flat spatula and smooth out the lines. You will need to apply a bit of pressure here to get the lines out. However, I find there is so much more control in this method. The lines that you want to keep, such as the outer edges, stay in place well.
Lastly, just make sure to outline the edges again to really get a clean look.

Look how smooth that is!

Here is the finished cookie just because it's pretty. You can find the tutorial for these hot cocoa cookies here: Cabin Style Hot Cocoa Decorated Sugar Cookies
Here is video of another example in which I used the freezer method. You can see that the shape is quite elaborate; I didn't want to risk loosing those little hearts by placing parchment paper over them. Plus, this frosting was a bit runnier, so the freezer was better for that as well.
Want to Save this Guide for Later?
To save these tips for how to smooth buttercream for later, use any of the social share icons at the top or side of this page. Alternatively, hover over the image below and pin it to your Pinterest account. Make sure you're following me on Pinterest, too! buttercream parties | decorated sugar cookie tutorials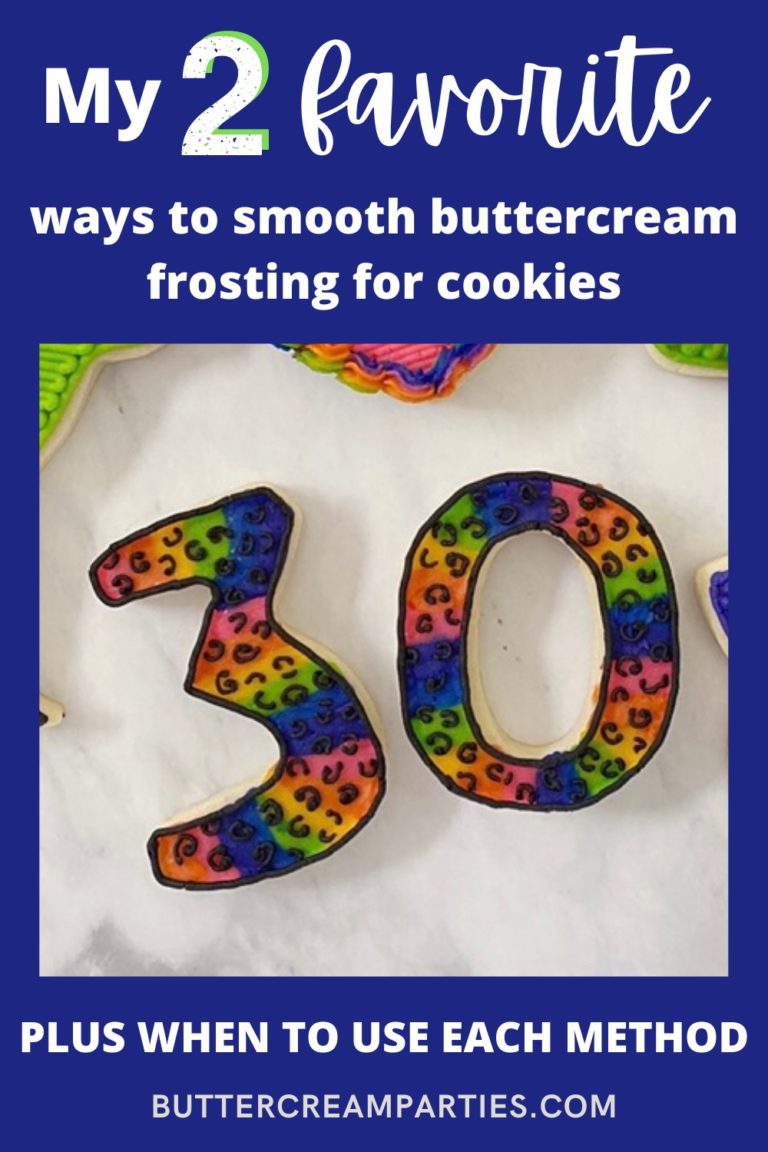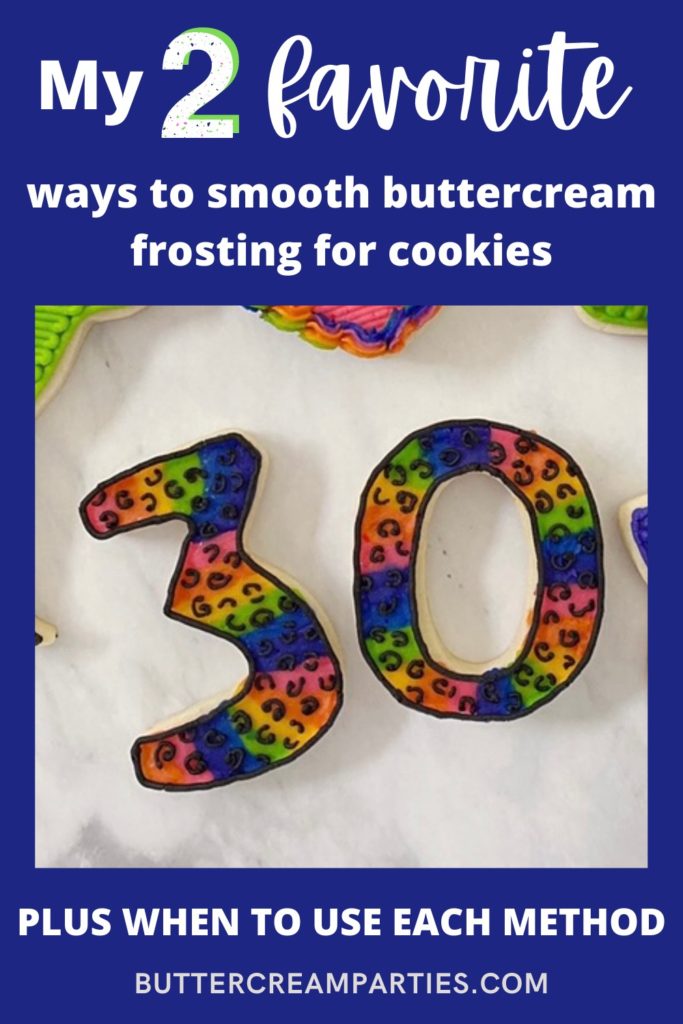 In the comments below, I'd love to hear what your favorite method is to smooth buttercream iced cookies!