Complete Guide on How to Make Frosting Rosettes
A great first step for cookie decorating beginners is to learn how to make frosting rosettes. These buttercream rosettes are classic, timeless, and elegant. Furthermore, frosting rosettes are easy to pipe using a rosette piping tip.
Icing rosettes are a sophisticated way to decorate wedding cakes, birthday cakes, and, of course, buttercream sugar cookies. Fun fact, my cousin made me & my husband a buttercream rosette cake for our wedding reception. It was stunning and definitely one of those cakes that look like a lot of work but are really rather easy.
Being that this is a cookie decorating blog, you will find many buttercream rosettes on my sugar cookies. If you need a no-chill, no-spread sugar cookie recipe, make sure to check out my cut out sugar cookie recipe.
Regardless of what you pipe your rosettes onto, you will need buttercream frosting. Here is my crusting buttercream frosting recipe that creates beautifully piped rosettes.
In this tutorial, find the tools you need for making frosting rosettes including my tips & tricks for complete beginners.
*This post may contain affiliate links, which means I may receive a commission, at no extra cost to you, if you make a purchase through a link. Please see my full disclosure for further information.*
First Off: What is a Buttercream Rosette?
A buttercream rosette resembles a rose flower; however, it is much easier and faster to pipe than a buttercream rose. Buttercream rosettes are piped with open star tips in a simple swirl movement.
Buttercream roses, on the other hand, have multiple layers of petals building on top of each other using a Wilton petal tip, such as a tip number 104. You can find my tutorial for piping buttercream roses here if that is what you desire rather than a rosette.
The Most Common Rosette Piping Tip
I will recommend an assortment of Wilton tips for rosettes in this post. This is due to the fact that the Wilton tip you decide to use is based on how large of a rosette you want. That being said, I will first cover the Wilton tip for rosettes that is most commonly used, the 1M, and how to apply it to cakes, cupcakes, and cookies.
How to Make a Rosette Cake with Large Buttercream Rosettes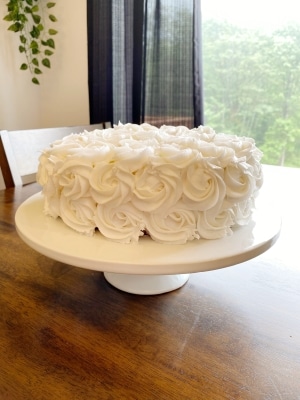 Rosette cakes are the perfect beginner cake to decorate. I can say this with confidence because I am not a cake decorator; my layers are uneven and crumbs are always an issue.
The reason these cakes are so beginner-friendly is because they use a large open star tip known as the Wilton 1M piping tip. This Wilton tip is the most common tip for piping rosettes.
Essentially, you get to cover your potentially ugly frosted cake (you're probably better at frosting cakes than me, though) with this large tip that creates beautiful rosettes. The rosettes completely hide the ugliness and help level out the cake.
To create a rosette cake, you will pipe rosettes using the 1M tip all over the sides of the cake as well as the top of the cake.
First, crumb coat your cake. Then, begin to pipe the buttercream rosettes. Hold the piping bag perpendicular to the side of the cake. As you squeeze out frosting, create a swirl shape.
I find this easiest to do if you start at the bottom of the cake & pipe as many roses as you can fit in a straight line horizontally. Keep in mind how big you are making the rosettes for how many layers of rosettes you may want.
Then, fill in each row of rosettes above the first row.
Lastly, fill in the top of the cake with rosettes. To fill the top of the rosette cake, I like to first do the outer perimeter and work my way in to the center.
It is important to note that the Wilton 1M piping tip will not fit a standard sized coupler. If you want to have multiple rosettes of varying sizes on your cake, make sure you use the bag-in-bag method for piping with buttercream. The tutorial for the bag-in-bag method is toward the bottom of this article.
Piping Rosettes on Cupcakes AKA Cupcake Swirls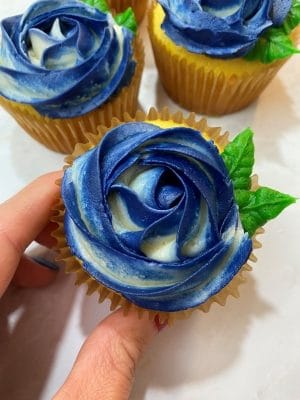 Another popular dessert that features frosting rosettes are cupcakes. To pipe a rosette onto a cupcake, use the same Wilton 1M rosette piping tip. It is also fun to pipe leaves onto the cupcakes and to experiment with two-toned rosettes.
To pipe leaves onto the cupcakes, take your choice from the popular Wilton leaf tips. I personally reach for the leaf tip #352 and leaf tip #70 the most.
To decorate two tone rosette cupcakes, the most important part is filling up your icing bag correctly.
First, fill an icing bag with white or undyed buttercream frosting.
Cut a hole at the bottom of the bag once filled.
Take a second icing bag and set it up with a Wilton 1M rosette piping tip.
Open the bag up and position it over a tall cup. This makes it easier to fill.
Fill this second icing bag with the desired rosette tip color. I am using pink because pink is my favorite color. When filling up this bag, use a small spatula or butter knife to coat the sides of the bag with buttercream. Try to not fill in the center of the bag.
Carefully place the first bag of icing into the middle of the second bag of icing. Remove the icing bag from the cup and begin making frosting rosettes.
Check out the video of my navy blue cupcake rosettes to see it in action.
How to Make Frosting Rosettes for Sugar Cookies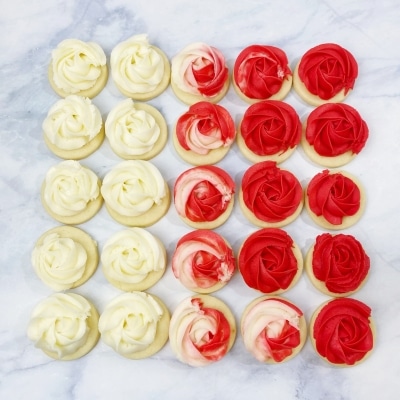 I know I'm sounding a bit like a broken record here, but again, I personally prefer to use the Wilton 1M tip for piping buttercream rosettes onto sugar cookies. This larger tip size fits perfectly onto both a typical 3″ circle cookie & a mini circle cookie.
You can see how I created mini rosette cookies for my daughter's first birthday party in this tutorial. The tutorial goes over how to make rosettes that are two tone with half of the rosette one color and the other half another. This is in contrast to the two tone rosettes I discussed when making cupcakes, where only the tips had color.
You can also add leaves to cookies using a Wilton leaf tip. However, since the rosettes add a lot of frosting to the cookie in itself, you won't miss the leaves while eating the sugar cookies.
Other Wilton Rosette Piping Tips to Consider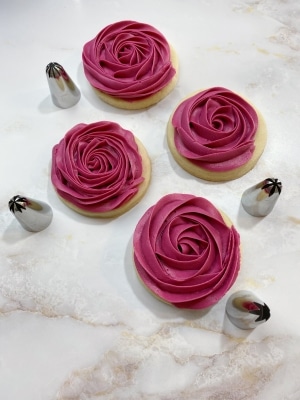 There are times that you may want to consider other Wilton rosette piping tips than the 1M. For instance, if you want to create a bouquet or field of small rosettes, you will need a smaller tip size. The 1M tip is a specialty tip, whereas the tips I will go over now are known as standard tips. This is important to distinguish when it comes to cutting your icing bags & if you will need to use couplers or the bag-in-bag method.
Some popular smaller open star tips used to pipe rosettes are the tip numbers 13-22 and the 32. I tend to use the tip number 16 & 18 most often when decorating buttercream sugar cookies. That being said, I do enjoy my 55 piece Wilton decorating set for variety.
You may also be interested in the other larger Wilton rosette piping tips: 2D, 2C, and 2F. Each of these tips provides a slightly different rosette compared to the 1M piping tip. All of these tips are considered larger specialty tips just like the 1M. They differ in that the 1M decorating tip is a star tip whereas the 2D, 2C, and 2F decorating tips are drop flower tips.
The 2D comes in the 55 piece decorating set I have but can also be purchased individually.
The Wilton 2C tip is another large "drop flower" piping tip. The 2C has ten prongs, as opposed to the 2D that only has six prongs.
Lastly, the Wilton 2F tip is quite unique to the other piping tips mentioned. The 2F has a total of ten prongs; however, five prongs are long and five are short. These short and long prongs alternate with each other.
I would recommend trying out all of these tips to decide which is your favorite when piping buttercream rosettes.
How to Make a Rainbow Rosette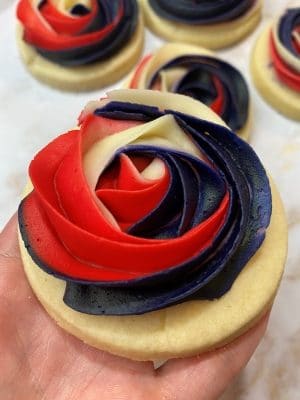 Above, I discussed how to make two tone rosettes two different ways. Now, I want to show you how to easily create rainbow rosettes. You can choose traditional rainbow colors or make a "rainbow" out of the colors of your party theme. All you need is your preferred Wilton rosette piping tips, icing bags, colored buttercream frosting, scissors, your cookies/cake/cupcake, and plastic wrap.
Begin by laying out a piece of plastic wrap that is similar in length to your piping bag. Add each frosting color onto the plastic wrap in rows next to each other. You can use piping bags to do this or just use utensils to place it.
Roll up the plastic wrap and make sure the frosting is at the edge of one side of the plastic wrap. You may need to use scissors to cut off the plastic wrap.
Insert the rolled buttercream wrap into an icing bag with the desired tip on it. Make sure that the side that has icing all the way to the edge is the side that is inserted first.
You are ready to pipe rainbow rosettes!
Check out my video here of how I made my 4th of July rosette cookies using the same technique.
Tips & Tricks for How to Pipe Frosting Rosettes Successfully
Make sure that you use a crusting buttercream frosting recipe when piping rosettes. Although crusting sounds not-so-pleasant, it is important. Crusting means that the outside layer of frosting will form a slight crust, protecting the shape of the piped buttercream. If the buttercream is too soft, i.e. not a crusting buttercream, it is more likely to melt and/or be injured with the most minor of touches.
After you first fill your piping bag, make sure to squeeze out some of the frosting onto a plate or parchment paper if using more than one color of icing. This allows each color to fill the tip so that it shows up in your piped buttercream rosette.
Consider using couplers and/or the bag-in-bag method when working with various frosting colors and/or rosette sizes. Using couplers allows you to use one piping tip shared between colors rather than each icing bag needing it's own piping tip. Using the bag-in-bag method allows you to easily switch between sizes of rosettes in the same color.

You will use a coupler if you want the same sized rosettes but different colors of rosettes. This is common in sets of cookies or in ombre rosette cakes. Simply set up the icing bags with large couplers so you can share the 1M tip between colors. Remove, rinse with hot water, and place the 1M tip from the previous icing bag color to the new icing bag color. This allows you to not have to buy multiple 1M tips.
You will use the bag-in-bag method (& couplers if working with multiple colors) if you want to switch between sizes of rosettes in the same color. To set this up, place the 1M bag into an empty icing bag without a coupler. Place all of the frosting colors into the icing bags and make sure there are standard sized couplers in the icing bags. Attach the standard size open star tips onto the bags with the couplers to make smaller rosettes. When you want a larger rosette, remove the standard size tip from the colored icing bag and place the coloring icing bag into the 1M icing bag. Rinse the 1M bag between color changes.

Plan to use a lot of frosting. Rosettes, in general, use a lot of frosting as they are great in height. The recipe for buttercream frosting that I linked above is technically a double batch. I recommend making the double batch so you do not run out of frosting part way through piping your buttercream. If frosting a cake, you may even need a triple batch.
Avoid using buttercream that is too warm. Buttercream melts easily, especially if you do not use a crusting buttercream. When piping rosettes, fill an insulated bottle with cold water and set your icing bag into it in between rosettes. You don't need to do this between every rosette. You will notice the buttercream become too warm, as the "petals" won't be as stiff. You may add ice, but prepare to warm up the tip, as the metal tips will become very cold in ice water quickly.
More on temperature – When piping rosette cakes, make sure that your crumb coat frosting is the same temperature as the rosette frosting. This will help the rosettes to remain on the cake without sliding off or falling off entirely. Then, place the whole cake into the fridge to "set" it.
Use a palette knife or gloved fingers to pinch the end of the rosette where the frosting broke away from the piping bag for a cleaner look.
Save this Resource for How to Pipe Frosting Rosettes
To reference this guide on piping buttercream rosettes for later, make sure to save it to Pinterest or Facebook. You can use the social sharing icons at the top of the page or use the image below to pin to Pinterest. Thank you for sharing!