Sweetex Hi Ratio Shortening for Decorated Buttercream Cookies
You guys, I need to share my most recent discovery. As you know, I'm a big fan of using crusting buttercream frosting. Using buttercream that hardens makes for easily transportable and stackable cookies, ideal for parties.
How I've always done this is by replacing some butter with shortening. However, doing so can leave a greasy mouth feel. I personally don't mind that too much, which is why I've used Crisco frosting many times. But now I've discovered the best of both worlds: Sweetex hi ratio shortening.
Sweetex hi ratio shortening is how bakeries get that smooth, non-greasy, delicious buttercream frosting that crusts. And now, I'm going to share how you will be able to obtain that same deliciousness for your decorated buttercream sugar cookies.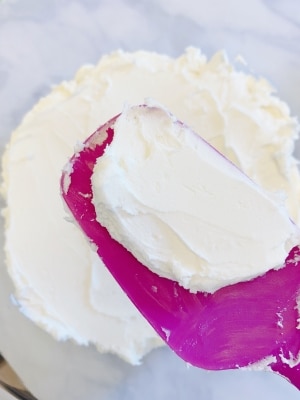 When I asked my husband, a lover of anything with sugar, how this buttercream frosting tasted compared to my Crisco frosting, he said "it's good" which is always his answer. In fact, his reviews are either "it's good" or "it's okay," the later of which means he doesn't really like it. But after his "it's good," he said, "it somehow tastes powdery." And that's what I was looking for! No greasy feel, just pure powdered sugar buttercream frosting taste.
And no, this is not a sponsored post for Sweetex. I just love it! I'm going to break down all the reasons why you will want to substitute Crisco frosting for Sweetex frosting, plus where to buy it on the cheap.
*This post may contain affiliate links, which means I may receive a commission, at no extra cost to you, if you make a purchase through a link. Please see my full disclosure for further information.*
What is hi ratio shortening/what's the difference between high ratio shortening and regular shortening?
High ratio shortening, such as brands like Sweetex, is a vegetable shortening. It is considered higher quality than brands that you typically find next to cooking oils though. This is due to it containing more emulsifiers.
Okay, so what does that mean? Well basically, the higher emulsifier content allows for the powdered sugar to melt into the shortening better than regular shortening allows. This leads to that smoother, creamier, as my husband says "powdery" mouth feel. And to clarify, he doesn't mean that it tastes dry, just that it is light in texture.
Sweetex does not contain any trans fats and is made up of partially hydrogenated soybean and palm oils with both monoglycerides and diglycerides. Crisco, in comparison, is made up of soybean oil (not partially hydrogenated) and then fully hydrogenated palm oil, among some other ingredients.
You can find out more information on the ingredients and nutritional facts of Sweetex here and the same for Crisco here.
Other brands on the market are Kitchen Krafts, Wessen, Nutex, and Alpine. I can't speak to these other brands, but they are probably pretty awesome as well.
Where to Buy Sweetex High Ratio Shortening
You can purchase Sweetex on Amazon if you want 50 lbs. of it at once. This is perfect if you decorate custom cookies and go through lots of shortening.
If you are like me, however, and want to decorate sugar cookies for parties and celebrations, you don't need 50 lbs.  I also live in a rural area that doesn't have a bake supply store. This is where Bake Supply Plus comes to the rescue. I love this supply store that is based out of Florida. They have exceptional customer service and 2-day shipping. And again, not a sponsored post. I just think they're great.
You can purchase 1.5 lb. containers of Sweetex at Bake Supply Plus. I made a double recipe of my Sweetex crusting buttercream recipe and it only took a third of the container or so.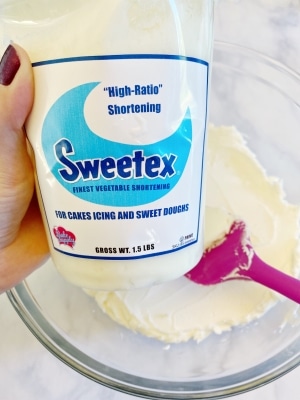 If you're a home baker, you may not care about Sweetex vs Crisco. And really, that's okay. As I said before, I used Crisco exclusively for over two years. No one ever complained. It tastes good.
But if you want something superior tasting and a smoother buttercream, switch to Sweetex. To save pantry space, check out Bake Supply Plus, as they offer it in 1.5 lb boxes.
One thing to consider as well is the cost of Sweetex vs Crisco. I purchased my Sweetex for $9.95 for a pound and a half, which is 24 oz. At my local Safeway, Crisco is $7.49 for 48 oz. Doing the math (I used this calculator) you'd pay about $0.41 an ounce for Sweetex and only $0.16 for Crisco.
So yeah, it's definitely more expensive to purchase Sweetex. But with your wallet comes higher quality and to me that's important. The whole reason I chose buttercream frosting as opposed to royal icing is because I wanted my cookies to taste good, not just look good. So if Sweetex means my cookies have a less greasy texture and taste, I'm all about it.
Can I bake with Sweetex Hi Ratio Shortening?
Yes, absolutely. The benefit of baking with Sweetex as opposed to Crisco is that the added emulsifiers can hold in more moisture, allowing for tastier and softer baking. I do not use vegetable shortening in my sugar cookie recipe so I wouldn't add it to that. You can use it in sweet yeast breads and cake batters.
What is the shelf life of Sweetex?
Sweetex has a shelf life of one year post manufacture date, perfect for multiple birthday parties, holidays, and other celebrations that cookies call for. I store mine in my pantry with my flour, sugars, and other baking ingredients.
Sweetex Hi Ratio Shortening Buttercream Recipe
Hi Ratio Shortening Buttercream Recipe for Decorated Sugar Cookies
Using a hi ratio shortening such as Sweetex gives a smooth, non greasy texture for buttercream iced cookies. This hi ratio shortening buttercream recipe is also a crusting buttercream recipe, allowing for the buttercream to harden just a bit.
Equipment
Stand Mixer with Paddle Attachment

Measuring Cups & Spoons

Rubber Spatula
Ingredients
1

stick

room temperature unsalted butter

(1/2 cup)

1/2

cup

Sweetex hi ratio shortening

4

cups

powdered sugar

(1 lb. bag plus a half cup)

1.5

tsp.

pure vanilla extract

1-3

tbsp.

room temperature whole milk or cream

gel food dye shades of your choice
Instructions
Beat the room temperature butter on medium-high speed for about two minutes, until it is creamy and lighter in color. The whiter the butter is, the whiter the resulting buttercream.

Mix in the Sweetex hi ratio shortening on medium speed until fully creamed into the butter, about one minute.

Add in the powdered sugar and use the rubber spatula to mix in the sugar a bit before turning on the mixer to low. This helps prevent a kitchen covered in powdered sugar. Mix for about 30 seconds, or until just combined.

Add in the teaspoon of pure vanilla extract and one tablespoon of whole milk. Mix on low. I prefer a consistency of smooth peanut butter for my buttercream icing. Add in more milk as needed until you achieve your preferred consistency, keeping in mind that too much milk will lead to less crusting.

Separate the frosting into individual bowls for each color of icing. Add in the preferred gel colors, using a fork to mix. Place into prepared icing bags.
My Favorite Tools for Buttercream Frosting
First and foremost, it's best to use a stand mixer that has a paddle attachment. I have a KitchenAid stand mixer that I love. I'm ready to buy another one so I can mix my buttercream frosting at the same time as my sugar cookie dough. I'm thinking a pink one. I can dream.
I use a large rubber spatula to bring all of the frosting together in the mixing bowl, since it will creep up the sides a bit. Using a skinnier spatula is nice to place the frosting into the icing bags. You can also use butter knives.
Speaking of icing bags, I prefer the Wilton 12″ bags. I've never had one break or explode on me and I love that the 12″ ones are the perfect size for cookie decorating. The larger ones hold a lot of frosting, making it difficult to hold in your hand to pipe. You also don't need much buttercream icing to decorate cookies, at least compared to decorating cakes.
My preferred gel coloring is also the Wilton brand. I love the price and I haven't had an issue not getting any shade that I've wanted with the 12 piece set. I feel like that's really saying something too since I have over 150 tutorials on the page (linked in the footer by the way.) I know others swear by Americolor and I'm sure it's great, I just don't want to spend the extra money when I am happy with Wilton.
More Free Resources on Buttercream Frosting for Cookies
Make sure to check out more of my free resources on how to decorate buttercream sugar cookies on the site. I go over how to package and transport buttercream sugar cookies, how to obtain whiter buttercream frosting, how to smooth buttercream on cookies, and much more.
Save the Recipe for Sweetex Hi Ratio Buttercream Frosting for Later
Use the social share icons on the top of this page to share it to your favorite social media site. Alternatively, use the image below to pin it to your Pinterest boards so you have access to it when you need it.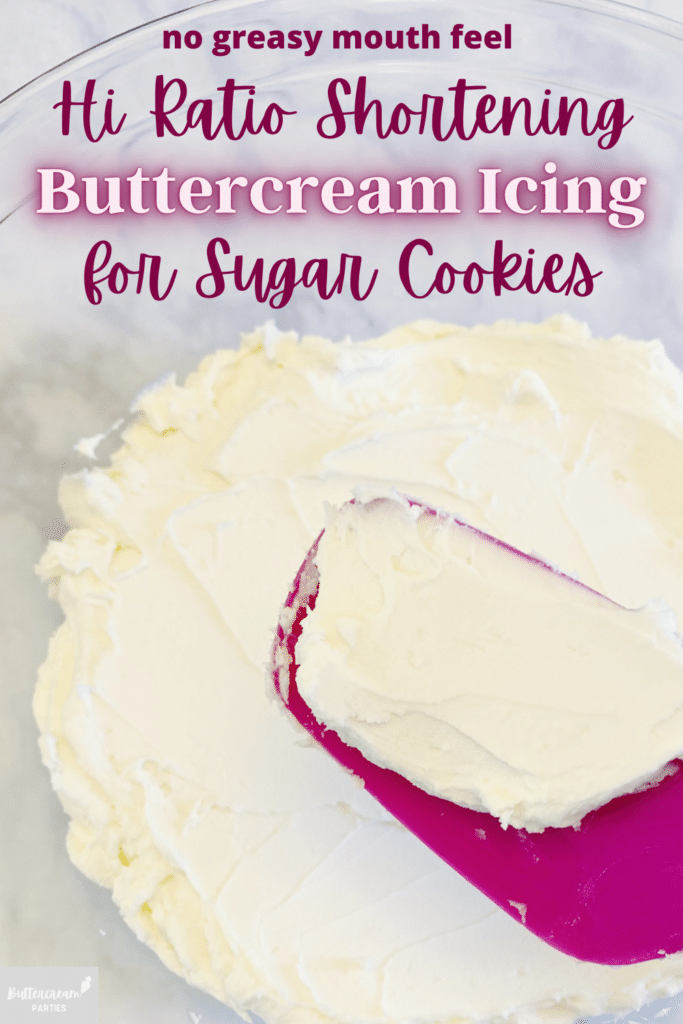 Thanks for sharing!