My 3 Easy Tips for How to Package Buttercream Sugar Cookies
A question I often hear is how to package buttercream sugar cookies. These cookies are more delicate than their royal icing cousins. However, decorating sugar cookies with buttercream frosting is much tastier in my opinion.
If you are decorating sugar cookies for a party you are invited to, you may be hesitant to go the tastier buttercream route.
As someone who rarely hosts parties at my own house, I need to transport my cookies often. This obviously entails packaging them in some way to protect these delicate treats. Trust me when I say it is possible to safely package your buttercream frosted cookies.
Here, I will share my three tips on how to package buttercream sugar cookies.
*This post may contain affiliate links, which means I may receive a commission, at no extra cost to you, if you make a purchase through a link. Please see my full disclosure for further information.*
Tip #1: Use the Best Buttercream Frosting for Packaging
My first tip is to use a crusting all-American buttercream recipe. This is the best buttercream frosting option for packaging. "Crusting" means that the outside layer of frosting will harden but the inside will remain soft. This creates a perfect bite while providing a layer of protection. Just keep in mind the cookies are mildly protected, you don't want to press your finger into it with force as the design will be ruined. You will have enough protection to safely transport them, though.
Recipe for Crusting Buttercream
To create a buttercream frosting for cookies that hardens, you will only need:
1 cup of room temperature unsalted butter
1 cup of vegetable shortening
2 lbs. plus one cup of powdered sugar
2 tsp. of clear vanilla extract – I use artificial but you can get clear pure Mexican vanilla extract if you want to get fancy
milk to thin
optional – add a drop or so of violet gel dye to achieve a whiter buttercream color
Directions:
In your electric mixer, use the paddle attachment to mix the butter and vegetable shortening together. Then, and a third (or whatever amount your mixer can handle) of the powdered sugar together. Slowly add in the remaining powdered sugar until you have about a cup or two left.
Add in the vanilla extract and a tbsp. of milk and mix.
Add in the last of the powdered sugar and mix. If the mixture is too stiff or appears to be grainy, slowly add in more milk, one tablespoon at a time. I prefer a consistency of smooth peanut butter for cookies that have a lot of line work and a slightly stiffer consistency for piping flowers.
This recipe will store nicely in the fridge for a few weeks in an airtight container. You can also leave your decorated cookies at room temperature for several days, as the frosting will be shelf-stable due to the mixture of sugar and fat.
You can find more information about this crusting buttercream recipe plus FAQ on this post here.
What Makes Buttercream a Crusting Buttercream?
In order to obtain buttercream frosting for cookies that hardens, it will need a high ratio of sugar to fat. A good ratio to follow is 3.5 or 4 parts powdered sugar to 1 part fat, or a 4:1 ratio. This is why an all-American buttercream tends to be quite sweet. When I first started making decorated sugar cookies, I didn't add as much powdered sugar as the recipe called for; I tasted it after about 6 cups of the sugar was added and thought, "that tastes plenty sweet," and didn't add more. Fortunately, my frosting still crusted. However, I would want it to crust much more if I were going to transport them from my dining room table.
When measuring your 4:1 ratio, it's good to keep in mind how to convert pounds to cups. I don't know about you, but my local grocery store stocks powdered sugar in 1-3 pound bags while many recipes call for butter and/or shortening in cups. So, for your reference, there are roughly 7.5 cups of unsifted powdered sugar to every two pounds. I say "roughly" because it's always best to weigh ingredients if you want an exact amount. Since we aren't baking our frosting, I think it's fine to just estimate. The basic concept is a high ratio of sugar to fat. There is a level of forgiveness here!
How long does it take for buttercream to harden?
To safely transport your buttercream cookies, wait until the frosting hardens on the outside layer. Your frosting will start to crust or harden after about 30 minutes. I prefer to let my buttercream frosted cookies crust overnight, though. Maybe I am just paranoid, but letting them crust for 8 hours or so just puts my mind at ease. This brings me to another commonly asked question.
Does buttercream icing need to be refrigerated?
Crusting buttercream does not need to be refrigerated, making it safe to store buttercream frosting on the counter overnight. The high sugar ratio will act as a preservative in your crusting recipe. In fact, if I make my decorated cookies 3 days or more in advance, I will store them in an airtight container in the freezer rather than the refrigerator. If you have leftover buttercream frosting in your icing bags, put the bags in the freezer for up to a month. You can purchase Wilton tip covers to keep your icing from drying out near the tip.
Tip #2: A Short Yet Wide Box is Best
The best storage containers for packaging your beautiful, yet delicate, buttercream cookies are boxes that are large width-wise but short height-wise. Essentially, you want to be able to fit as many cookies into your container as possible without stacking them.
*Quick Note* You may have read on my blog before that it is possible to stack buttercream sugar cookies. I always say that it is okay to stack them for display at a party. I would not recommend stacking them while moving or packaging them. Displayed at a party, the cookies won't be tossed around in someone's arms or in a moving vehicle. Besides, you will likely hear people say, "they are too pretty to eat!" so they tend to be more cautious when grabbing a cookie. It's a win-win for your confidence in decorating sugar cookies and the cookies staying pretty!
Okay, but back to packaging and transporting the cookies. If you are bringing the standard dozen to a party, I recommend using a pizza box. You can find pizza boxes on Amazon that would fit cookies very nicely. Of course, cookies can range greatly in size, so you may need a few boxes to fit all of your cookies. It's a great idea to place a paper towel along the bottom of the box before layering in the cookies. This helps the cookies not slide around as much in the box.
If you need to store your decorated cookies for a while prior to transporting them, I'd recommend using air tight Tupperware containers. You can store your cookies in these containers for a few days leading up to the event plus use them to travel as well.
Some people add paper shred to their packaged cookies. I don't have a problem with this at all, but some people do since most paper shred isn't food safe. I say, you do you!
Tip #3: If You Need to Individually Package…
If you need to individually seal your cookies for your event, make sure the buttercream frosted cookies have crusted overnight. You can use 4″ x 6″ self-sealing bags like this to make it easy on yourself.
Plus, you can find self-sealing bags in cute patterns, like the polka dot ones I linked above (also shown in the photo below). Just make sure that when you are sealing the cookies, you press lightly.
I recommend the 4″ x 6″ size so you have a bit of room at the top of the cookie to seal without touching the cookie itself.
It's also recommended to add just a bit of air into the bag for cookies with a lot of texture, think flowers and ruffles.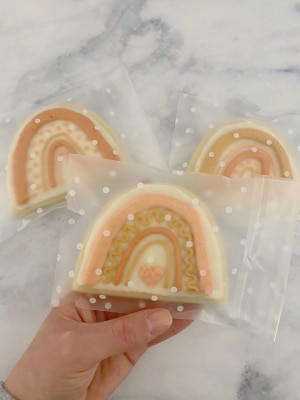 You can also use non self-sealing cellophane bags and purchase an inexpensive heat sealer. The pro for going this route is that you don't have to worry about pressing onto the cookie while you seal it with self-sealing bags.
When setting out the individually packaged cookies, try not to touch the top of the cookie. Basically, act like the cookie isn't packaged at all. You wouldn't pick up cookies you were about to serve to guests by touching the frosting.
I would still recommend storing individually sealed cookies in a short, wide box to transport. At the event, lay the cookies out flat if possible. Have I mentioned that cookies are a great thank-you favor for baby/bridal showers?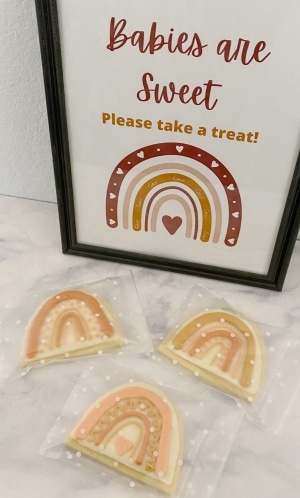 Want to skip the bags? You can use small plastic boxes as well. I love these small clear boxes that come in a pack of 100. All you do is remove the protective cling wrap and fold them up. So easy!
Here are some Halloween cookies I made using the box method, simply because I didn't have bags large enough at the time.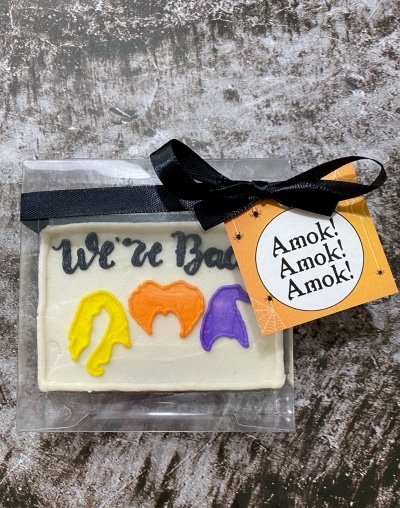 If you are selling your cookies, don't forget to add in the cost of packaging!
Making the Cookie Packaging Pretty with Printable Cookie Tags
To amp up the already pretty buttercream sugar cookies, try adding fun & cute printable cookie tags! You can find 2″x2″ cookie tags in my Etsy shop.
I also have cookie cards and cookie toppers in the shop. Packaging really can make or break a sale so don't skimp here.
To Wrap Up
To conclude, you can confidently package buttercream sugar cookies by using a crusting buttercream to decorate and storing the cookies flat. If you need to individually seal your cookies, find bags that are longer than your cookie. I promise you that you do not need to resort to the less tasty royal icing cookie just to have travel-friendly treats.
For More Decorating Sugar Cookie Tips…
Make sure to check out my guide for beginners here: Learn How to Decorate Buttercream Cookies for more tips, tricks, and product recommendations.
For fool-proof ways on how to smooth buttercream for cookies, check out my post here: How to Smooth Buttercream for Cookies.
If you love Christmas cookies, check out my 25 Days of Christmas Cookie Tutorials eBook! These would be the perfect cookies to package up for DIY Christmas gifts.
Save These Tips on How to Package Buttercream Sugar Cookies
To save these tips for packing and transporting buttercream iced cookies for later, simply click on any of the social share icons on the top or side of this page. Alternatively, hover over the image below to pin the image to your Pinterest page!