Homemade Banana Buttercream Frosting with Real Banana
Made with a real banana, this homemade banana buttercream frosting will be your new go-to frosting. Banana buttercream goes exceptionally well with peanut butter, chocolate, cinnamon, strawberry, and many more flavors.
This banana buttercream is also a crusting buttercream and an American buttercream. This means that the frosting is perfect for piping and decorating.
Follow along for the banana buttercream recipe that everyone will be begging you for the recipe.
*This post may contain affiliate links, which means I may receive a commission, at no extra cost to you, if you make a purchase through a link. Please see my full disclosure for further information.*
How to Make Banana Buttercream With Real Banana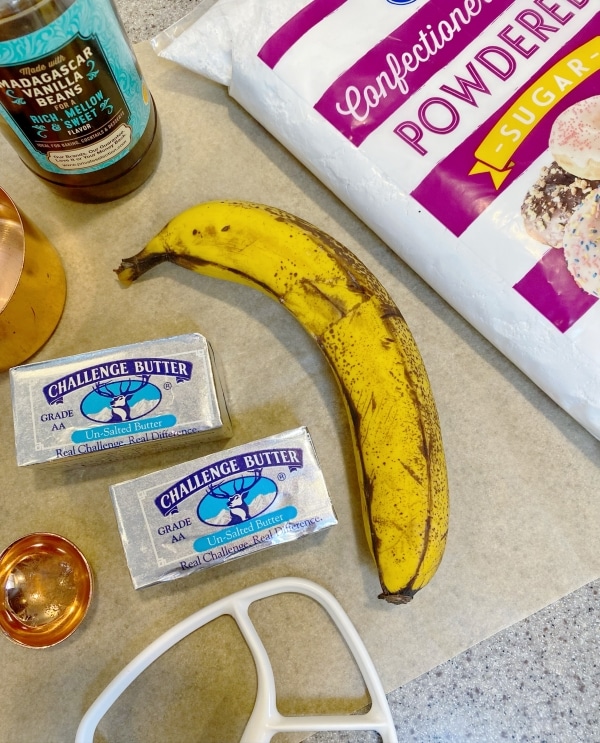 Preparing the Banana
The first step toward making this amazingly delicious banana buttercream is to pick a banana that is overripe. The banana should have dark brown spots on the peel and be soft.
Once you have an overripe banana, in a small bowl or a cup, mash the banana until all the lumps are gone.
Stir in a couple drops of lemon juice. This will help prevent the banana from browning and also helps reduce the sweetness.
An overripe banana has more sugar content than an unripe banana. Since American buttercream is already a sweet frosting, adding in a sweet banana without the addition of lemon juice could potentially be over-kill.
Overripe bananas are also softer, making them easier to mash, resulting in a smoother buttercream.
This banana buttercream isn't the best for piping details due to the seeds but works amazingly well as a cupcake/cake frosting or smoothed onto cookies.
Making the Banana Buttercream Frosting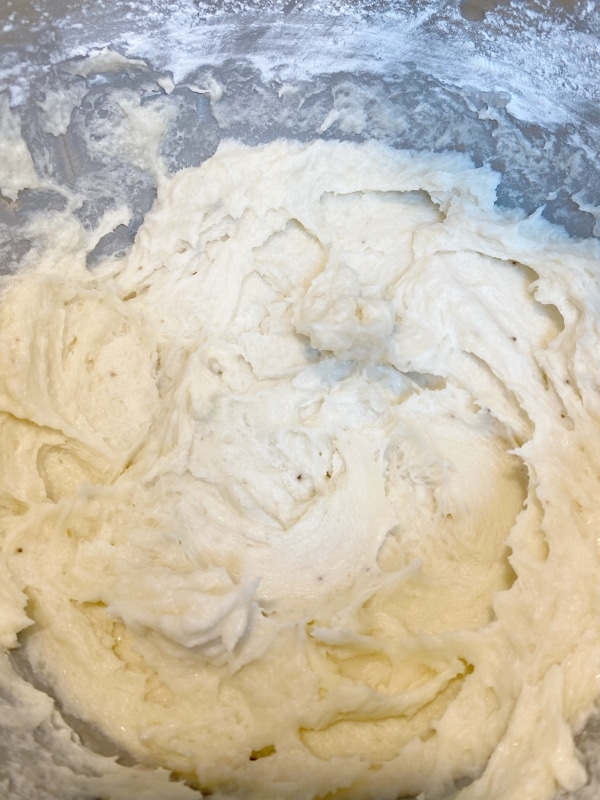 In a stand mixer with the paddle attachment, whip one cup of room temperature unsalted butter until light and fluffy. One cup of butter is equivalent to two sticks of butter or 16 tablespoons.
Once light and fluffy and all of the lumps are gone, mix in the prepared banana until well combined.
Turn off the stand mixer and add in four cups of powdered confectioner's sugar and one teaspoon of vanilla extract.
We use four cups of powdered sugar in order for the frosting to form a slight crust. All that means is that the outer layer of frosting will dry to the touch. This helps keep fingers cleaned when picking up the cookies & cupcakes.
This banana buttercream recipe won't use any milk, as the mashed banana acts as a substitute.
Cover the stand mixer with a clean towel or a paper towel and mix on low/stir.
Do not turn the mixer higher than low. If needed, use a rubber spatula to stir the frosting. Overmixing buttercream can cause air bubbles. If you do overmix, here's a post on how to fix it. I promise it's not terribly hard to fix, but, as always, prevention is better.
Once the frosting is mixed, place it into a piping bag with your preferred decorating tip and decorate right away. The decorated cupcakes/cake/cookies can sit out for a couple hours at room temperature. Otherwise, store in the refrigerator or freezer.
Store this banana buttercream in an air tight container in the fridge for up to a week, or in the freezer for up to three months.
How to Decorate Banana Cut Out Sugar Cookies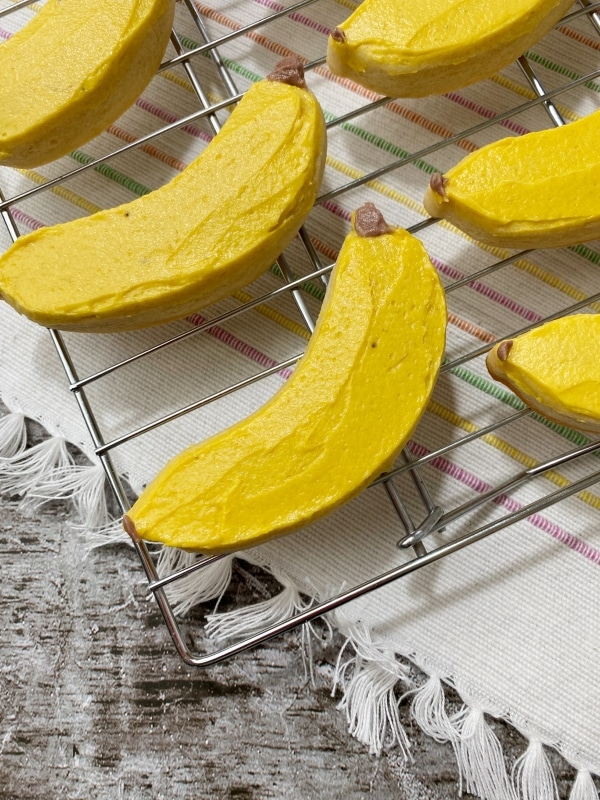 I decided to decorate some banana cut out sugar cookies with this recipe, so delicious!
Here are the easy instructions for decorating banana sugar cookies:
Divide the buttercream up into two bowls, with only about a third of a cup of frosting in one of the bowls. Dye the small bowl brown and the larger bowl yellow.
Place the brown and yellow buttercream into two icing bags without tips. Simply cut a small hole at the end of the icing bags.
Squeeze some of the yellow frosting onto the banana shaped cookie. Then, take a palette knife and smooth the frosting out, leaving the top stem without frosting.
Squeeze some brown frosting on the stem part of the banana cookie and a line at the bottom of the banana.
These were a really easy cookie to decorate that tasted amazing. My three year old son even helped decorate these. Squeezing the yellow frosting onto the cookies was a fun and easy task for him.
Homemade Banana Buttercream with Real Banana
This banana buttercream with real banana will wow your taste buds. Perfectly sweet, this frosting works well with cupcakes, cakes, and cookies.
Equipment
Stand Mixer with Paddle Attachment

Rubber Spatula

Measuring cups and spoons

Small bowl
Ingredients
1

overripe banana

lemon juice

couple drops

1

cup

room temperature unsalted butter

4-6

cups

powdered sugar

1

tsp.

vanilla extract
Instructions
Mash banana in a small bowl and stir in a couple drops of lemon juice to prevent browning.

In the stand mixer with the paddle attachment, cream the butter on high speed until light and fluffy.

Add the banana into the mixer and mix until combined.

Add four cups of powdered sugar and vanilla extract into the mixer. Mix on low speed until well combined.

If the frosting is separating or too thin, mix in up to two more cups of powdered sugar until the frosting comes together smoothly.
Notes
As this banana buttercream uses real banana, use within a few days of making and store the frosted baked items in the refrigerator.
This recipe starts with four cups of powdered sugar but due to bananas being different sizes, you may need up to six cups of powdered sugar to offset the amount of banana to obtain a smooth buttercream.
Save the Recipe for Banana Buttercream
Use the image below to pin this banana buttercream recipe to your baking or cookie board on Pinterest. Alternatively, use any of the social share icons on the top of the page to share it to your favorite social media site.