How to Decorate Mini Graduation Sugar Cookies
It's time to start planning the graduation party for your student! School has been weird during the pandemic, no doubt. The celebration will likely look different this year. However, that doesn't mean we can't celebrate with graduation sugar cookies. I've created a tutorial for diploma sugar cookies, graduation gown cookies, and graduation cap cookies. I decided to go with purple and gold, as I graduated from the University of Washington several years back. I also believed this would be a great opportunity to teach you how to make gold buttercream frosting. Of course, use your graduate's school colors, though. Follow along for the step-by-step photo series tutorial, which also includes a video!
*This post may contain affiliate links, which means I may receive a commission, at no extra cost to you, if you make a purchase through a link. Please see my full disclosure for further information.*
Part 1: Gathering your Supplies for your Graduation Sugar Cookies
To create these graduation cookies for your grad party, you will want to gather:
4 Icing bags
4 Couplers
One Wilton tip #2 and one Wilton tip #3 – buy these individually at a craft store or purchase this kit that I use all the time if you become addicted to decorating cookies like me
Buttercream frosting in black, white, and two of your student's school colors*
Butter knife
You may be asking, "What are couplers?" Couplers allow you to change your tips on your icing bags. Check out my page, Getting Started: Learn How to Decorate Buttercream Cookies, to learn how to do this. Essentially, you will attach a coupler to each icing bag. When you need to attach a tip, just make sure to rinse out the previous color from the tip with hot water. Purchasing a set of couplers is pretty affordable on Amazon: 4 Count Wilton Coupler Set.
Part 2: Baking the Cookies and Setting up Your Icing Bags
Roll, cut out, and bake your sugar cookies according to your cookie dough recipe.
Make your buttercream icing and separate it into four bowls. You won't need much black frosting at all but go ahead and mix that up first so that the black has time to deepen in color. Then, mix your two school colors. Remember that the color will still deepen as it sets.
Set up your icing bags as follows: Place each of your frosting colors (4) into their own icing bags set up with couplers. If you don't know how to do this, just hop over to my Getting Started: Learn How to Decorate Buttercream Cookies page. You don't need to attach any tips to the bags yet.

The school colors for this tutorial are purple & gold to match the UW Huskies.
How to Make Gold Buttercream
If your graduation cookies include gold like mine do, don't worry about the myth that gold is hard to achieve. Using Wilton gel colors, divide your to-be-gold frosting into two parts. One part will be about 2/3 of the frosting and the other part, the remaining third. Color the 2/3 part of frosting Wilton Golden Yellow. Color the remaining third a light brown using Wilton Brown. Start adding the light brown frosting into the golden yellow frosting in small bits at a time. Once you've achieved your desired shade of gold, you're done!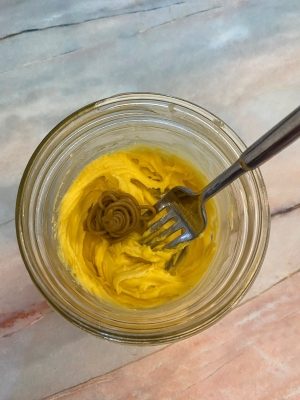 If you have lots of leftover light brown, either freeze it for later or add golden yellow to it until your frosting matches the larger gold buttercream batch. If you want a sparkly gold, all you need to do is paint gold luster dust over the gold buttercream. To do this, mix 1 part vodka to 2 parts luster dust into a small dish such as a baby food lid. Once you have that mixed up, gently paint over the buttercream and allow to fully dry so that the alcohol evaporates from the cookies.
Part 3: How to Decorate the Sugar Cookies for Your Graduation Party
Check out the video tutorial for all three of these designs first. Then, go ahead and check out the step-by-step photo series tutorials for each cookie.
How to Decorate Graduation Gown Cookies
The first step for creating our graduation gown cookies is to outline the gown in the primary school color. I have chosen purple. Attach the Wilton tip #3 to the chosen color to do this step.
Next, use the same icing bag to fill in the gown.
Once you've completed steps 1 & 2 on all of your gown cookies, remove/rinse/dry the tip #3 from that icing bag over to the secondary school color. In this tutorial, the secondary color is the gold frosting. Outline the collar of the gown and then draw the two cords. I put little dots at the end of the cords to "tie" the ends.
How to Decorate Graduation Cap Cookies
Use the same color that you used for your gown cookies to outline and fill in the graduation cap cookies. You will be using the Wilton tip #3 for this step.
The next step is up to you on what you want to do. I first used the secondary color to create the button that holds the string/tassel onto the cap but then changed my mind to make it black instead. The black made it so there was one cookie in the set that had all four colors of frosting. But, I like how both look so I'll leave the decision up to you. Use the tip #3 for the button and string.
To create the tassel, use the same color/tip size as the string but instead of drawing straight lines, do small zig zag motions as you move your frosting. This gives it a bit more dimension/texture. Check out the video tutorial for clarification.
The last step is to add the graduation year onto the cap. Use the white frosting with tip #2 attached to write in the 2-4 numbers for the appropriate graduation year. I felt more confident in my abilities to just write two numbers but you can do the full four if you want! Just make sure there's a cookie with the year on it, that's important for graduation cookies.

Here's the example with the black button instead of gold.
How to Decorate Diploma Sugar Cookies
I saved the cookie with the most steps for last, but don't worry, just because there are a lot of steps doesn't make it too difficult. First, use the secondary color with tip #3 attached to outline the bow.
Fill in the bow (excluding the top two sections) and then smooth it with a knife. The smoothness does not need to be perfect here.
Use the white frosting with tip #2 attached to outline and fill in the shape of the diploma paper.
Once you have completed steps 1-3 on all of your diploma cookies, remove/rinse/dry the tip #2 from the white frosting and attach it to the black frosting. Create two swirls on your paper that are mirror images of each other. No, they don't need to be perfect, just the direction is important.
Connect the top and bottom swirls together along the length of the diploma using the black frosting.
Lastly, use the bow color frosting to re-outline the bow. This will give the cookie the right 3D look. One of the many benefits of buttercream frosting!
These mini graduation sugar cookies are perfect for graduation parties, of course. But this year, with COVID, it's unlikely there will be many parties. I am truly sad for the seniors this year, and last year for that matter. To brighten up a graduate's day, these mini cookies would be a great gift. All you need to do is package them up and drop them off on their doorstep. For information on how to package buttercream sugar cookies, check out my blog post here: How to Package Buttercream Cookies
Save The Tutorial for These Graduation Sugar Cookies for Later
To save the tutorial for these buttercream sugar cookies for later, simply click on any of the social share icons on the top or side of this page. Alternatively, hover over the image below to pin the image to your Pinterest page!