How to Frost Football Sugar Cookies with Buttercream Frosting
Football season is here. While I'm not the biggest football fan, I can appreciate a reason to throw a good party. I thought I'd put together a quick tutorial for football sugar cookies.
These decorated football cookies are perfect for tailgate parties, game snacks, and obviously the Super Bowl.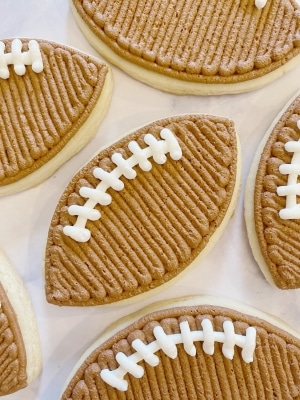 They come together very quickly with just two shades of buttercream, two icing bags, and one cookie cutter shape. So easy!
Follow along for the step-by-step photo series tutorial. I have also included a video so you can see how these are easy tailgating desserts!
*This post may contain affiliate links, which means I may receive a commission, at no extra cost to you, if you make a purchase through a link. Please see my full disclosure for further information.*
Part 1: Gathering the Supplies for the Football Sugar Cookies
To make these decorated football sugar cookies, you will want to gather:
Part 2: Baking the Cookies and Setting up Your Icing Bags
Roll, cut out, and bake your sugar cookies according to the recipe. You will be able to make about 24 football sugar cookies with the recipes linked above.
Make your buttercream icing and separate it into two bowls. One bowl should contain about 3/4 of the frosting which will be the brown frosting. I actually mixed Wilton Brown with Wilton Copper to achieve this football shade of frosting. The remaining 1/4 will be undyed. I prefer to use the Wilton gel food dye since gel is more vibrant (i.e. more cost effective because you use less) than liquid and doesn't change the consistency of your frosting. Remember, the brown frosting will darken as it sits out.
Set up your icing bags as follows:
Part 3: The Tutorial for How to Decorate Football Sugar Cookies
Check out the video here to see how to make these decorated football sugar cookies. Then, check out the step-by-step photo series tutorial.
 How to Frost Football Cookies Using Buttercream Icing
Outline and fill in the shape of the football with the brown frosting.
Draw a curved line near the top of the cookie with the white frosting.
Place some smaller lines running perpendicular to the curved line with the white frosting.
Those were the easiest cookies, weren't they? You know I love to get pretty detailed on some of my cookie designs. But sometimes, we just need something quick. This way, there's more time for the tailgate or watching the game.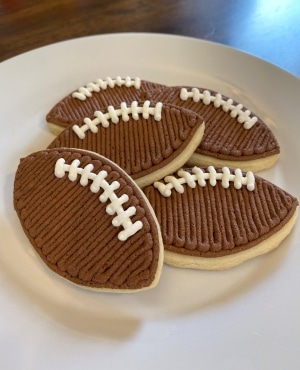 If you make these football cookies, I'd love to know in the comments below. You can also tag me @buttercreamparties on Instagram. It would be so fun for me to see how you've celebrated the game with these cookies.
Packaging the Buttercream Football Sugar Cookies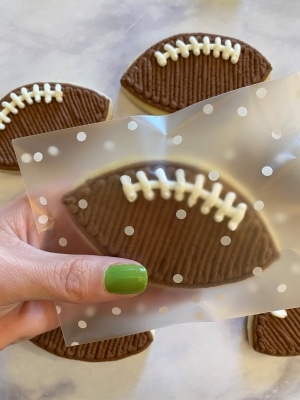 Since these cookies are easy tailgate desserts, you may want a way to package them. You can definitely package buttercream sugar cookies, following a few simple rules. Basically, make sure that the recipe you use is a crusting buttercream icing like the one I linked in the items needed list. You also want to wait until the cookies have dried before packaging them.
For more information on how to package, store, and transport buttercream decorated cookies, check out my post here. I've also included recommended packaging and storing products on the post.
Save the Tutorial for Football Decorated Sugar Cookies
If you're a football fan, you need to save this tutorial for easy tailgating desserts when you host the big game! Use one of the images below to pin it to your party board on Pinterest. Alternatively, use any of the social share icons on the top of the page to share it to your favorite social media site.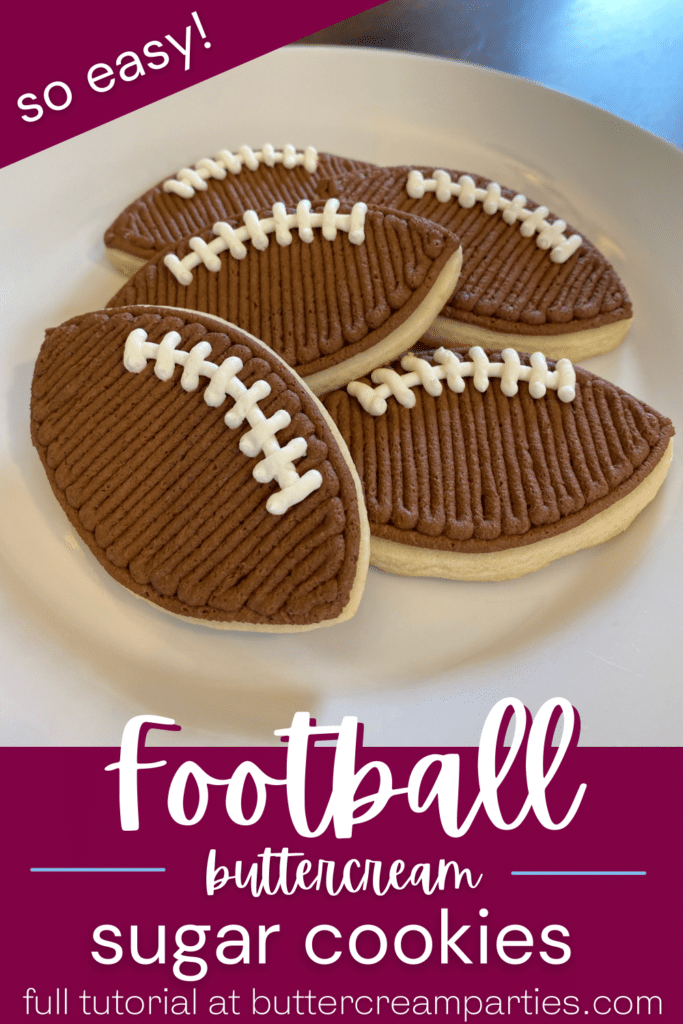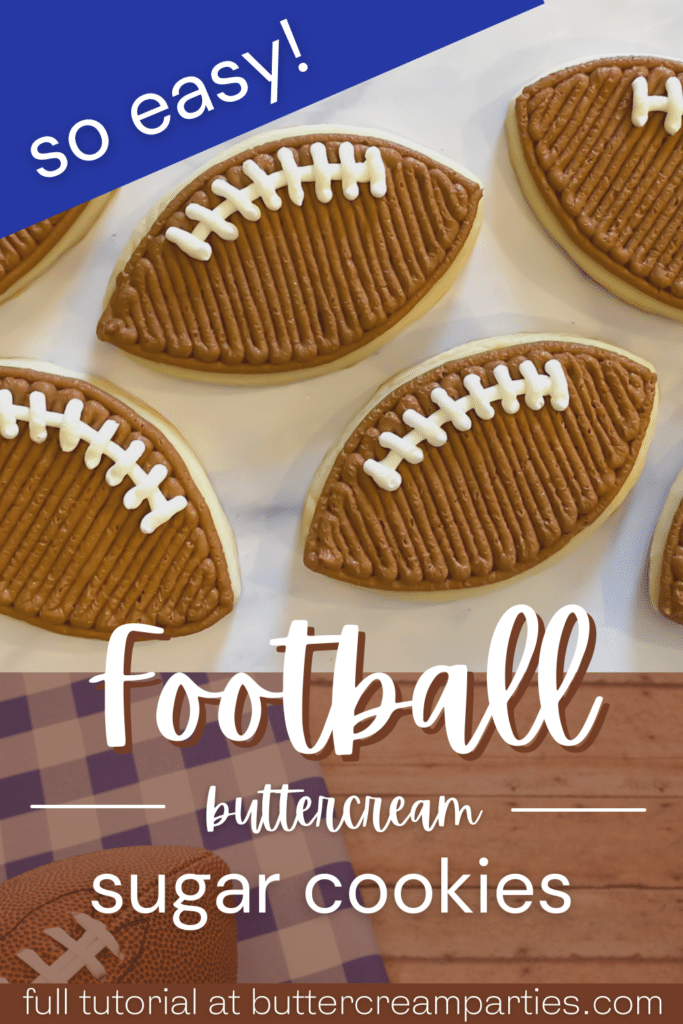 Thank you so much for sharing! Happy decorating and happy tailgating!