Fun Saint Patrick's Day Cookies: Lucky Charms Cookies
My husband loves Lucky Charms cereal. To me, the cereal is just okay. But, these buttercream cookies on the other hand are "magically delicious" as one might say.
These Saint Patrick's Day cookies are inspired by the Lucky Charms cereal! So fun!
These would be perfect for a St. Patrick's Day for kids party. They are the perfect size for little ones and the colors are so bright. If you didn't want to host a party, you could even pack some Lucky Charms cookies up in your kid's lunch for school!
Follow along for all the steps so you, too, can create these fun Saint Patrick's Day cookies.
*This post may contain affiliate links, which means I may receive a commission, at no extra cost to you, if you make a purchase through a link. Please see my full disclosure for further information.*
Part 1: Gathering Your Supplies For Your Saint Patrick's Day Cookies
To create these Lucky Charms cookies using buttercream frosting, you will want to gather:
9 icing bags – It's best to just buy in bulk and you can even use them for deviled eggs, sauces, and decorating more cookies of course!
One Wilton #2 tip and one Wilton #5 tip – pick these up at Michaels if you want to purchase just one tip at a time, it's cheaper that way. Or, the ultimately cheaper route is to buy a set of tips if you plan to decorate cakes and cookies often. If you get this set, you won't ever need to buy any more tip sizes for my tutorials!
9 couplers – While I prefer this set, I have also used these without issue and it may be the better buy for the amount of couplers you need
Small circle cookie cutter – I used the smallest sized circle in the Wilton 101 Cookie Cutters set
Your favorite sugar cookie dough recipe – if you don't have a favorite, here's mine
Wilton gel coloring to obtain dark green, light green, pink, red, purple, blue, yellow, orange, and white buttercream frosting, here's my crusting buttercream recipe
A pointed knife to erase any mistakes along the way
You may be asking, "What are couplers?" Couplers allow you to change your tips on your icing bags. Check out my page, Getting Started: Learn How to Decorate Buttercream Cookies, to learn how to do this. Essentially, you will attach a coupler to each icing bag. When you need to attach a tip, just make sure to rinse out the previous color from the tip with hot water. Purchasing a set of couplers is pretty affordable on Amazon: 4 Count Wilton Coupler Set. 
P.S. Did you know that you can order grocery delivery through Shipt? You don't even need to leave the house which is perfect for our times these days. I live pretty deep in the woods and they still deliver to me! I have four store options available to me, in which I chose Safeway because that's where I'd shop if I was in town anyway. Check it out here if you want to sign up for free!
Part 2: Baking the Cookies and Setting up Your Icing Bags
Roll, cut out, and bake your sugar cookies according to your cookie dough recipe. You will be able to make lots of these Lucky Charms cookies with the small size of the cutter. 
Make your buttercream icing and separate it into nine bowls. You will need the most white frosting, so set aside quite a bit of the white into a larger bowl. To create your other colors, set aside about 1/4 of a cup into the other 8 bowls. Mix green into two of the bowls, keeping one light and one a darker shade of green. You can do the same with the pink & red or you can use pink gel and red gel. Mix up your yellow, purple, blue, and orange colors as well. 

Pro tip: mix your red, purple, and dark green frostings together first so that they have time to set for a bit. This allows the colors to deepen so you don't need as much gel color.

Set up your icing bags as follows: Place couplers into all 9 icing bags and add each color, one per bag of course. If you aren't sure how to do this, no worries, just hop over to my Getting Started: Learn How to Decorate Buttercream Cookies page. You do not need to add the tips to the couplers yet.
Part 3: The Fun Part! Frosting Your Saint Patrick's Day Cookies!
*Special Note – There are a lot of icing colors and designs for this one. As long as you go in order and complete each step for each cookie before moving to the next step, your process will be much quicker. Keep in mind that you will need to remove/rinse/dry the tips from the icing bags between color changes, so let's do this the least amount of times as possible!
Don't be discouraged with drawing your Lucky Charms cookies! Buttercream frosting is very forgiving & you can easily erase your mistakes. All you need to do is use a pointed knife to either pick up the frosting mistake and remove it from your cookie OR you can roll the frosting where you want it if it's a minor mistake. This is even easier to do if you allow the white background on each cookie to crust before you start drawing. If you aren't confident in your drawing skills, practice writing on parchment paper first. Then, scoop up that icing and place it right back into your bag!
1. First, use your white frosting with tip #5 attached to the coupler and outline all the edges of your cookies.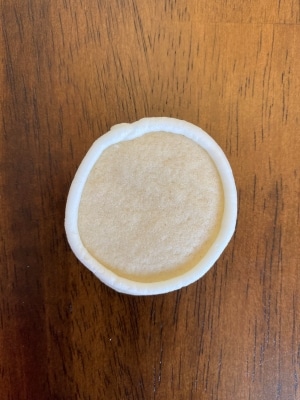 2. Then, fill them in, again with the white frosting and tip #5. 
3. To create your red balloons, attach tip #2 to the red frosting and outline a balloon shape. Then, fill in the design using vertical lines to create a contrast with the white background.
4. Remove/rinse/dry the tip #2 from the red frosting and attach it to the pink frosting. Outline and fill in your pink hearts.
5. Switch out the tips just the same as before but for your purple horseshoes…
6. … and the blue moons.
7. For the rainbows, first create the outer blue color of the rainbow. Do this for all of your cookies that will be rainbows before going to the next step.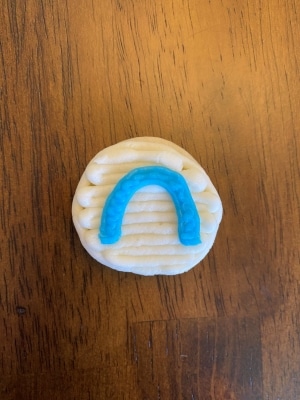 8. Then use the yellow for each rainbow cookie…
9. And lastly the pink.
10. For the four leaf clovers, draw/fill in the hat shape with the light green frosting. Do this for all of the Lucky Charms cookies that will be hats.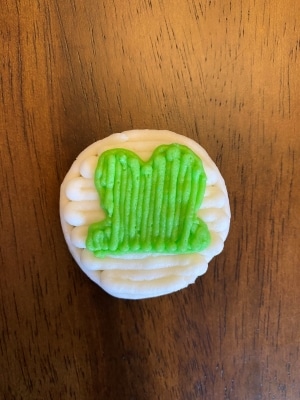 11. Then, outline and fill in the four leaf clover with the darker green frosting.
12. For the pot of gold, outline/fill in your pot with the yellow frosting. Do this for all of the Lucky Charms cookies that will be pots of gold.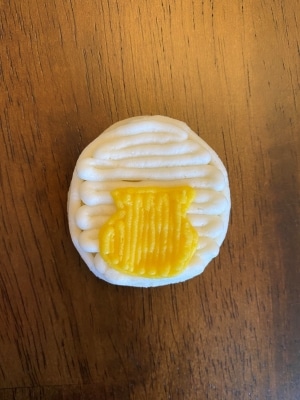 13. Create a cloud-like shape with the orange frosting above the pot to resemble your pile of gold. Fill it in.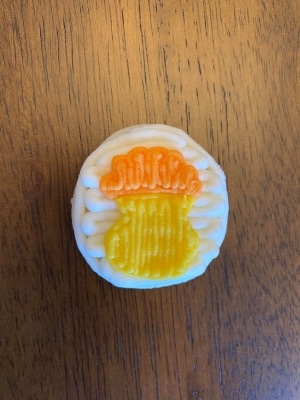 14. For the shooting star, draw and fill in your star with the orange frosting (yay, you don't need to switch your tip to start this cookie!). Then, draw/fill in a rectangle to begin the tail of the shooting star. Do this for all your star cookies before moving to the next step. Lastly, switch the tip over to the white frosting and draw little wings on the sides of the rectangle.
That's all of them, right? Hearts, stars, horseshoes, clovers and blue moons, pots of gold and rainbows, and the red balloons!
Don't forget to grab your party supplies!
Windy City Novelties has lots of fun stuff for your St. Patrick's Day party! You can get shamrock bowls, leprechaun center pieces, gold coins, necklaces, beer mugs, and tons more. You can even create your own custom banner. Of course, they have party supplies for just about any party. Check them out by clicking the photo link below! *Not a sponsored post but I may receive a commission, at no extra cost to you, if you make a purchase through this link, as I am an affiliate partner.
Save The Tutorial for These Saint Patrick's Day Cookies for Later
To save the tutorial for these buttercream Lucky Charms cookies for later, simply click on any of the social share icons on the top or side of this page. Alternatively, hover over one of the images below to pin the image to your Pinterest page!
If you created these cookies, send a photo to my e-mail [email protected] or tag me on Instagram at buttercreamparties for your chance to be featured on the blog!
Have a very happy Saint Patrick's Day! Enjoy your Saint Patrick's Day cookies!