How to Easily Decorate Beautiful Lilac Sugar Cookies for Mother's Day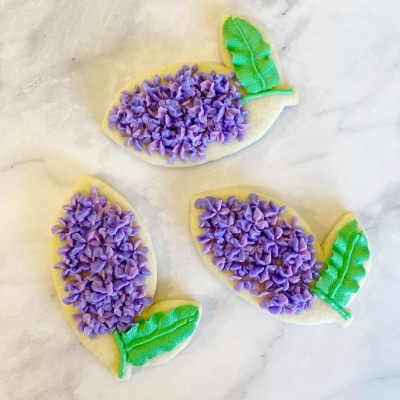 It's Mother's Day weekend! Happy Mother's Day to all the mothers out there! It is not a small task to be a mom, as I am learning. I thought it would be fun to create some lilac cookies, as the lilac bush is in bloom in my yard. Plus, lilacs are my favorite flower. I really wish these flowers bloomed longer than a few weeks. I could smell them every day and never tire of them!
These lilac sugar cookies are easy and are very attainable for the beginner. Follow along for the step-by-step photo series tutorial. I have also included recipes for a crusting buttercream frosting and a sugar cookie recipe if you don't already have your favorite!
*This post may contain affiliate links, which means I may receive a commission, at no extra cost to you, if you make a purchase through a link. Please see my full disclosure for further information.*
Part 1: Gathering the Supplies for Your Mother's Day Lilac Cookies
To create this bouquet of flowers for mom, you will need:
If you don't want to make buttercream frosting yourself, just buy a tub of already made buttercream frosting. I prefer to use the Wilton gel food dye since gel is more vibrant (i.e. more cost effective because you use less) than liquid and doesn't change the consistency of your frosting. You can get that here: Wilton Gel Coloring 12 Count.
Part 2: Baking the Lilac Sugar Cookies and Setting up Your Icing Bags
Roll, cut out, and bake your sugar cookies. While they are cooling, whip up your frosting. To create a pinkish purple frosting, make all of your purple frosting first. Then, take out half of it and add some pink gel color to it. Now you have two shades of purple to create more realistic lilacs.
To set up your frosting bags, you will place your green frosting into a bag with a coupler. Attach the tip #68 first. To set up your lilac frosting, you will be putting the light purple frosting up one side of the bag and the pinkish purple frosting up the other side of the bag. It is okay if it is not perfectly done, the point is to have a two-tone effect, as you often see in real lilac flowers. You will be using the tip #224 for this bag. If you aren't sure how to set up icing bags, no worries, I have a full tutorial here: Getting Started: Learn How to Decorate Buttercream Cookies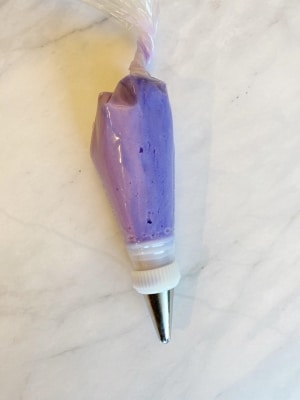 Part 3: The Sugar Cookie Tutorial for Achieving Lilac Buttercream Cookies!
To create your lilacs, you will first want to create the flowers. Using your purple with the pinkish purple frosting, you will hold the bag directly upright, so that the bottom of the tip is just above the cookie. Squeeze out a bit of frosting until the shape resembles a small flower.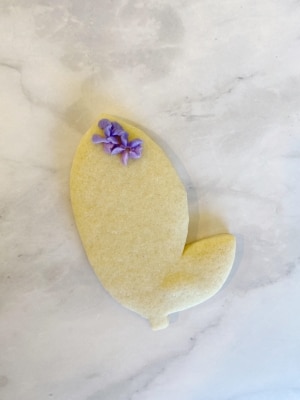 Sometimes, the frosting will stick to the icing bag instead of staying on the cookie. Just squeeze more out until it sticks to the cookie. It is perfectly okay, and actually preferred, if the small flower shapes aren't even in size, or even if they are missing petals. This will give the flower a more realistic look. Continue squeezing out small flower shapes to fill in the flower.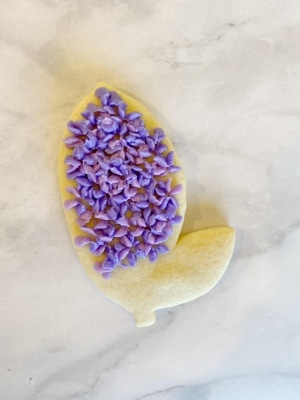 As you can see, I have added a second layer of petals in some spots. This helps achieve a 3D look, as we know lilacs are conical in shape.
To create your leaf, you will take your green frosting with tip #68 attached. Start at the bottom center of the lilac flower and squeeze out frosting, moving your hand to the left to fill in the leaf space.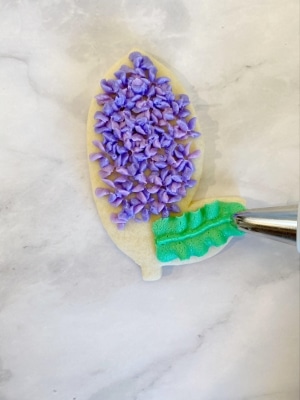 Leaves can be tricky, so if you mess up, just take a butter knife and wipe it off and try again. I have found that my leaves don't tend to want to "let go" of the icing tip once I get to the end. I simply just pinch off the end of the leaf from the icing tip with my fingers. You can also use a knife to connect the two ends of the leaf if you don't want to touch your cookies. This helps to get a nice point to the leaf as well.
Our last step is to switch our green frosting for a tip #3 and drawing a line from the center bottom of the lilac flower down, along the edge of the leaf.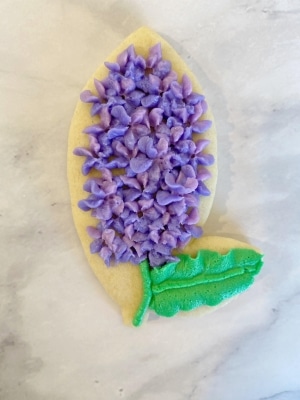 And that's it! These lilac sugar cookies will definitely bring a smile to mom's face. I wish you and every mother out there a very Happy Mother's Day! In the comments below, I'd love to hear if you have any Mother's Day traditions!
To save the tutorial for these decorated lilac cookies, pin the image below!