Silky Smooth Condensed Milk Buttercream AKA Russian Buttercream
Russian buttercream is the easiest buttercream frosting to make, and, bonus points, it's super delicious. Like, lick the rubber spatula, the paddle attachment, the spoon, and the bowl good.
Why is it so delicious? Well it's the perfect not-too-sweet frosting. No where near the sweetness of American Buttercream but still sweet enough to know it's a frosting.
This makes it perfect for frosting baked goods that are sweet enough on their own but could use just a hint of frosting to amp it up.
The taste actually reminds me of when you take a bit too long to eat your vanilla ice cream and it starts to melt at the bottom of the bowl. Vanilla-y, a bit milky, and sweet.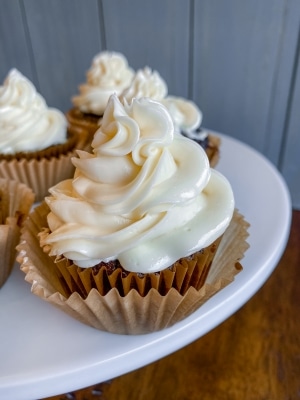 Russian buttercream frosting is also known as condensed milk buttercream. Why you ask? Well, there are only two main ingredients in Russian buttercream:
sweetened condensed milk
and butter
Sweetened condensed milk buttercream is a popular topping for European & (you guessed it) Russian cakes. I don't live in Europe or Russia, but I will still appreciate its amazing taste and silky smooth texture.
If you've been around for a while, you know that I am all about the American Buttercream. I use a crusting American Buttercream on my decorated buttercream cookies.
While buttercream sugar cookies are absolutely amazing, I like to mix it up a bit. We can't have cookies all the time. Well, maybe we can. But we can add in some cupcakes and cakes, too!
You may have noticed that this recipe is called "3 Ingredient" Condensed Milk Buttercream. The third ingredient, which I find extremely important, is vanilla.
I also do a twist on the butter ingredient. It really makes a difference so don't skip over it.
I absolutely love a good vanilla frosting and I am not going to sacrifice my love for it to make Russian Buttercream. I promise you'll love it!
Russian Buttercream Vs. American Buttercream
While both of these buttercream recipes involve butter as its base ingredient, the two are actually quite different.
Russian buttercream is not as thick as an American Buttercream. Typical Russian buttercreams will not have powdered sugar, while American buttercream has quite a bit of powdered sugar. A crusting American Buttercream will have even more powdered sugar than a typical American buttercream.
Russian buttercream also uses a whisk to beat air into the butter before adding the sweetened condensed milk. American buttercream, on the other hand, uses a paddle attachment in a stand mixer for best results. American buttercream can easily become full of air bubbles so it is best to avoid a whisk.
While you can get a silky smooth American buttercream, it is much easier to obtain a smooth Russian buttercream. The powdered sugar in an American buttercream can take a while to mix into the butter, giving more chance for air to creep in. Since Russian buttercream doesn't use powdered sugar, the frosting comes together quite nicely.
American buttercream is more stable than Russian buttercream and is the preferred buttercream for cookie decorating.
Both American buttercream and Russian buttercream frostings are perfect to top cakes and cupcakes.
American buttercream has a noticeably sugar taste while Russian buttercream has a more prominent sweet milk flavor.
*This post may contain affiliate links, which means I may receive a commission, at no extra cost to you, if you make a purchase through a link. Please see my full disclosure for further information.*
How to Make Condensed Milk Buttercream / Russian Buttercream
Vanilla Russian Buttercream Recipe
To make the sweetened condensed milk buttercream, first take one cup of salted butter (8 ounces) & one cup of unsalted butter (8 ounces) out of the refrigerator so that it comes to room temperature. This is the twist – do a mix of both salted and unsalted, not just one or the other.
Doing half salted and half unsalted makes for the perfect amount of salt in this Russian buttercream recipe.
Make sure your butter is at room temperature. To super scientifically test if it's at room temperature, pick up the butter (in the wrapper) and see if your fingers leave indentation marks. If you see indentations, it's ready to go.
For Russian buttercream, you will use your handheld mixer. Growing up, my mom always called these mixers "egg beaters."
Mix your room temperature butter, all 16 ounces) using the electric mixer until it is nice and fluffy. If you're familiar with whipped butter, this is what you are aiming for. The whipped butter will take up significantly more room in the mixing bowl than when you first put it in.
Next, add in one & a half teaspoons of vanilla extract. You can also use vanilla bean paste if you want to get extra fancy. Whip the vanilla into the butter until evenly distributed.
Lastly, add in a 14 ounce can of sweetened condensed milk. You will want to do this slowly, as the milk is heavy compared to the whipped butter.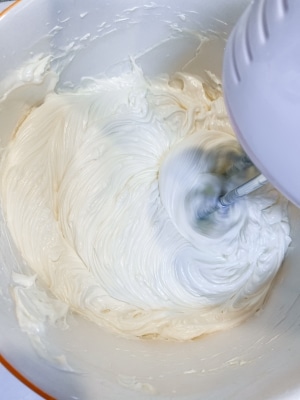 I like to add about a third of the can, then fold it into the frosting, mix with the electric mixer, and repeat.
I had to add that gif. If you know, you know.
Back to the sweetened condensed milk buttercream. Once all of the condensed milk has been added into the buttercream frosting, whip until it is smooth and silky. You are less likely to introduce air bubbles using the handheld mixer.
If you do introduce air bubbles, stop mixing and use the rubber spatula to smooth out the buttercream. You can stir with the rubber spatula or lightly press the spatula onto the top of the frosting and move the spatula back and forth.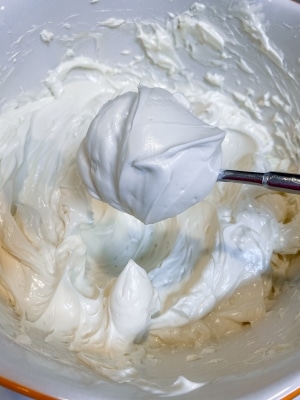 That's it! If you are using this for cupcakes, go ahead and add the frosting into a piping bag. I love how this frosting looks with the Wilton 2D tip, the Wilton 1M, the Wilton 2C, and Wilton 2F decorating tips. If you go with any of those, you will be sure to present impressive cupcakes.
If you want to frost a cake with this frosting, make sure that your cake has been completely cooled. This frosting is delicate. I like to think of it as whipped cream while using it to get me into the right mindset of how it wants to be treated.
Silky Smooth Sweetened Condensed Milk Buttercream Frosting
The silkiest buttercream frosting comes together in only 3 ingredients (four if you count the two different types of butter.) Sweetened condensed milk buttercream is also known as Russian buttercream frosting and perfect for topping cakes and cupcakes.
Equipment
Handheld Mixer

Rubber Spatula

Measuring Spoons
Ingredients
8

ounces

salted butter

room temperature

8

ounces

unsalted butter

room temperature

1

14 oz can

sweetened condensed milk

1.5

tsp.

vanilla bean paste or vanilla extract
Instructions
Combine the room temperature salted and unsalted butter into a mixing bowl.

Using the handheld mixer, whisk or beat the butter until it is whipped. The butter will look lighter in color and take up more room in the mixing bowl.

Add in the vanilla and mix for a few seconds, or until fully incorporated.

Fold in about a 1/3 of the can of sweetened condensed milk and whip until incorporated. Then, repeat with each third of the sweetened condensed milk until all of it is added into the frosting.
Frequently Asked Questions
Does Russian Buttercream Crust?
This condensed milk buttercream frosting will not form a crust when left on the counter at room temperature.
Is Russian Buttercream Stable?
This buttercream is stable at room temperature so there is no need to refrigerate it if kept out for a few hours. This is perfect for parties and hosting events. If preparing in advance, it is best to store the prepared cupcakes or cake in the refrigerator and allow them to come back to room temperature before serving.
Can You Freeze Russian Buttercream?
Yes. Simply store the buttercream in an airtight container, such as a Ziplock bag. You can freeze this buttercream for up to three months. You will need to re-whip the buttercream right before using it.
Can This Buttercream be Refrigerated for Later Use?
If you aren't using the frosting right away, you can store it in an airtight container in the refrigerator for up to a week. You will need to rewhip the frosting back together. All of the cupcake photos on this page are made with previously refrigerated Russian buttercream. All I did was stir the needed frosting with a fork until it was smooth and silky.
Can You Add Color to Condensed Milk Buttercream?
Yes, you can use gel food dye to color the buttercream if you wish. The buttercream is very silky and will take to the color easily.
Can You Decorate Cookies with Russian Buttercream?
If you want to decorate sugar cookies with this buttercream, keep to the larger piping tips. If you use traditional sized piping tips, such as the Wilton #5 or #104, for example, you will lose some of it's shape. This is because Russian buttercream is not as stiff as American buttercream.
You can use tips such as the Wilton 1M or any other common tip for decorating cupcakes to frost cookies. I have a post dedicated to cookies with rosettes which would taste great with condensed milk buttercream.
Save this Recipe for Sweetened Condensed Milk Buttercream Frosting
Use the image below to pin this silky smooth Russian buttercream recipe to your baking board on Pinterest. Alternatively, use the social share icons on the top of this page to share to your favorite social media site. Thank you for sharing and for your support!