​
Many of us want gorgeously decorated sugar cookies at our kid's next birthday party..
​
..but there's just one problem
The problem is... No matter how beautiful the cookies are, our wallets don't approve of spending $55 on 12 cookies that won't even feed half the party.
And when you finally do fork over the cash for a few dozen (after trying to justify the costs to your husband), you remember your other daughter has a birthday party in a few months. Stressful to think about, I know.
Birthdays can be so expensive these days when all we really wanted was to just make our kids feel special on their day.
So, I'm going to fill you in on a little secret...
Making your own custom decorated sugar cookies AND having them be Insta-Worthy is not as hard or time consuming as you think.
You don't need to have taken a culinary class in high school

You don't need to be artistic (if you can draw a somewhat straight line, you've got cookie decorating down)

You don't need to have a steady hand or the patience of a mom trying to potty train her son (been there..)

You don't need to quit your job or stay up until 1 AM to get the cookies decorated
All you need is someone to show you exactly how to decorate the cutest & tastiest sugar cookies.
And right now, I'm offering you instant access to 90 minutes of instructional video on exactly how to bake and decorate buttercream sugar cookies like a pro, even if you have no idea if you own a rolling pin.
In this cookie decorating class, you'll get immediate access to:
An easy-to-follow, 30 minute instructional video on how to make the tastiest buttercream frosting, because let's face it, kids like buttercream frosting on their birthdays, not rock-hard

cookie icing

($16 value)
​
A step-by-step, 30 minute instructional video on how to perfectly prepare & bake delicious no-chill

(meaning no time waiting around when your to-do list is calling)

sugar cookies, even if you've never baked a cookie in your life ($16 value)
​
A beginner-friendly, 30 minute instructional video on how to decorate buttercream sugar cookies

so cute & delicious

, people will think you went to pastry school ($16 value)
​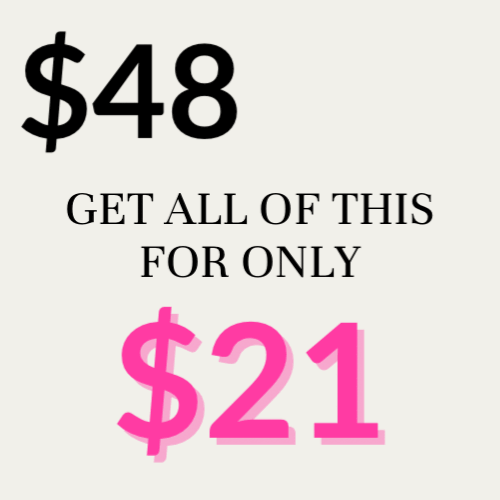 As an extra special gift
, you will also get
BONUS
templates for cutting out your cookies.
This includes a three-tier cake cookie cutter template and a balloon cookie cutter template that you can use over & over & over again. You know, because we all have one or more birthdays to celebrate every year.
Oh yeah, you also get lifetime access to this class. So 90 minutes of instructional video, the best recipes, and cookie cutter templates are all yours.
Imagine the look on your child's face when they see cookies that are not only in theme with their party, but cookies that their mom made special for them.
Now those are the kind of memories I want to store in the family photo album.
You get to show off your new delicious skill AND your baby was able to have a special day with delicious buttercream topped sugar cookies, all the while your wallet remained happy.
​
​
(Don't have a birthday party coming up but still want to learn how to decorate sugar cookies?)
No worries. This class will teach you everything you need to know to decorate buttercream sugar cookies. You will just so happen to decorate some birthday themed cookies as practice.
Once you learn how to decorate these cookies, you can apply all those same skills to any set of cookies you want. Don't forget, you'll also learn how to make your own cookie cutters.
---
Meet Your Teacher, Leah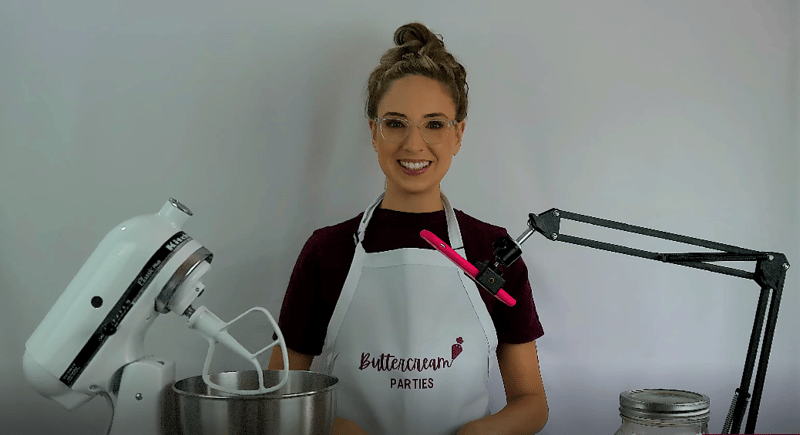 Leah Buehler is a "buttercream cookier," wife, mom to two toddlers, and blogger.
She has been seen in:
Better Homes & Garden,
Care.com,
Catch My Party,
FOX News,
and more.
Leah knows that custom made sugar cookies are priced as luxury items. In her area, she sees them go anywhere from $35 to $80 for twelve cookies. That's just under $3 a cookie to about $6.50 a cookie.
Now, if you have the budget to purchase from a local baker in your community, that is wonderful to support their small business.
But Leah recognized that, like her, not everyone can afford to do that, especially moms planning multiple birthday parties a year.
That's where the idea to create this cookie decorating class came in to play. Leah has designed this class with the mom in mind who wants something extra special at the party, but still has a budget.
Learning how to decorate luxury cookies means all you have to do is pay the initial price of the class (which is equivalent to only 7 cookies from a bakery) and then the cost of basic every day baking ingredients (that you probably already have at home.)
Talk about MAJOR savings - especially when you learn the skills once & apply them to every single birthday, potluck, holiday, and life celebration to come. And yes, trust me, you will be excited to show your Insta-Worthy cookies off at all these events.
Not only is it budget-friendly, but this class is designed for those just like Leah: not sure if she has a rolling pin, hasn't had time to wash her hair for a week, and whose artistic talent looks like something her toddler drew.
Leah shows you step-by-step how you can have Insta-Worthy birthday party cookies. She believes you won't fail and has shared tips & tricks so you are confident displaying these cookies on the party table.
​
---
Frequently Asked Questions About the Class
How much will these cookies cost me to make when it's all said and done?
Most of the items you will need to create these cookies are basic kitchen tools such as a rolling pin, baking sheet, and rubber spatula. You will need a stand mixer for best results, so if you don't have one, borrow one from a friend or family member.
As far as ingredients, nothing is luxury and high end, the cookies will just taste that way.
You only need one decorating tool, icing bags. These come in a box and cost about $5-$10 depending on where you shop. The amount in the box will last for several birthday parties to come.
You can purchase cookie cutters if you prefer, but you get cookie cutter templates as a bonus when you purchase the class.
The class itself is a steal of a price for budgeters - 21 dollars for lifetime access.
How long are the videos?
Each video is about a half hour, with the idea that you will be doing everything right along with Leah. This means that you can bake & decorate the cookies in one day or you can space them out to three separate days, as Leah has organized the videos to be (you know, in case all this needs to get done during nap time.)
Don't forget, you have lifetime access to the class. So if you want to watch the videos first and then jump in at a later date closer to the party, you can do that, too.
What do the finished cookies look like?
You will be guided through how to make birthday party theme cookies which includes a three tier cake and balloons. You will choose the colors.
The cookies in the video are purple, blue, and white in order to match a mermaid party theme.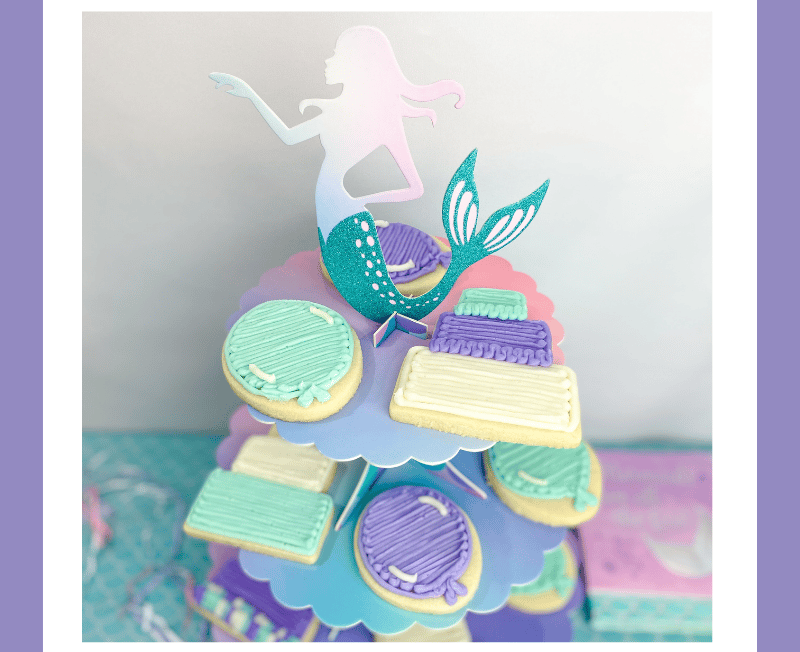 If your child wants a Blippi party, for example, choose orange, blue, and white as your colors. Here's a photo of cookies from my son's third birthday party using the same exact techniques you'll be taught in this class.
​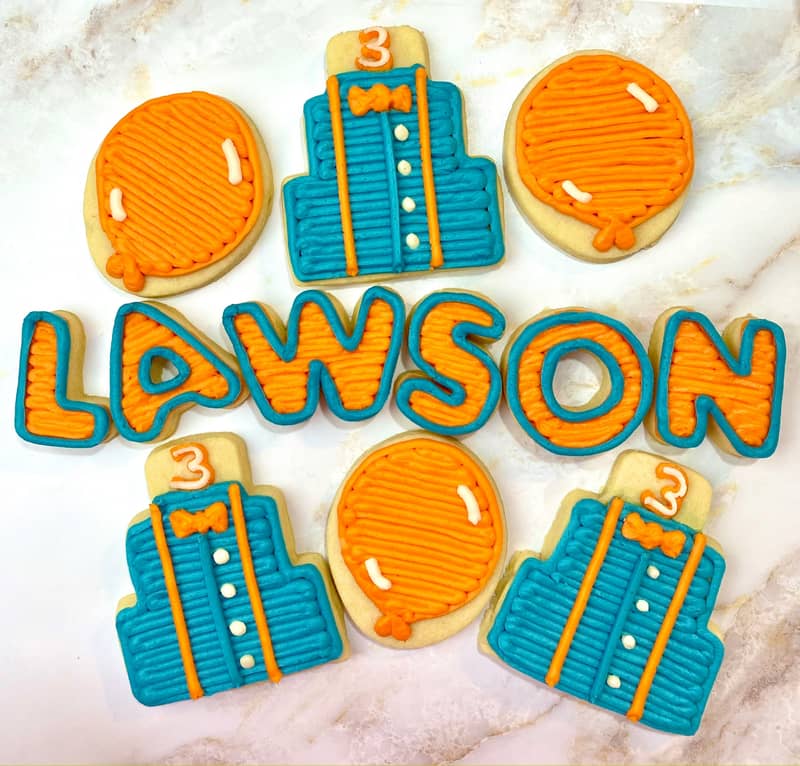 As long as the cookies are placed anywhere near any of the other party decor, your cookies will perfectly match the theme.
Of course, if you don't have an upcoming birthday party, you can consider these practice cookies. Learning how to make smooth buttercream frosting and soft sugar cookies, along with how to pipe onto cookies and make your own cookie cutters are transferable skills to any themed event.
Is this class for beginners or is it advanced?
This class is for an absolute beginner. If you've only decorated sugar cookies with royal icing, this class is for you. If you've only decorated sugar cookies with store bought canned frosting and a butter knife, this class is for you.
This class is not for you if you are confident in using tipless icing bags to decorate buttercream sugar cookies.
What specific skills will I learn in this class?
You will learn:
the

back & forth

cookie decorating method that is utilized in buttercream sugar cookies

how to use tipless piping bags

how to make

smooth buttercream frosting without air bubbles

how to make your own cookie cutters

using items you already own

how to erase mistakes (because we aren't artists, remember?)

the right way to bake no-chill cut-out sugar cookie dough

proper storage for the sugar cookies

my top 12 tips & tricks to make you look like a pro even as an absolute beginner
How do I access this class? Do I need a special program?
This class is hosted on Teachable, an online hosting platform for courses. You will receive a link to create a free account, which will become your login information to access the class anytime you want, 24/7.
Can I get a refund?
Leah stands by this class and believes you will feel confident in decorating delicious and Insta-Worthy cookies for your kid's special day. That being said, if you aren't feeling more confident in your skills, request a refund within 14 days of purchase through your free Teachable account or email [email protected].