Delicious Sugar Free Buttercream Frosting with Keto & Dairy Free Options
I have the perfect sugar free buttercream frosting for cookies. This frosting is ideal for decorating cut out cookies as it has a soft bite both kids and buttercream fans adore.
Need a buttercream frosting that is dairy free on top of being sugar free? I've got an easy swap in the recipe below. Or how about a Keto buttercream frosting? I have a swap for that as well.
Keep an eye out for my sugar-free "sugar" cookie recipe that is coming soon as well!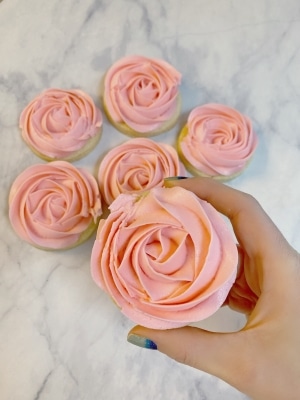 *This post may contain affiliate links, which means I may receive a commission, at no extra cost to you, if you make a purchase through a link. Please see my full disclosure for further information.*
What makes this a sugar free buttercream frosting recipe?
This buttercream frosting uses the Swerve brand of powdered sugar. Swerve uses erythritol as its sugar replacement to provide sweetness. What is nice about erythritol is that it has a similar sweetness profile as cane sugar.
If your local grocery store doesn't stock Swerve, you can grab it on Amazon, which is where I purchased it.
Can I make this a Keto buttercream frosting?
For people following the Keto diet, sugar is off the table. Having said that, Keto does allow for alternative sweeteners.
You can make this sugar free buttercream Keto friendly by using all butter in place of the vegetable shortening. Vegetable shortening has hydrogenated palm oil which isn't the best for Keto diets. Therefore, simply replace the 1/2 cup shortening that is called for in the recipe below with another half cup of butter.
Can I make a sugar free and dairy free buttercream frosting with this recipe?
Yes. Simply, replace the butter in the recipe with shortening. That means you will use one cup of shortening in the recipe below, rather than a half cup. Keep in mind, the recipe will not be Keto friendly, as explained in the paragraph above.
Sugar Free Buttercream Frosting Recipe with Dairy Free & Keto Friendly Options
Sugar Free Buttercream Frosting Recipe with Dairy Free & Keto Friendly Options
This sugar free buttercream frosting recipe is perfect for decorating cut out cookies. The buttercream icing has a soft bite that kids often prefer over royal icing. I've included a simple swap to make this sugar-free buttercream frosting Keto-friendly or dairy-free as well.
Print
Pin
Rate
Equipment
Stand Mixer with Paddle Attachment

Measuring Cups & Spoons

Rubber Spatula

Icing Bags & Piping Tips

for decorating buttercream sugar cookies or cake
Ingredients
1/2

cup

room temperature salted butter

see notes below for dairy free option

1/2

cup

vegetable shortening such as Crisco or Sweetex

see notes below for Keto friendly option

2

cups

Swerve confectioners sweetener

1.5

tsp.

pure vanilla extract

1-3

tbsp.

whole milk

see notes below for dairy free option

gel food dye in shades of your choice
Instructions
If using butter, beat on medium-high speed for about two minutes, until it is creamy and lighter in color. The whiter the butter is, the whiter the resulting buttercream. Skip this step if doing a dairy-free sugar-free buttercream.

Add the shortening to the stand mixer and mix until creamed with the butter.

Add in the Swerve and mix for about 30 seconds, or until just combined. Overmixing can lead to unwanted air bubbles.

Add in the vanilla extract and one tablespoon of whole milk (or water). Mix on low. If the frosting is thicker than a peanut butter consistency, add more liquid, a tablespoon at a time.

Separate the frosting into individual bowls for each color of icing. Add in the preferred gel colors, using a fork to mix. Place into prepared icing bags.
Notes
To create a dairy-free sugar-free buttercream, simply replace the butter with equal parts vegetable shortening. The amount of vegetable shortening will be one cup. Make sure to use water rather than milk as well.
To create a Keto buttercream frosting recipe, replace the vegetable shortening with equal parts butter. The amount of butter will be one cup.
You can swap unsalted butter for salted butter if you prefer. I like that the salt helps cut some of the sweetness in the erythritol.
Frequently Asked Questions About Sugar Free Buttercream Frosting
Why does this buttercream icing have shortening in it?
I prefer to add shortening to buttercream frosting as it helps maintain a whiter buttercream. Of course, swapping the butter out completely for shortening allows for an easy swap for vegan frosting.
If you dislike using Crisco in buttercream frosting, I would encourage you to try Sweetex. I have a whole post about why I love Sweetex here. And no, it's not a sponsored post, I just love it for decorating cut out cookies.
Is this a crusting buttercream recipe?
This recipe will form a very slight crust but I wouldn't consider it a crusting buttercream. Crusting buttercream typically needs a higher sugar to fat ratio to form a crust. If you want, you can try two ways to create a crusting buttercream.
Add more Swerve confectioners to the frosting, as much as 4 cups. If the sweetness doesn't bother you, or if you only need a small amount of frosting per cookie, this could be a way to go.
Add meringue powder to the frosting. Adding meringue powder can increase the stiffness of the frosting without adding more sweetness. I would think that two tablespoons added to this recipe would do the trick. Make sure to add it before adding in the Swerve.
If you try either of these options, I'd love to know in the comments below what worked!
How do I store sugar free buttercream frosting?
This frosting recipe doesn't have a high "sugar" to fat ratio, so I would store the decorated sugar cookies in the freezer if decorated before hand. Simply pull the cookies out of the freezer an hour before the party and they should be perfectly delicious!
For tips on how to store buttercream cookies in the freezer and transporting cut out cookies, check out my post here.
More Free Resources on Buttercream Frosting for Cookies
Make sure to check out more of my free resources on how to decorate buttercream sugar cookies on the site. I go over how to package and transport buttercream sugar cookies, how to obtain whiter buttercream frosting, how to smooth buttercream on cookies, and much more.
You can also find over 150 tutorials on decorating sugar cookies with buttercream frosting here.
Don't forget to check out my Top 12 Tips for Decorating Sugar Cookies at the bottom of this page. You can also DM on Instagram @buttercreamparties with any questions. I'm happy to help you learn how to decorate buttercream sugar cookies.
Save the Recipe for Sugar Free Buttercream Frosting for Later
Use the social share icons on the top of this page to share it to your favorite social media site. Alternatively, use the image below to pin it to your Pinterest boards so you have access to it when you need it.