Rich Brownie Chocolate Cut Out Cookie Recipe
This recipe is for all of those chocolate lovers out there like me! This rich, fudge-like, brownie chocolate cut out cookie recipe is amazing. It does not require any chill time and the sugar cookies don't spread. Plus, they have a rich chocolate taste.
Sometimes chocolate cut out cookies only look chocolate, but they lack the flavor. I have a secret ingredient in here that makes these cookies so chocolatey.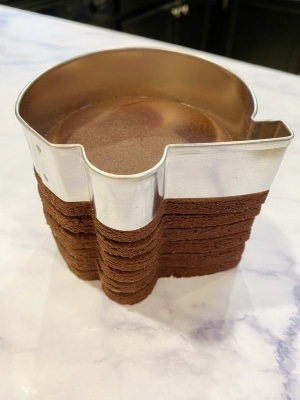 These cookies are perfect for holiday baking, especially Halloween. Need some Halloween cookie decorating ideas? Check out all of my free Halloween cookie tutorials here.
Maybe you'd prefer to make these chocolate sugar cookies for Christmas. If that's the case, you can find tons of Christmas cookie tutorials by clicking here. This would be a great recipe for the wreath cookies!
Jump to Recipe
*This post may contain affiliate links, which means I may receive a commission, at no extra cost to you, if you make a purchase through a link. Please see my full disclosure for further information.*
Delicious Brownie Chocolate Cut Out Cookie Recipe
For these no chill sugar cookies, you will need flour, white & brown sugar, butter, cocoa powder, an egg, vanilla extract, canola oil, and my secret ingredient, chocolate fudge pudding.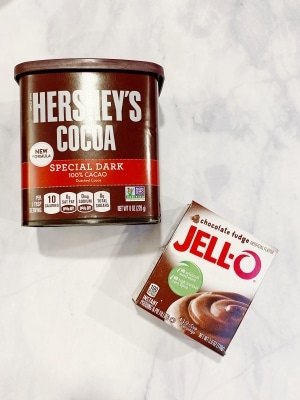 The chocolate fudge pudding has two great benefits:
One, the cookies are jam packed with chocolate flavor. I've heard people describe these cookies as brownie cookies and I'm not complaining!
Two, the pudding has gelatin in it which will help make these a no-chill, no-spread, sugar cookie.
For extra richness, swap out the chicken egg for a duck egg! I love using duck eggs in baking.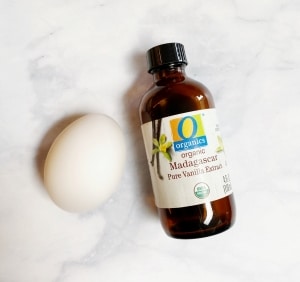 The first step is to preheat the oven to 350 degrees. We want to make sure the oven is already to temp so we don't need to chill the dough.
Next, measure out three cups of flour into a large sized mixing bowl. Remember to use the scoop and level method. That is, use a spoon to scoop some flour into a measuring cup. Once you are near the top of the cup, level out the cup. With this method, you don't need to sift the flour. It's just so easy!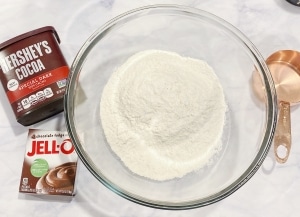 Next, mix in the 1/2 cup of cocoa powder and the 3.9 ounce package of Chocolate Fudge Instant Jello pudding mix.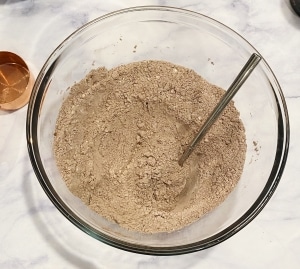 Once your dry ingredients are mixed together, go ahead and set that aside.
In your electric mixer, combine 3/4 cup of white granulated sugar, 1/4 cup packed dark brown sugar, and 1 cup of cold salted butter. Mix those ingredients until well combined.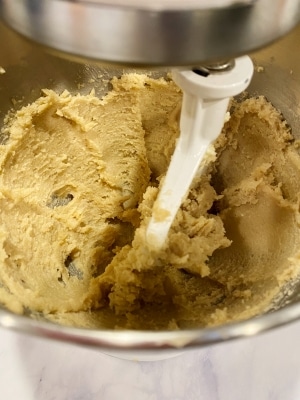 Once it is creamed together, add in your egg, teaspoon of vanilla extract, and one tablespoon of canola oil. Mix until the egg is combined well.
Using the spoon you used for the scoop and level method, slowly add in the dry ingredients. It's best to turn off the mixer in between each addition of dry ingredients so that the butter and egg don't overheat. Plus, it helps avoid a big powdery explosion in the kitchen.
Once all of the flour is mixed in, assess the state of the dough. It should be slightly crumbly but still combine together if you pick some up with your hand and squeeze it. If it is too crumbly, add in more canola oil, a tablespoon at a time. I find that two tablespoons is perfect for me.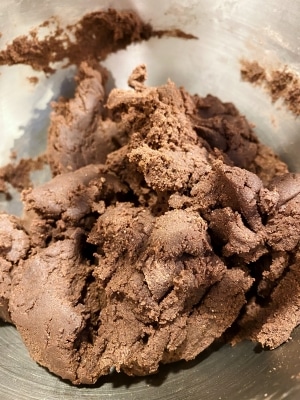 Prepare a clean spot to roll out the dough and sprinkle some flour onto it. Some people like to use cocoa powder for this to keep the cookies nice and dark. For this recipe, I recommend using flour as the cocoa powder gives the cookies a bitter taste.
Roll out the dough to about 1/4 of an inch thick. You can also roll the dough to 3/8″ if you prefer a thicker cookie.
When rolling out the dough, I like to grab just half of the dough at a time. I find that is the perfect size to roll out and fit cookies onto my silicone lined baking sheet. Rolling out too much dough at once overworks the dough and thus, makes it warmer than we want. Overworking the dough also leads to creases in the baked dough, which isn't that pretty.
Cut out the cookies and then place them onto the lined baking sheet.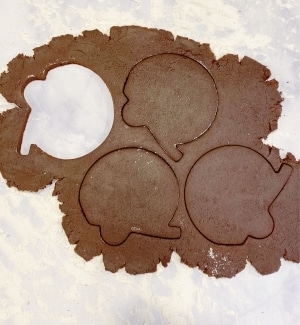 Bake the cookies for 9-10 minutes until the dough doesn't look wet in the center or the edges start to golden. Be careful not to overcook these ones! With the cookie being so dark, you cannot rely on the "golden edges" for doneness.
I like to check on these cookies at the 9 minute mark by pulling them out of the oven and looking at the centers. If they are wet, place them back in for a minute. Sometimes, they will form a small bubble on the top which means they are done, but they don't always do that. It is better to slightly undercook the cookies than to overcook them, as they will continue to cook on the cookie sheet.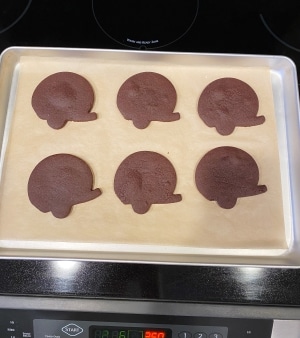 Another tip for success that I highly recommend doing with these cookies is to allow these cookies to cool completely on the sheet. Once cooled, set them in an airtight container and freeze them overnight.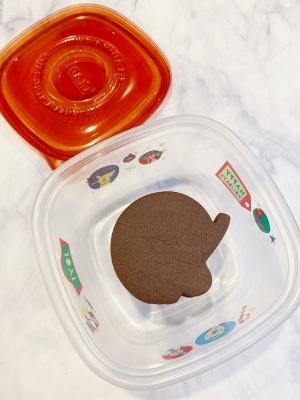 When you are ready to decorate, pull the cookies out of the freezer 30-60 minutes prior to decorating. Don't attempt to grab the individual cookies until completely defrosted, otherwise they may break. Freezing the cookies right after baking locks in the moisture, bringing out that brownie quality we all love and want!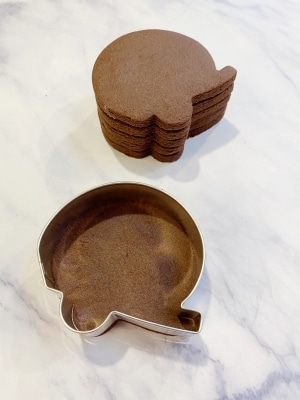 Brownie Chocolate Cut Out Cookies
These delicious brownie chocolate cut out cookies hold their shape and don't require any chill time.
Equipment
Stand Mixer with Paddle Attachment

Mixing Bowl

Rolling Pin

Cookie Cutters

Cookie Sheet
Ingredients
3

cups

all purpose flour

1

package

Chocolate Fudge instant pudding mix

3.9 ounce package

1/2

cup

cocoa powder

1

cup

cold salted butter

3/4

cup

granulated sugar

1/4

cup

dark brown sugar

packed

1

egg

1

tsp

vanilla extract

1-3

tbsp

canola oil

see instructions
Instructions
Preheat your oven to 350 degrees Fahrenheit.

In a large mixing bowl, mix your flour, cocoa powder, and Chocolate Fudge pudding mix together. When measuring the flour, make sure to scoop up the flour with a spoon and add it to your measuring cup, one spoonful at a time. This helps obtain the correct amount of flour without needing to weigh it. Once you have a cup, level it out by running a knife across the top of the measuring cup.

In your electric mixer, combine the white and brown sugars with the butter using the paddle attachment until they are creamed together.

Add in your egg, 1 tablespoon canola oil, and vanilla extract and mix to combine.

Slowly add in the flour, cocoa powder, and pudding mixture to the wet ingredients and combine. The combined mixture will be crumbly but still form a ball if picked up and molded into a ball. If it is too crumbly, add in another tablespoon of canola oil.

On a floured surface, roll out the dough to about a 1/4 of an inch thick & cut out your cookies. A great tip is to flour your rolling pin and any cookie cutters you may be using. Transfer the cut out cookies to a baking sheet lined with a  silicone mat or parchment paper.

Bake for 9-10 minutes and let cool on the baking sheet. The dough will be done when the center of the dough doesn't look wet. It is better to undercook the cookies than to overcook them, as it will be difficult to watch for burns with these dark sugar cookies.

Optional but highly suggested: Place the cooled cookies into an airtight container and freeze them overnight. Remove the container from the freezer 1 hour before decorating for soft brownie chocolate cut out cookies.
Frequently Asked Questions
I recommend buttercream frosting for a delicious & soft bite. You can find my crusting vanilla buttercream recipe here.
Yes, you can still make the cookies. To adjust the recipe, omit the canola oil completely and keep everything else the same. Not using the pudding mix will increase the chances of the cookie spreading while baking, though. The cookies will also not taste as chocolatey.
While I have not added chocolate chips into this recipe as it is pretty chocolatey, I have made this recipe adding in espresso chips. Simply mix in 1/2 cup of chocolate chips (or espresso chips if you want) to the dough at the end.
Three cups of flour seems like a lot for this recipe, is it necessary to put in that much?
There is a lot of flour in this recipe but that is due to the flour helping to keep the cookie dense like a brownie and help hold its shape. I would keep the three cups of flour for best success and then even out the dryness with the canola oil. Canola oil will add in moisture without affecting the shape of the cookie too much.
Yes, please check out my post here on storing decorated sugar cookies.
Save the Tutorial for These Delicious Brownie Chocolate Cut Out Cookies
Use the image below to pin this cookie recipe to your dessert board on Pinterest. Alternatively, use any of the social share icons on the top of the page to share it to your favorite social media site.