Dole Whip Inspired Pineapple Buttercream Icing
Fans of Disney World Dole Whip will love this pineapple buttercream icing. Using pineapple juice and just a hint of vanilla extract, this frosting resembles the famous treat. Who wouldn't love that?
I tried my first Dole Whip just a month ago when my in-laws gifted us a trip to Disney World. I had heard so much about the famous Dole Whip what felt like my whole life so I had high expectations. It did not disappoint, especially since this Pacific Northwesterner is not used to Florida heat.
This pineapple buttercream recipe is super easy and will have you dreaming of fun in the sun. What's even better is that this is a crusting buttercream, meaning it is ideal for piping onto vanilla sugar cookies. The perfect flavor pairings for sure.
If you need a no-chill, no-spread sugar cookie recipe, make sure to check out my recipe.
*This post may contain affiliate links, which means I may receive a commission, at no extra cost to you, if you make a purchase through a link. Please see my full disclosure for further information.*
Delicious Dole Whip Inspired Pineapple Buttercream Icing
First, I want to address what I mean by "crusting," because that's not the prettiest word. All it means is that the outside layer of buttercream will form a slight crust. This allows the cookies to be lightly touched without getting messed up. You can package them and transport them as well.
For this deliciously sweet yet slightly tart buttercream, you will need room temperature butter, powdered sugar, vanilla extract, and some pineapple juice.
The first step is to cream a 1/2 cup of room temperature butter & a 1/2 cup of shortening in your stand mixer.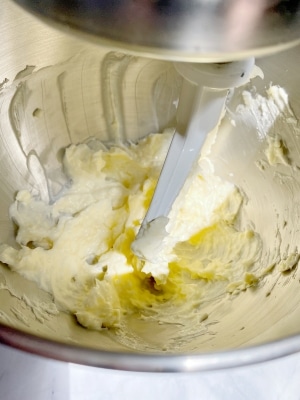 Next, add in four cups of powdered sugar into the stand mixer and carefully mix it in just a bit with a rubber spatula. Doing this first, as opposed to turning on the mixer right away, can help avoid a powdery kitchen. You may also need to add in the powdered sugar in stages, placing a cup or so in at a time rather than four, depending on the size of your mixer.
Beat the powdered sugar into the butter until smooth on low speed, only about a minute. You want to make sure not to overbeat the frosting, as that can lead to air bubbles.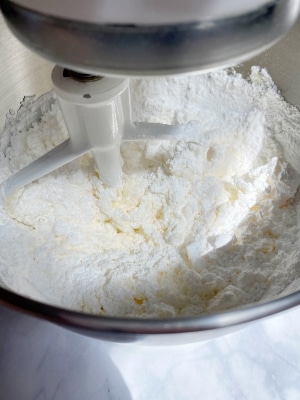 Add in two teaspoons of vanilla extract and two to four tablespoons of room temperature pineapple juice. I used juice from a 20 ounce canned Dole Tropical Gold Pineapple Chunks in 100% Pineapple Juice. If you are making this pineapple buttercream for cake or cupcakes, feel free to add some of the chunks into the mixer too! Leave them out for piping cookies, as it can clog the piping tips and create a weird texture on your design.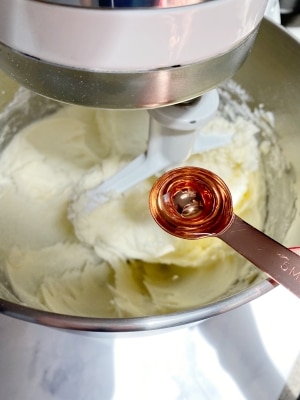 Dole Whip Inspired Crusting Pineapple Buttercream Icing
Print
Pin
Rate
Servings:
12
decorated cookies
Equipment
Stand Mixer with Paddle Attachment

Measuring Cups & Spoons

Rubber Spatula
Ingredients
1

stick

room temperature unsalted butter 

1/2 cup

1/2

cup

high-ratio shortening

substitute another 1/2 cup butter if you want an all butter recipe

4

cups

powdered sugar

2

tsp.

pure vanilla extract

2-4

tbsp.

room temperature pineapple juice

canned
Instructions
Beat the room temperature butter & shortening together on medium-high speed for about two minutes, until all the lumps are gone.

Add in the powdered sugar & cover with a kitchen towel before turning on and mixing to prevent a mess.

Mix in the vanilla extract and two tablespoons of pineapple juice. If the frosting is too thick or not pineapple-y enough, add in up to two more tablespoons of pineapple juice.

Place into an icing bag with desired decorating tip.
I like to keep the icing on the thicker side if I know I'm doing a lot of florals or textures in a set. But if it's a typical set with more line work or smoothing that needs to be done, go with a consistency like peanut butter.
If your set is a mixture of both florals/textures and smooth areas, go with a thicker frosting. There is no need to make different icing consistencies for decorating cookies for one set. That is something that needs to be done for royal icing with flood consistency and outline piping consistency. Just keep it all the same for buttercream.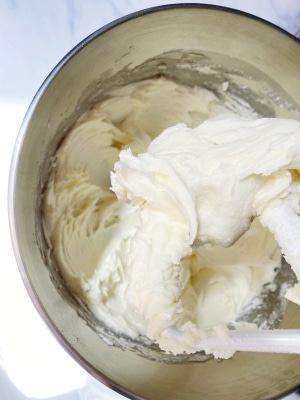 If decorating sugar cookies with the pineapple buttercream, highly recommended by the way, add the buttercream into an icing bag. Make sure to only add about a half cup of frosting at a time if using 12″ icing bags.
I made this pineapple buttercream frosting into beautiful camellia cookies. Just imagine these at a tropical party laid out on the table with fresh flowers & tasty vacation-worthy dishes! I'm packing my bags back to Florida!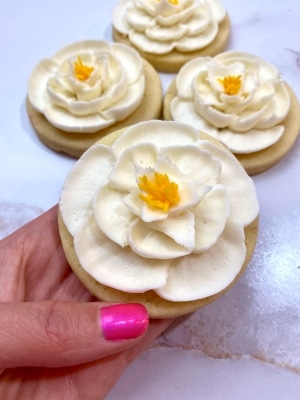 For even more cookie decorating ideas, I will suggest my tropical pineapple cocktail decorated cookies.
If you want to opt out of the shortening, feel free to not use it and, instead, replace it with a half cup of butter.
This frosting will be shelf-stable due to the high sugar to fat ratio. I like to allow my buttercream sugar cookies to crust overnight on the counter. For tips on handling buttercream sugar cookies, check out my post here.
Save the Recipe for Dole Whip Inspired Pineapple Buttercream for Later
Make sure to save this sweet tart pineapple buttercream recipe for your next party. You can pin the image below to your Pinterest account or use the social sharing icons on the page.