How to Make Black Buttercream Without Cocoa Powder
Today we are talking all about how to make black buttercream without cocoa powder and without the "microwave method."
I don't know about you, but microwaving buttercream is a bit scary to me. It's even more scary when it is black buttercream as opposed to an easier color to make, such as pink or yellow buttercream.
This is because black buttercream uses more gel food dye than a pastel buttercream. If I microwave pink buttercream to make a glaze and it curdles, it's sad, but it's easy to replace. If my black buttercream curdles, well, let's just say I'm taking a break from the kitchen.
Now, it is certainly easy to make black buttercream using black cocoa powder; however, not everyone wants chocolate flavored icing. Some people are also allergic to cocoa.
I do love chocolate frosting, but this black frosting will have a delicious vanilla flavor for everyone who is team vanilla.
Let's begin!
*This post may contain affiliate links, which means I may receive a commission, at no extra cost to you, if you make a purchase through a link. Please see my full disclosure for further information.*
How to Make Black Icing With Food Coloring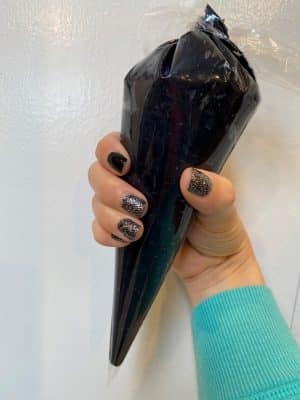 Our first step toward making black buttercream is to cream one cup of room temperature butter in a stand mixer. Make sure to use the paddle attachment as opposed to the whisk.
You can use either salted or unsalted butter for this. I prefer unsalted in my buttercream, but some prefer to use salted butter in order to bring the sweetness down a bit.
Once the butter has been creamed and is lighter in color, add in one teaspoon of Wilton Violet Gel Food Dye.
Why violet and not black? Well, putting black gel food dye in doesn't create that dark of a base. You would think it would, but it results in a gray color instead, especially once the powdered sugar is added.
We want the base of our buttercream to be as dark as possible and violet does just that.
Mix the violet into the butter until combined, using a rubber spatula when needed to scrape the sides.
Next, go ahead and add in four cups of powdered confectioner's sugar. This is a crusting buttercream recipe, perfect for cookie decorating, so it will use more sugar than a typical buttercream.
As a note, more powdered sugar means the buttercream will be whiter. This is why I like to color the butter first. I don't know the science behind this, but the color seems to incorporate into the powdered sugar better.
If you know the science, please let me know in the comments below.
Mix the powdered sugar into the butter, covering the stand mixer with a towel or cling wrap to prevent a messy kitchen.
Add in one tablespoon of warm water and two teaspoons of vanilla extract. The warm water will help the colors develop faster and is preferred to milk in this instance, as milk just adds even more white. Mix until just combined.
Now for the Wilton Black Gel Food Dye. To make a passable black buttercream frosting, add in one and a half teaspoons of black gel food dye. If you need a real, true black, add in two teaspoons of black gel food dye.
What do I mean by passable black buttercream? Most often, we only need black for detail work or the customer just wants dark colors. The 1.5 teaspoons of black gel food dye will result in a very, very dark purple.
Examples of only needing a passable black buttercream are galaxy designs, writing with icing, Halloween designs, tires, and facial features.
In this photo, you can see what the dark purple (an acceptable black) looks like both inside and outside on a partly sunny day.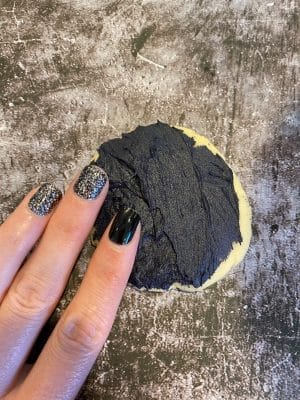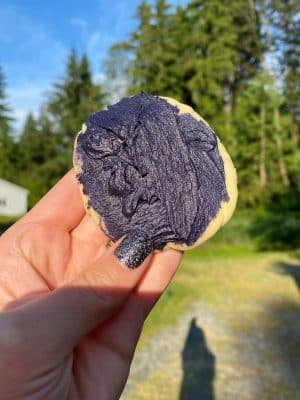 I use passable black frosting all the time for my cookies.
For the real, true, absolutely no one can argue with you black buttercream, use the additional half teaspoon.
In your mixing bowl, your frosting will look dark gray. This is good.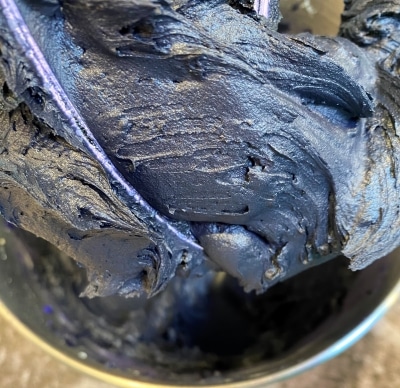 If you are nervous, allow the buttercream to develop (cover with cling wrap & leave it alone for hours or overnight) before adding it to a piping bag. You can add to your piping bag right away if you'd like though, as the buttercream will dry black.
Here is what the black buttercream looks like fully crusted/dried indoor and fully crusted/dried outdoor on a partly sunny day.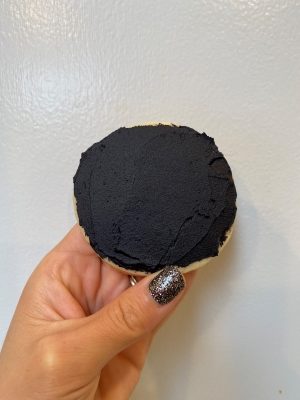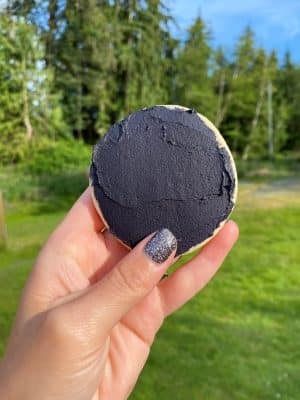 To Recap on How to Make Black Frosting
For passable black buttercream (very dark purple), use 1 teaspoon of Violet gel food dye and 1.5 teaspoons of Black gel food dye for the whole batch of buttercream frosting.
For true black buttercream, use 1 teaspoon of Violet gel food dye and 2 teaspoons of Black gel food dye. This results in a total of 3 teaspoons (or 1 tablespoon) of food dye for roughly two cups of buttercream frosting. That's a win to me, as I've seen some black buttercream recipes call for *double* the amount of dye.
Delicious Vanilla Flavored Black Buttercream Frosting
This black buttercream frosting does not use black cocoa powder or the microwave method. Instead, you will learn how to make vanilla flavored black buttercream using gel food dye. This recipe for black frosting does not leave a bitter taste, as it only uses a third of black gel food dye compared to other black frosting recipes.
Print
Pin
Rate
Equipment
Stand Mixer with Paddle Attachment

Measuring Cups & Spoons

Rubber Spatula
Ingredients
1

cup

room temperature butter

I prefer unsalted but you can use salted

4

cups

powdered sugar

1

tbsp.

warm water

2

tsp.

vanilla extract

1

tsp.

Violet gel food dye

1.5-2

tsp.

Black gel food dye

depending on what degree of black frosting you need
Instructions
In the stand mixer, cream the butter until it is lighter in color.

Add in one teaspoon of Violet gel food dye and mix until the color is fully incorporated. Use a rubber spatula to wipe down the sides of the bowl.

Add four cups of powdered sugar into the mixing bowl and mix until combined. Cover the mixing bowl with a towel or plastic wrap to avoid a messy kitchen.

Pour in one teaspoon of warm water and two teaspoons of vanilla extract, then mix until just combined.

Add in 1.5-2 teaspoons of black gel food dye. You will use 1.5 teaspoons to get a "passable" black and 2 teaspoons for a true black. Read my notes above for examples of when to use "passable" black.

The buttercream will resemble a dark purple if going for a "passable" black and a dark gray if going for a true black. Allow the buttercream to develop for several hours or overnight. This will result in a very, very dark purple or a truly black buttercream, depending on how much black gel dye you added.
Notes
I use and prefer Wilton gel food dyes. Do not use liquid dye as it will not become dark enough to resemble black.
This is a crusting buttercream recipe so it will form a light crust when dried.
You can store this black buttercream at room temperature for several days, as the amount of sugar to fat ratio will act as a preservative.
You can also refrigerate or freeze this frosting if you prefer.
To "develop" the buttercream, as stated in step six, lay a piece of plastic wrap directly over the buttercream. This will prevent the buttercream from forming a crust but will allow the color to develop into a darker shade. Keep in mind that the buttercream will dry darker than the developed shade.
My Biggest Tip for Achieving Black Frosting
The biggest tip that I have for making black buttercream without cocoa powder is to make the frosting a day ahead of decorating time.
This eases people's anxiety when they look at their bowl of frosting and only see a dark purple or dark gray shade of icing. When food gel color is added to buttercream frosting, it takes a while to fully develop.
Make the black buttercream frosting the night before decorating day and then cover it with plastic wrap. Leave the bowl on the counter overnight.
As long as your house isn't really hot, but closer to room temperature (around 70 degrees F), your frosting will be perfectly safe developing on the counter.
The color should be deeper and more saturated than when you mixed it the day prior.
This being said, you can definitely start piping your buttercream cookies RIGHT AWAY. If your buttercream is a dark gray in the bowl (as it should be) your buttercream will dry black. This tip is just to help those Nervous Nellies out there. No judgement, as I know we want our cookies to turn out just as planned.
FAQ About Black Buttercream
Does this black buttercream stain your teeth and/or mouth?
You bet it does! Well, to be *fair* the black frosting will cause your tongue to turn purple. But yes, your mouth will be temporarily dyed purple. Honestly though, when I eat a blueberry smoothie, my tongue turns purple, too.
If you do not want your black buttercream to turn your mouth an unnatural shade then you will need to use a recipe with black cocoa powder.
Does this black frosting bleed onto lighter colors, such as white frosting?
Darker shades of buttercream are always at risk of bleeding onto lighter shades, especially when temperatures fluctuate.
To help prevent bleed, add white liquid drops to your lighter shades. This can help protect it from the black buttercream but it isn't guaranteed. I would for sure do a test run or make sure the black frosting won't be touching any lighter colors.
Here you can see this black buttercream recipe piped onto undyed frosting (no white liquid dye added.) This photo was taken two days after being piped and was left on the table to crust at room temperature. You can see that there isn't any visible bleed.
But, if we take a closer look, we can see there is a bit of bleed onto the undyed frosting under the flower. Will people be looking under the petals to check for bleed? Probably not. But again, be aware of what your design will look like.
The yellow seems relatively safe from bleed, likely because it has gel dye in it.
I didn't have any white dyed buttercream at the time, so I am not 100% certain that this won't bleed. I will have to come back to update this post. If you try it out, let me know in the comments below.
Can I use liquid food coloring drops to obtain black frosting?
No.
I've heard of using activated charcoal powder to make black buttercream, can I do this instead?
You are welcome to experiment with using activated charcoal if you want to avoid using cocoa powder & gel food dye. I personally am not a fan, only because activated charcoal powder can interact negatively with some medications and health conditions.
Make sure to look up if charcoal negatively impacts you or those who would be eating the frosting.
Can buttercream frosting sit out on the counter?
Buttercream frosting is best enjoyed at room temperature, so you will want to have your cake/cupcakes/cookies served as such. If you serve straight out of the refrigerator, your guests will be biting into solid chunks of buttercream as opposed to soft bites. The taste will also be more buttery when served too cold.
You can store this black buttercream frosting recipe on the counter for several days. This is due to the high sugar to fat ratio that helps the frosting be shelf stable.
Does buttercream frosting have to be refrigerated?
If you believe your frosting is at risk of melting, say your house is consistently kept higher than a standard room temperature, then pop the buttercream into the refrigerator. This helps to prevent the buttercream from melting and separating.
You can also freeze as an alternative to refrigeration. The freezer tends to keep the cookie/cake/cupcake more moist than a refrigerator will.
Save this Recipe for How to Make Black Buttercream Without Cocoa Powder for Later
To reference this guide on making black buttercream without black cocoa for later, make sure to save it to Pinterest or Facebook. You can use the social sharing icons at the top of the page or use the image below to pin to Pinterest. Thank you for sharing!