How to Make a Cookie Bouquet
My son's preschool teachers must have the patience of a saint to watch all those toddlers day in and day out. To thank them, I decided to make cookie bouquets. I want to share with you how to make a cookie bouquet for all those special people in your life.
While it's always the perfect time to say "thank you," I put these cookie bouquets together for a Thanksgiving treat. Each cookie bouquet features six cookies.
I gave them the bouquets the Tuesday before Thanksgiving. This seemed like the perfect time as there wouldn't be any pumpkin pies to compete with and family may be coming into town to share the cookies.
If you are comfortable with piping buttercream flowers, this tutorial will be such an easy DIY.
If piping flowers is new to you, I have several posts on flowers and a free mini class that features 10 buttercream flowers. For guidance on piping roses, zinnias, and sunflowers, check out my fall flower tutorials.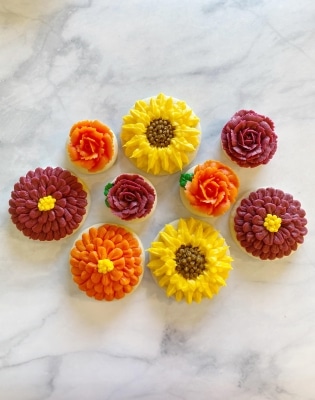 If you want to go with simple yet stunning rosettes, check out my full post on piping rosettes.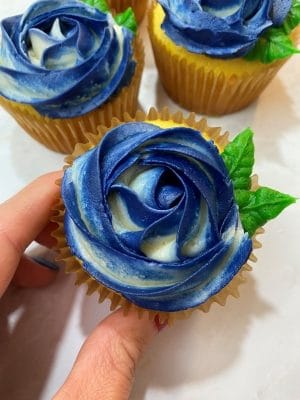 If you want to hibiscus flowers, check out my post on these tropical flowers.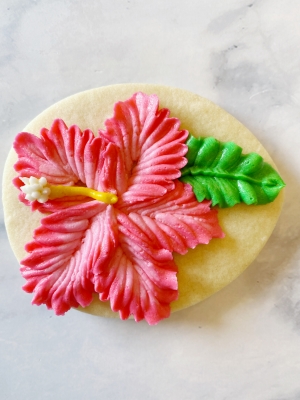 And if you are interested in even more flower tutorials, I recommend checking out my free online buttercream florals class.
Now that you have some flower tutorials to check out for your cookie bouquet, let's jump into how to make a cookie bouquet!
*This post may contain affiliate links, which means I may receive a commission, at no extra cost to you, if you make a purchase through a link. Please see my full disclosure for further information.*
Part 1: Supplies Needed for Making Cookie Bouquets
To create your own thankful cookie bouquet, you will want to gather:
Part 2: Setting up for Success
Here are a few points to keep in mind for how to make cookie bouquets:
When making cookie bouquets, make sure to use a crusting buttercream recipe. I have mine linked above in Step 1. A crusting buttercream recipe will protect the floral designs during transport much better than a typically buttercream recipe. This is due to the crusting buttercream forming a crust on the outer layer of buttercream.
Use a mix of cookie cutter shapes. For my six cookies, I used two circles, one oval, one flower with leaves cutter, and two leaves. This allows for the bouquet to have a natural shape to it.
Use a mix of colors on the flowers. For my Thanksgiving cookie bouquet, I used rust, plum, a light orange (I like to call it pumpkin mousse), and a eucalyptus green.
Decorate the cookies at least 12 hours before packaging. This is not a last minute gift that can be baked, decorated, and packaged in the same day.
Following these points will create stunning cookie bouquets for gifting!
Part 3: How to Make a Cookie Bouquet Successfully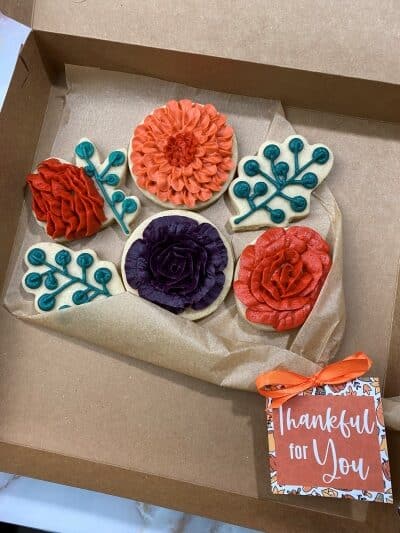 Once you have all of your flower and leaf cookies decorated, allow them to fully crust. I like to decorate the cookies at least 12 hours before packaging, but 24 hours is even better.
When ready to package, lay a paper towel on the bottom of the pizza box or pastry box. The paper towel is there to provide some friction, helping to keep the bouquet in place.
If you aren't traveling with the cookies, you don't need to put a piece of paper towel down.
Next, take some parchment paper and fold it into a cone shape. I used two sheets to create a wider top. Essentially, you are pretending to wrap a bouquet but you won't have anything in the parchment paper yet. Make sure that your folded parchment paper fits nicely in your pastry box.
Also, use parchment paper and not Kraft paper, as a non coated paper product will show the butter stains from the cookies. Parchment paper is food safe and perfect for this cookie bouquet.
I found a great tutorial on Wikihow for folding the parchment cones. Use the "Part 2" guide for what we are doing here, just remember, don't put the cookies in the paper while folding.
Once you have your cone shaped parchment paper in your pastry box, start putting the cookies into the opening of the cone. This is why it is imperative that you wait until the cookies form a crust. The parchment paper may touch the cookies, depending on where you are arranging them, and we don't want the flowers getting messy.
If you are transporting the cookies, make sure to not stagger the flower/leaf cookies yet. You can lay them flat and the cookie bouquet will still look amazing.
If you are throwing a party and creating a cookie bouquet centerpiece, you can stagger the cookies a bit to lay more like a bouquet.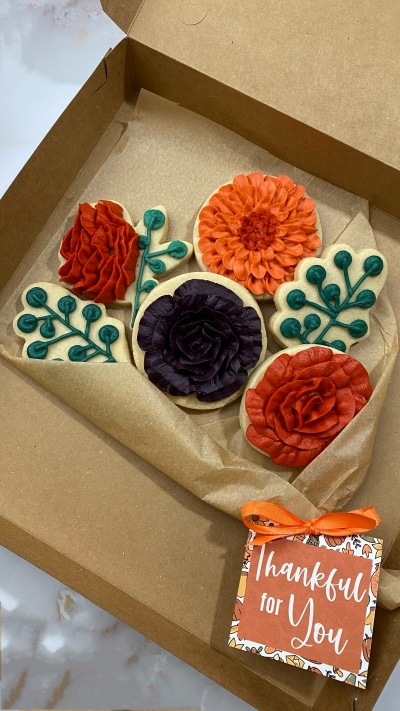 And that's it! The hardest part is probably waiting for the cookies to crust before arranging them. 
I hope you found this tutorial helpful!
Save the Tutorial for How to Make a Cookie Bouquet
Use the image below to pin this cookie bouquet tutorial to your gift board on Pinterest. Alternatively, use any of the social share icons on the top of the page to share it to your favorite social media site.