Reviewing Chefmaster Natural Blue Food Coloring
More and more individuals are hoping to avoid artificial Blue 1 and Blue 2 food coloring. Whether food allergies are present or just a general concern over the possibly toxic effects, I'm here to help you find a good natural blue food dye.
The goal is to find alternatives for artificial colors that work well, aren't too spendy, and don't alter the taste of buttercream frosting much, if any. My last blog post discussed my thoughts on Chefmaster Liqua Gel Food Color in Natural Red. Today, I want to focus in on their Natural Blue shade.
I will say first and foremost that I am not hoping to obtain a dark blue or navy blue shade of buttercream here. That may be a future endeavor, but for now, let's just find a good natural blue food dye for your basic medium hued blue.
*This is not a sponsored post so my review and tutorial of Chefmaster Liqua Gel is completely unbiased.
*This post may contain affiliate links, which means I may receive a commission, at no extra cost to you, if you make a purchase through a link. Please see my full disclosure for further information.*
About Chefmaster Liqua Gel Food Color Natural Blue
The ingredients for Chefmaster Liqua Gel Food Color in Natural Blue consists of glycerine, spirulina powder, and water.
Spirulina is an algae that has been gaining popularity in the health & fitness world. According to an article found in Pub Med, spirulina is a "safe food supplement without significant side effects" and has some potential for helping improve allergy symptoms.
Since I suffer from allergies, this sounds like a win for me so far. We will see how the dye holds up to coloring buttercream, though.
Glycerine (besides being a popular song I used to listen to in my teens) is a non-toxic, colorless, and odorless liquid. It is often used in cake batters to create a moister cake and in royal icing to help with consistency.
It does not appear to have a preservative in this food dye, so that's a plus as well! So far this natural blue food dye is looking pretty good.
For my buttercream icing, I will be using my go-to buttercream frosting recipe. This recipe does use a mix of shortening and butter. I point this out because shortening can result in a whiter buttercream frosting, which creates a more true tone shade of color, in this case, blue.
If you want to use all butter, I would recommend using a butter brand that is naturally more white than yellow. You can see my review of several grocery store butter brands and their colors here.
Tips for Using Gel Food Coloring for Blue Buttercream
When working with buttercream sugar cookies, as opposed to frosting cakes, you don't need much icing. This is a huge advantage for mixing more difficult shades such as blue since your ratio of gel color to icing is larger. I always recommend using 12″ icing bags for cookies. The smaller bag holds the perfect amount of icing, about a half cup of buttercream.
Be patient. Allowing the blue natural food coloring to develop with the buttercream overnight is ideal. The color will be richer, and, most importantly, show what the final color will look like. If matching a certain shade of blue, say for a party theme, you need to know the final shade, not the shade it is the first few minutes of mixing.
My Results with Chefmaster Liqua Gel Natural Food Coloring for Blue Icing
I started with placing a half cup of undyed buttercream frosting into a small bowl & mixing in 1/8 of a tsp. of blue Chefmaster Liqua Gel food coloring. Here is what the buttercream looked life after sitting for four hours. *Please note that all progress pictures shown were after each amount was allowed to develop several hours to reflect it's final shade.
While this is a pretty pastel shade of blue, I was still hoping to achieve a medium hued blue. I added another 1/8th teaspoon of food coloring and then let that sit for four hours. This is what the resulting shade looked like:
Since it is still pastel, I decided to add in another 1/8 tsp. of Chefmaster Liqua Gel natural food coloring and waited another four hours. Here is what that looked like:
The buttercream was certainly darker but I was optimistic we could get darker.
I added another 1/8th teaspoon, bring the total to a 1/2 teaspoon of Chefmaster Liqua Gel Natural Food Dye in Blue. You can see that color here:
I personally love this shade of blue. It is bright but not neon, just perfect. However, it isn't completely medium toned yet, so I will continue to add more dye.
Here is the frosting after adding an additional 1/8th teaspoon of blue dye. The total is now at 5/8th of a teaspoon of coloring.
Well the color is just getting prettier and prettier. I decided to do one more addition of dye just to see what happens.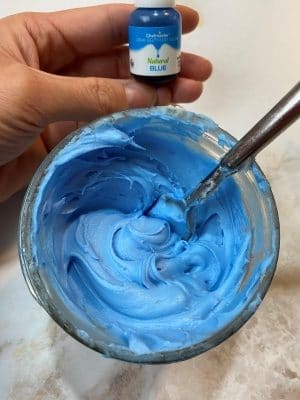 Well this is beautiful and definitely a medium shade of blue. I am impressed!
My Final Thoughts on Chefmaster Liqua Gel Food Coloring in Natural Blue
The Chefmaster Natural Blue shade was certainly able to get to a beautiful shade of blue. I also found that to reach a medium hued blue, I really only needed about a half teaspoon of food color. This isn't too bad in my opinion.
In regard to flavor, I did not notice any change from my normal buttercream. That's a big win for me as I prefer buttercream sugar cookies because of it's superior taste to royal icing.
If I were to use this brand to obtain blue buttercream again, I would stop adding blue dye after a half teaspoon. I would, of course, use even less if I wanted a lighter shade of blue.
I added the additional 1/4 of a teaspoon of blue dye and still loved that color, so really it is up to you and the desired shade that you want.
Speaking on that a bit though, I noticed that this blue buttercream was unable to achieve a dark shade. Adding more blue didn't deepen the color (I tried) and adding two drops of the Chefmaster Liqua Gel Food Dye in Natural Black didn't change it too much, either.
Ultimately, I give Chefmaster Liqua Gel Food Dye in Natural Blue an "A." The consistency of my buttercream wasn't off, the taste wasn't affected whatsoever, and I was able to make these beautiful hyacinth cookies with the resulting shade.
I'd love to know in the comments below, have you tried this brand of natural food dye? Is there a brand you go-to for natural blue buttercream?
Save this Review & Tips for Using Chefmaster Natural Food Color Blue
Make sure to save these tips for creating natural blue buttercream frosting! Use the image below to pin it to your baking board on Pinterest. Alternatively, use any of the social share icons on the top of the page to share it to your favorite social media site.