Reviewing Chefmaster Liqua Gel Food Color in Natural Red
As more people move to a more natural, less toxic lifestyle, diets are sure to change with it. In the United States, artificial food coloring is normal and found in many food products.
With allergies to red dye 40, people are on the lookout for creating the vibrant reds we love but in a healthier way. To accommodate those looking for healthier options, I'm reviewing natural food coloring, red dye, to be exact.
Due to red buttercream being a difficult shade to attain, I didn't have too high of hopes for going the natural route. If red dye 40 can't make red buttercream easily, what else is there?
Today's post will start my series on finding the perfect natural red food coloring. Up first is Chefmaster Liqua Gel Natural Food Color in Natural Red. *This is not a sponsored post so my review and tutorial of Chefmaster Liqua Gel is completely unbiased.
*This post may contain affiliate links, which means I may receive a commission, at no extra cost to you, if you make a purchase through a link. Please see my full disclosure for further information.*
About Chefmaster Liqua Gel Food Color Natural Red
The ingredients for Chefmaster Liqua Gel Food Color Natural Red consists of glycerine, beet powder, water, beta carotene, and cultured dextrose as a preservative.
The ingredients that will hopefully lead to a beautiful shade of red are the beet powder and the beta carotene. Beet powder is somewhat purple and beta carotene is what is in carrots, so orange. Red can have blue undertones or orange undertones, so this all makes sense when coming up with a balanced red shade.
I do tend to favor reds that pull more blue than orange; however.
Glycerine (besides being a popular song I used to listen to in my teens) is a non-toxic, colorless, and odorless liquid. It is often used in cake batters to create a moister cake and in royal icing to help with consistency.
Cultured dextrose is a more natural way to preserve food from spoilage than traditional preservatives. If you want a completely preservative free food dye, I would not recommend this brand. Doing a bit of searching, I found this brand that is preservative free. I haven't tried it, but if you want me to give it a go, let me know in the comments and I will write up a post reviewing it. It may even be part of the natural food dye for buttercream series I'll be doing.
For my buttercream icing, I will be using my go-to buttercream frosting recipe. This recipe does use a mix of shortening and butter. I point this out because shortening can result in a whiter buttercream frosting, which creates a more true tone shade of red.
If you want to use all butter, I would recommend using a butter brand that is naturally more white than yellow. You can see my review of several grocery store butter brands and their colors here.
Tips for Using Gel Food Coloring for Red Buttercream
When working with buttercream sugar cookies, as opposed to frosting cakes, you don't need much icing. This is a huge advantage for mixing more difficult shades such as red since your ratio of gel color to icing is larger. I always recommend using 12″ icing bags for cookies. The smaller bag holds the perfect amount of icing, about a half cup of buttercream.
Be patient. Allowing the red natural food coloring to develop with the buttercream overnight is ideal. The color will be richer, and, most importantly, show what the final color will look like. If matching a certain shade of red, say for a party theme, you need to know the final shade, not the shade it is the first few minutes of mixing.
My Results with Chefmaster Liqua Gel Natural Food Coloring for Red Buttercream
I started with placing a half cup of undyed buttercream frosting into a small bowl & mixing in 1/2 of a tsp. of red Chefmaster Liqua Gel food coloring. (I actually added in an 1/8th of a tsp. at a time but the color was so pastel, I went up to a 1/2 tsp. for this first photo.) You can see what a 1/2 tsp. of the dye looks like here: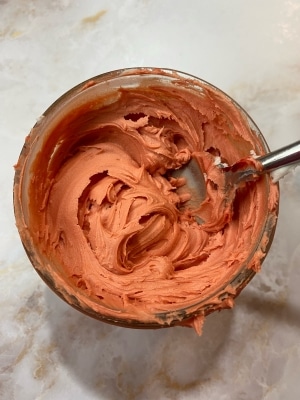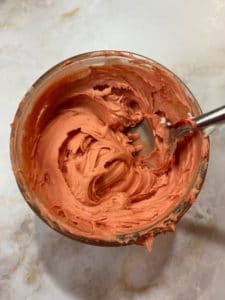 I try to aim for getting halfway to three-quarters of the way to the final desired shade. I knew that we weren't there yet, but since using less gel color is better in order to save money, I moved on to the next step.
This step consists of placing the not-quite-red buttercream into a hot water bath, giving the buttercream a stir, and sealing it with plastic wrap. I like to do this as the heat can help the color to develop. As a note, Chefmaster says to not put heat onto the natural food dye red as it can turn brown. I didn't notice it turning brown but I wouldn't use too hot of water or the microwave method for this brand.
After four hours, this is what the buttercream looked like: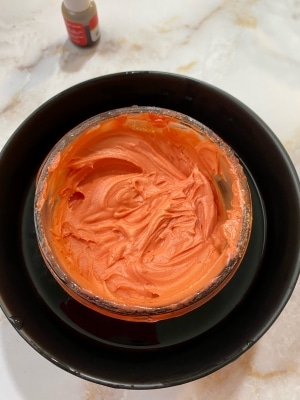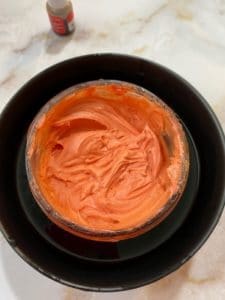 Since it is not red, I decided to add in another half tsp. of Chefmaster Liqua Gel natural food coloring and waited another four hours. Here is what that looked like:
The buttercream was darker but orange. That beta carotene is really pulling through in this dye.
Since Chefmaster says to avoid heat with natural food dye, I went ahead and added another half teaspoon of  dye. I had already given it 8 hours to develop and put as much heat on it as I was willing to do. The total so far is 1.5 tsp. of Chefmaster Liqua Gel Natural Food Dye in Red.
At this point, I will wait overnight to see if it will develop into a red shade.
After waiting overnight, I came back to a still-orange color of buttercream. However, it was deep enough of a shade to be red. I would call this shade burnt orange or if I was being optimistic, a rust red.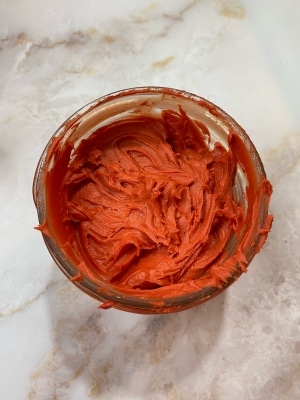 Having already added 1.5 tsp. of red dye into a half cup of buttercream frosting and waiting 24 hours to develop, I'll accept that this is the final state of color. But, I didn't want to stop there.
Being someone who prefers a cool toned red, I decided to add in some Chefmaster Liqua Gel Food Color in Natural Purple. Blue and red combine to purple so I figured purple was a better add than straight up blue for a cool tone.
I added in 4 drops of the Natural Purple shade (sorry, didn't measure by the tsp. this time) and then waited another four hours. Here is what that color looks like: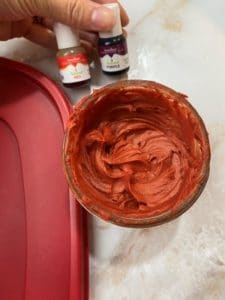 The color has darkened a bit, but still not the true, vibrant red I would love to see in a buttercream frosting.
My Final Thoughts on Chefmaster Liqua Gel Food Coloring in Natural Red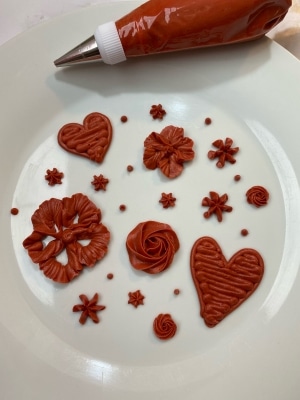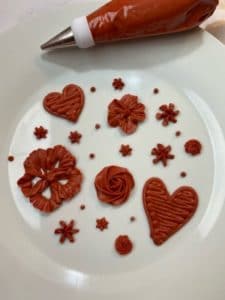 The Chefmaster Natural Red shade was certainly able to get to a deep shade of color, rather than a pastel shade I have seen from other natural food dyes. Using 1 1/2 tsp. of food dye for 1/2 cup of buttercream frosting is A LOT, though. Not only will this be expensive to create again, adding that much increases the chances of getting some odd flavors of buttercream.
Speaking of flavor, I did notice that the final buttercream had some sort of taste to it, but I wasn't too distracted by it. If making these cookies for someone who needs to avoid red dye 40, I don't believe they would be put off by the taste.
If I were to use this brand to obtain red buttercream again, I would stop adding red dye after the first teaspoon and then add some drops of their Natural Purple shade. Looking back at the photos, it seems a teaspoon of red gave the buttercream enough depth, it just pulled pretty orange.
Ultimately, I give Chefmaster Liqua Gel Food Dye in Natural Red a "C." The piping consistency of my buttercream wasn't off, even after adding that much food dye. Having said that, the buttercream did not form a crust, which is important to me. The taste wasn't bad and the resulting buttercream wasn't a pastel shade. If piped onto heart cookies for Valentine's Day or Santa faces for Christmas, it's a good-enough red. All-in-all, an average natural red food coloring.
I'd love to know in the comments below, have you tried this brand of natural food dye? Is there a brand you go-to for natural red buttercream?
Save this Review & Tips for Using Chefmaster Natural Food Color Red
Make sure to save these tips for creating natural red buttercream frosting! Use the image below to pin it to your baking board on Pinterest. Alternatively, use any of the social share icons on the top of the page to share it to your favorite social media site.