5 Best Tips for How to Make White Buttercream Cookies
In today's post I thought we would go over an answer to a common question, how to make white buttercream. Now, some people don't mind the natural buttercream color. Depending on the decorated cookies I am creating, I typically don't mind either. However, there are times that I want a true, pure white buttercream frosting. A good example is in my red, WHITE, and blue patriotic cookies.
Since buttercream is typically made out of butter, more on that later, the overall tone tends to be a bit yellow. Therefore, I'd like to introduce you to two different ways to achieve white buttercream.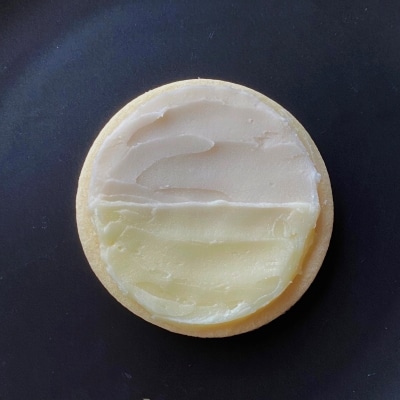 *This post may contain affiliate links, which means I may receive a commission, at no extra cost to you, if you make a purchase through a link. Please see my full disclosure for further information.*
Tip 1: Make White Buttercream Using Food Gel
To explain this tip, let me first introduce you to my hair bleaching journey.
I have been bleaching my hair at home since I was in the 5th or 6th grade. My first attempt at blonde hair was a highlight kit. Since I am naturally a dark blonde (my husband will argue that I have brown hair but we can forget his opinion) my virgin hair lifted very well. I had pretty, white blonde highlights. Plus, I lived in a sunny dessert climate so the sun helped lighten my hair a lot.
In college, I ended up moving to the rainy side of the state. I quickly found that my white blonde hair was turning pretty yellow. Then, when I went to bleach my hair in an attempt to fix the yellow, it would turn orange. Not wanting brassy yellow or orange hair, I needed to find a fix. Remember, I was in college, so going to the hair salon wasn't in the budget.
That being said, I have learned a lot about color theory while saving my blonde hair without a professional.
Do you guys remember the color wheel? And how colors cancel each other out? Here's a refresher.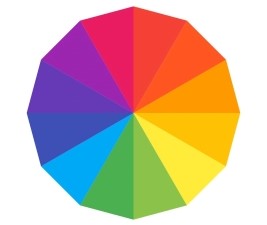 Opposite of the yellow and orange tones are the violet and blue tones. I started to buy blue toned bleach for my hair and then put a purple toner on it after the bleaching process. And as most blondes know, using a purple shampoo and conditioner once a week or so will keep those yellow brassy tones away.
Don't worry, I didn't forget the main point of this article is to learn how make white buttercream.
To cancel out the butter yellow tones we just need to add some violet. This can be tricky because we do not want to oversaturate our buttercream and create violet buttercream. Here are my tips below:
Use a violet gel food dye when coloring your buttercream. While it is true that using a gel food dye typically has more saturation, the gel is easier to control. When adding violet gel to your buttercream frosting, use a toothpick. The gel will stick to the toothpick so you can make sure you aren't too overloaded before you mix it in to the frosting. With liquid, it's easy to drop in too many drops at once.
Pull out about half of your buttercream frosting and use that as a test. If you go too violet, add more buttercream from the reserved half. If it's still yellow, add more violet dye. Slowly add the reserved buttercream into the test buttercream until all of your buttercream is white, adjusting the violet gel amount as necessary.
If you still aren't happy with your buttercream tone, add in some white gel dye. I haven't ever had to use this technique yet, but some people swear by it! I'd say this is more popular for a wedding cake, but by all means, use the white gel dye if you are making white cookies for a wedding.
Tip 2: Use a Crusting Buttercream Recipe
These recipes need a lot of powdered sugar in order for the buttercream to crust. More powdered sugar means more white ingredients added to the frosting recipe. To create a buttercream frosting for cookies that hardens, you will only need:
2 cups of room temperature unsalted butter
2 lbs. of powdered sugar
2 tsp. of clear vanilla extract – I use artificial
whole milk to thin
white gel dye – optional
Directions:
In your electric mixer, use the paddle attachment to mix the butter and a third (or whatever amount your mixer can handle) of the powdered sugar together. Slowly add in the remaining powdered sugar until you have about a cup or two left.
Add in the vanilla extract & two tbsp. of milk and mix.
Add in the last of the powdered sugar and mix. If the mixture is too stiff or appears to be grainy, slowly add in more milk, one tablespoon at a time. I prefer a consistency of smooth peanut butter for cookies that have a lot of line work and a slightly stiffer consistency for piping flowers.
Remove half of your buttercream and set it aside in a bowl. In the mixer, add in a small amount of violet gel food dye using a toothpick. If the buttercream is still yellow, add more dye. Slowly add in the reserved buttercream and continue mixing in gel dye as needed until you achieve a white buttercream frosting. If it's still not as white as you'd like, mix in some white gel dye.
Tip 3: How to Make White Buttercream While Still Using Vanilla Extract
In the crusting buttercream recipe above, you will notice that I have suggested using artificial clear vanilla extract. Vanilla extract by nature is brown. When you mix that into buttercream, you will get a light brown/yellow tone. Most people are not able to decipher the artificial taste of the vanilla so this one is an easy substitution. Additionally, using artificial vanilla is cheaper.
If you can't let go of your pure vanilla, check out the next tip. If you follow that tip and add a bit more violet gel, you will get white buttercream frosting still.
Tip 4: Make Sure You Choose the Right Butter
Did you know that different butter brands are colored differently? Well, it's true. I went to my local grocery store and picked up various brands of butter. Here is what I found.
In the above photo, the Challenge Butter and Land O Lakes brands are significantly whiter than the other three brands.
*Full disclosure: I didn't test all of the butter brands in the store, as some of them can be quite spendy. Therefore, I can't say that these brands are the whitest brands of butter available on the market. However, I would feel confident that my buttercream would turn out fairly white using either the Challenge Butter brand or the Land O Lakes brand.
Using these brands as a base for the white buttercream will be a tremendous help.
Tip 5: Consider Skipping the Butter Altogether
If the above tips don't interest you, there is another option to get white "buttercream" frosting. This is also a good option if you want a vegan frosting recipe. As an added note, if you want a fully vegan frosting, use water or dairy free milk for your thinning fluid.
To create shortening frosting, or Crisco frosting, replace the butter amount in a recipe with vegetable shortening. So if the recipe calls for two cups of butter, use two cups of shortening instead.
I would steer clear of margarine, however. The margarine brands that I have seen have yellow dyes in them to make them appear more like butter. If you've found a good, white toned margarine, let me know in the comments below!
Save This Guide for Later
If you need to bookmark how to make white buttercream frosting for later, pin the image below. Alternatively, use the social share icons on the page to share it to your favorite social media site. As always, thank you for reading and I hope you are enjoying learning how to decorate sugar cookies with buttercream.
For more tips and tricks for achieving beautiful buttercream sugar cookies, check out my other how-to posts!
Happy decorating!