Everything You Need to Know About Rolled Buttercream for Cookies
Have you heard of rolled buttercream? It's been around for quite some time but has been gaining popularity in the cookie decorating community recently.
Finding new techniques to decorate cookies can be fun for both hobby cookie decorators and professional cookie decorators.
If you haven't played around with rolled buttercream yet, here's your sign to do it. I will go over what it is, how it's different from "regular" buttercream, and include a recipe for rolled buttercream.
Let's jump into the details and get started!
*This post may contain affiliate links, which means I may receive a commission, at no extra cost to you, if you make a purchase through a link. Please see my full disclosure for further information.*
What is Rolled Buttercream?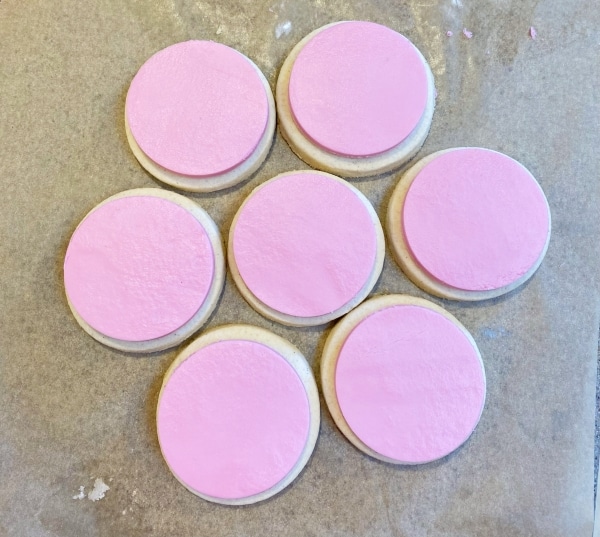 Rolled buttercream is exactly what it sounds like, buttercream that is rolled out, similar to rolling out cookie dough. The buttercream is a thicker consistency than a traditional buttercream.
The ingredients consist of butter, powdered sugar, and flavoring, such as vanilla extract. For this recipe, you will omit any liquids outside of flavor: no milk, cream, or water. You may also use more powdered sugar.
What are the Benefits of Rolled Buttercream?
Rolled buttercream can act very similar to fondant. It won't behave the same way when it comes to covering a cake, per say, but there are some similarities.
You can roll the buttercream out just like rolling out fondant. You can use cookie cutters, presses, and molds just like fondant. However, you may need to add in the extra step of freezing the buttercream unlike fondant.
Besides being a fondant alternative, rolled buttercream can be another way to get a smooth layer of buttercream onto cookies.
As a buttercream cookie decorator myself, it can be tricky to get a very smooth and flat decorating surface for details. Rolled buttercream can provide a flat layer.
Another benefit of rolled buttercream is the ability to create a marble appearance on cookies. Royal icing cookie decorators can easily create a marbled appearance with the wet-on-wet technique. However, this is a technique that can be difficult using traditional buttercream cookie decorating.
When marbling buttercream, simply combine two or more shades of buttercream when rolling out the frosting.
Stenciling also works great on rolled buttercream, including using fondant presses and molds. There are lots of possibilities.
What is Rolled Buttercream NOT?
There is a difference between rolled buttercream and buttercream that is rolled between layers of parchment paper and frozen. I know this sounds very similar, but stay with me.
Rolled buttercream can be rolled without being sandwiched between two sheets of parchment paper. You can place a sheet of parchment paper on the counter for a clean surface, but other than that, you just go straight in with a rolling pin.
Frozen buttercream sheets are rolled between two sheets of parchment paper, as it is stickier, still containing liquid in the recipe.
You can find out more about frozen cut out buttercream here.
How to Make Rolled Buttercream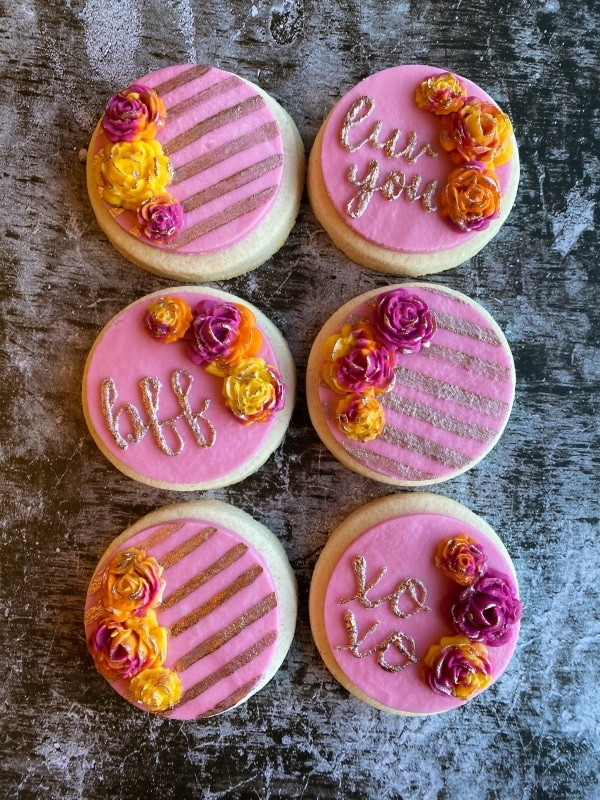 For the rolled buttercream recipe, you will start with a basic American Buttercream recipe.
The ingredients needed are:
cold salted butter
vanilla extract (and/or almond extract per your preference)
powdered sugar
light corn syrup*
*The light corn syrup is used to adhere rolled buttercream onto cookies. Your cookies may or may not need the addition of the corn syrup to act as a glue, depending on how dry the cookies/fondant is.
That's it. Rolled buttercream only needs three ingredients. Technically, you could get away with just the butter and powdered sugar, but the extract provides important flavor. Without flavor, the buttercream will definitely taste too sweet.
Another distinction between traditional buttercream and rolled is that rolled uses cold butter. The cold butter helps the buttercream hold up longer when rolling it out. If you start with room temperature butter, the stability will start to fall through quickly.
To make it easier on your stand mixer, you can cube the cold butter, but it's not necessary for the recipe.
The tools you will need to make rolled buttercream are:
In the stand mixer with the paddle attachment, add the butter and mix until creamed. You do not need to mix until fluffy like regular buttercream, just until the lumps are gone.
Add in two cups of powdered sugar, cover the stand mixer, and mix on low speed until combined.
Next, add in two more cups of powdered sugar and one tablespoon of vanilla extract. Cover and mix on low until combined.
At this point, test your buttercream by rolling it between your pointer finger and thumb. If it is sticky, you need more powdered sugar. If it feels like playdough, perfect, don't add more powdered sugar.
If your buttercream was too sticky still, add up to two more cups of powdered sugar and mix. Your stand mixer may be struggling with the amount of powdered sugar which is a sign that it is thick enough.
Remember, the light corn syrup is not for the recipe itself, just for adhering to sugar cookies if needed.
Remove half of the buttercream from the mixer and roll it out on a piece of parchment paper. Use cookie cutters, molds, or simply free hand shapes with the buttercream and attach to the cookies.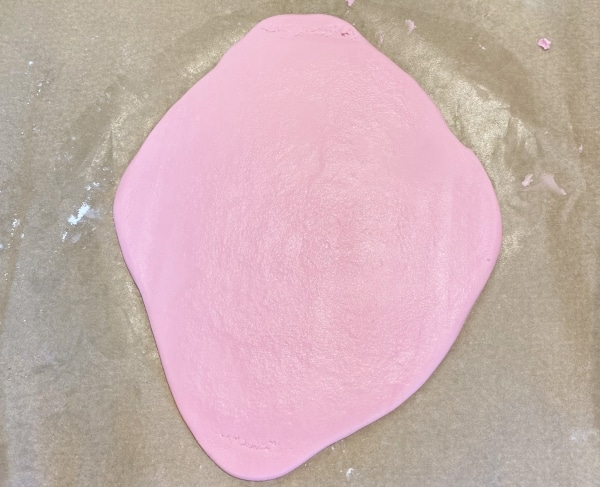 It's best to only remove half of the buttercream, or less, at a time so that the buttercream doesn't become too warm. If it becomes too warm, you will need to roll it out with some powdered sugar (similar to rolling dough with flour) and freeze the buttercream sheet before using it.
The buttercream should "melt" or adhere onto the cookies as it dries but if your buttercream is very dry, apply a thin layer of corn syrup to the cookie before placing the buttercream on top.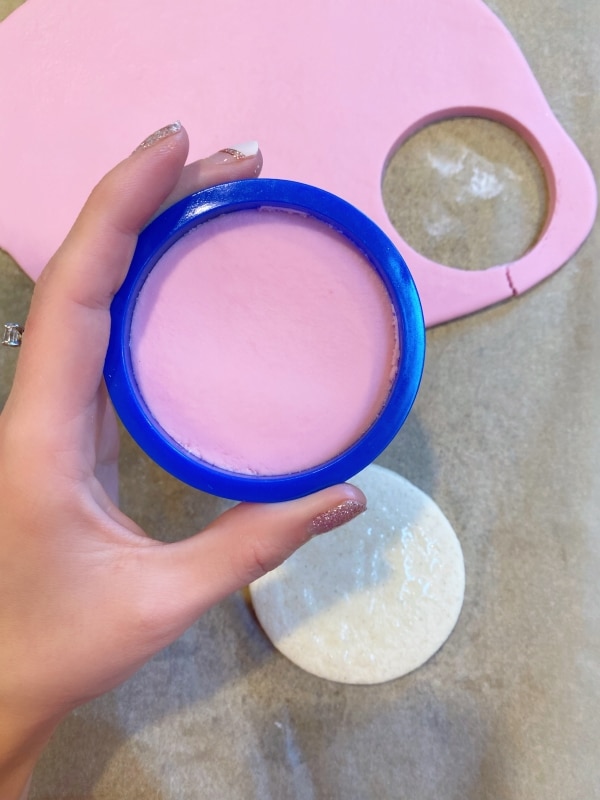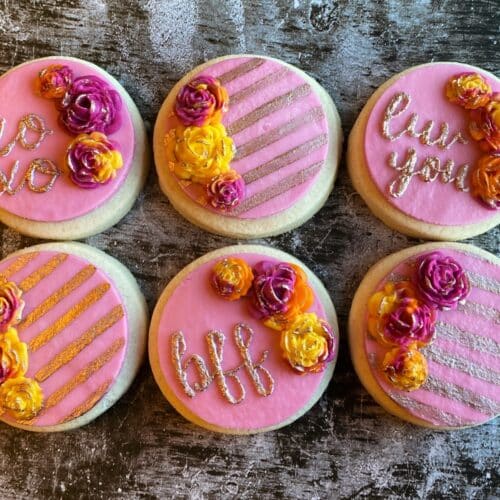 Rolled Buttercream Recipe
Use rolled buttercream to create a smooth base layer of frosting on sugar cookies. Rolled buttercream can also be used as a fondant alternative to create buttercream molds.
Equipment
Stand Mixer with Paddle Attachment

Measuring cups and spoons

Rolling Pin

Parchment paper

Fondant silicone molds

optional
Ingredients
1

cup

cold salted butter

cubed

4-6

cups

powdered sugar

plus more for rolling if needed, see notes below

1

tbsp.

vanilla extract

gel food dye

optional

light corn syrup

if placing rolled buttercream onto sugar cookies
Instructions
Basic Rolled Buttercream Recipe
In a stand mixer with the paddle attachment, cream the cold butter until smooth.

Slowly add in four cups of powdered sugar and vanilla extract until combined.

Test the buttercream stickiness by grabbing a small amount and rolling it between your thumb and pointer finger. If the frosting resembles playdough, move to the next step. If it is sticky, add more powdered sugar, up to two more cups if needed.

Add the gel food coloring to the mixing bowl and mix until incorporated.
To Use Rolled Buttercream as a Smooth Base Layer on Cookies
Remove up to half of the buttercream from the mixer and roll it out to 1/4" thick on a sheet of parchment paper. If the buttercream is sticking to the rolling pin, put powdered sugar on the top of the buttercream and onto the rolling pin.

Use cookie cutters to cut out buttercream and place the buttercream onto the cookies. If placing on cookies, you may want to add a small layer of light corn syrup on the cookie to help the rolled buttercream adhere.
Rolled Buttercream as a Fondant Alternative for Molds
Press buttercream into the fondant molds, making sure to put enough that it fills any crevices.

Use a knife or offset spatula to remove the excess buttercream on the top of the molds.

Place the molds into the freezer for ten minutes.

Once frozen, remove the buttercream from the molds and place onto cookies.
Notes
You will need at least four cups of powdered sugar, but you may need up to six. This appears to depend on humidity and temperature where you live. I live in a humid environment and found I needed six cups of powdered sugar before I achieved a playdough consistency. The salted butter and vanilla in this recipe helps offset the sugar.
When rolling out buttercream, it's best to roll small amounts at a time, hence the instruction to pull out only half of the frosting. The more the buttercream is rolled, the warmer it will become, leading to the buttercream melting and losing shape.
If making buttercream molds as a fondant alternative, it is best to apply the molds to either a base layer of buttercream or use light corn syrup as a glue to adhere it to the cookie.
Techniques to Try
The most common way to use rolled buttercream is to cover the cookie with a flat background layer. Simply use the same cookie cutter you used for your cookie dough to cut out the buttercream.
Pipe detail work on top of this layer with regular crusting buttercream.
Create a watercolor effect by smearing regular buttercream on top of the rolled buttercream.

Regular buttercream (red) is spread over the layer of rolled buttercream (pink) with hearts piped over both.

Use stencils to create texture by placing the stencil on top of the buttercream and freezing it. Peel the stencil off once the buttercream is frozen.
Use stencils to apply luster powder paint, sprinkles, or regular buttercream.
Use fondant presses to write onto the cookies or create texture.

Rolled buttercream is dyed with gel food dye to be used as a fondant alternative.

Press rolled buttercream into the fondant molds and freeze for 10 minutes before removing from the molds.

Use the buttercream as a fondant alternative and create fondant molds to apply to the cookie. This cookie has a rolled buttercream background layer with fondant molds and luster powder paint.
I did not use corn syrup to attach the fondant molds to the buttercream base, as the buttercream will eventually melt together.
There are so many ways to use this buttercream. Mix and match methods mentioned above or let me know in the comments below if there's another fun way to use rolled buttercream.
FAQ About Rolled Buttercream
Is rolled buttercream sweeter than regular buttercream?
Maybe. If you are able to get away with using only four cups of powdered sugar, the recipe will taste the same as any crusting buttercream recipe.
If you live in a more humid environment like I do, then yes, it will be more sweet. You may need to add up to six cups of powdered sugar. Using salted butter and a tablespoon of vanilla helps offset the sweetness.
You can also cut down on the sweetness by making sure you roll the buttercream out 1/4″ thick or thinner.
Yes, unless the buttercream is too dry. If the buttercream is as dry as fondant, you will want to apply a thin layer of corn syrup to the cookie to adhere the buttercream. If you are stacking layers of rolled buttercream onto the cookie, you may need to use corn syrup as the glue.
Again, you don't need the corn syrup if the buttercream isn't too dry.
Is rolled buttercream room stable?
Yes, rolled buttercream is a version of crusting buttercream which means it is stable at room temperature. Buttercream can be stored at room temperature for several days. If temperatures are higher than room temperature, the buttercream may melt.
Yes. You need to allow the buttercream to form a crust for 8 hours or overnight before lightly stacking the cookies. Remember, it's best to not stack buttercream sugar cookies for transport and only for display at the event.
How can I make rolled buttercream less sweet?
Use salted butter and a full tablespoon of vanilla extract to offset the sweetness in the buttercream. You can get away with using a typical crusting buttercream ratio of 4:1 sugar to fat as well, you just need to work quickly and expect a stickier frosting.
A 4:1 ratio of sugar to fat would look like 4 cups of powdered sugar to 1 cup of salted butter.
If going this route, you can also roll out the dough on a piece of parchment paper cut to the size of a cookie sheet. Make sure the cookie sheet can fit into your freezer. Roll the buttercream out onto parchment paper, place the buttercream/parchment paper onto the cookie sheet, and freeze for ten minutes.
You can find more information about frozen cut outs with buttercream frosting here.
Once frozen, use cookie cutters to cut out the frosting.
Rolled buttercream should be rolled to about 1/4″ thick or less. Too thick of a buttercream sheet will result in a cookie with a lot of frosting. Too thin and it will be hard to keep its shape when transferring to the cookie.
Does rolled buttercream dry?
Yes, given that rolled buttercream is a variation of crusting buttercream, the buttercream will form a slight crust on the outer edges. The inside of the buttercream will remain soft.
Is there a disadvantage to rolled buttercream?
Many cookie decorators love using rolled buttercream for the ease of getting a smooth base layer of frosting. That being said, I do prefer using a different way to smooth buttercream. I find the typical spread-with-a-palette-knife method to be much faster.
The other disadvantage is that you may need more powdered sugar to make a rolled buttercream similar to fondant. This alters the taste of the frosting and is more expensive.
Because the recipe is altered with more sugar, you will need to make another batch of buttercream for detail work/regular buttercream piping.
You need to work quickly with rolled buttercream, as the more you work the "dough," the more it will start to melt and lose it's shape.
Save the Tutorial for How to Make Rolled Buttercream
Use the image below to pin this buttercream recipe to your baking or cookie board on Pinterest. Alternatively, use any of the social share icons on the top of the page to share it to your favorite social media site.