How to Decorate Book Club Cookies with Buttercream Icing
Calling all book lovers! Today's tutorial features these fun decorated book club cookies. Who out there is missing their monthly book club meetings due to the current pandemic? There sure is plenty of time to read but unfortunately gatherings aren't allowed, at least not in my state. But, who says we can't do a virtual book club? Maybe some of you are already meeting virtually. I think it would be so fun to pour a glass of rosé, decorate these book club cookies, and talk books all via video chat.
*This post may contain affiliate links, which means I may receive a commission, at no extra cost to you, if you make a purchase through a link. Please see my full disclosure for further information.*
Part 1: Gathering the Supplies for the Decorated Book Club Cookies
If you're up for it, here are the supplies you will need to gather to make these book club sugar cookies:
Part 2: Setting up the Icing Bags & Baking the Book Club Cookies
Roll, cut out, and bake your sugar cookies. I did not have a long rectangle cookie cutter for the bookmarks so instead, I used a large square cutter and created a rectangle by cutting one side of it much skinnier. Basically, you want your cookie shape to represent a bookmark. While they are cooling, whip up your frosting.
To create a sage green buttercream, mix some brown gel dye in with the green frosting. To obtain a rosé pink frosting, add some brown to the pink frosting.
To set up your frosting bags, you will place your black frosting into a bag with a tip #2 in it. To set up your white frosting, you will be placing a coupler into the bag and attaching a tip #3 first. For instructions on how to do this, visit my page Getting Started: Learn How to Decorate Buttercream Cookies. You will also be placing your sage green frosting into a bag with a coupler and tip #3 attached first. For the rosé pink frosting, place the frosting into an icing bag with tip #3 attached.
In the photo, I have a coupler on the pink frosting because I tend to put couplers on all my icing bags out of habit, but this is not necessary to do. And, as always, you can change the colors to your preference. I chose these colors as they remind me of my sister, who as a "bookstagram." If that's your thing or you are looking for book recommendations for your book club, check her out at instagram.com/lindseybetweenthelines.
Part 3: Making the Decorated Book Club Cookies with Buttercream Icing!
To create our Kindle cookies, you will want to outline and roughly fill your smaller rectangle cookies with white frosting.
Lay a piece of parchment paper on top of the frosting and use your finger to smooth out the lines/evenly distribute the frosting.
Carefully peel off the parchment paper. Then, take a butter knife or flat spatula and smooth out the frosting further.
It's okay for it to not be perfect, especially the edges, as they will be covered with black frosting.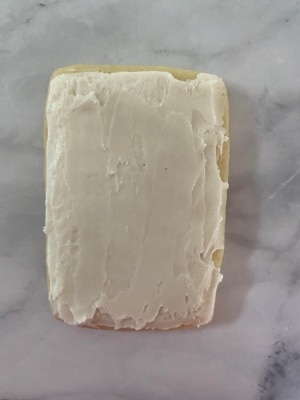 Now, take your black frosting and create a frame around the edge of the cookie.
Fill in the frame using horizontal lines. I like to fill in the top and bottom areas first, then go back and fill in the sides.
Lastly, take your black frosting and create a page in the Kindle. I decided to go with the beginning of a chapter page, as it was less to fill in.
To create your bookmarks, use the same steps as outlined above to create the background of your larger, longer rectangle cookies. You will use your sage frosting with tip #3 attached to do this.
Take your white frosting and switch the tip out for a tip #2. Outline the edges of the bookmark to clean it up.
You can write whatever you would like on your bookmark. I chose to write the instagram handle for my sister's bookstagram. You can totally write the name of your book club or maybe even"Rosé, Read, Repeat" if your book club enjoys a glass of wine.
Speaking of rosé, to create these cookies, you will use your white frosting with tip #2 attached still. Outline the shape of the wine glass and then fill in the stem of the glass.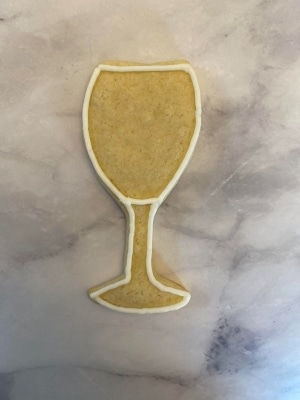 Take your rosé frosting and outline/fill in the cup. You can create smaller or larger "pours," whatever you prefer.
The book cookie was the toughest one for me, mostly because I do not consider myself an artist. I have included step-by-step photos of how to draw a book if you are artistically challenged like me. You will use your rosé frosting for this one.
Once you have your outline created, take your rosé frosting and fill in the book cover and side. Pay attention to the direction I filled in these areas, as it helps with the overall appearance of the book.
Next, take your black frosting and go over the edges of the book to create more dimension. You will be drawing directly over the book outline you did with the rosé frosting. Notice how I did not outline the back cover of the book.
Take your white frosting, with tip #2 still attached, and fill in the area that will represent the book pages.
Now, take your black frosting and outline the bottom of the book. This time, you will be outline to the left/bottom of the rosé lines, as opposed to directly over the top of them like you did for the front side of the book. You can also create your page lines and add details to the book binding as well.
Switch your white frosting out for the tip #3 again and outline the edges of the book and the edges of the square cookie. Fill in the background space with the white frosting. I used vertical lines but you can choose whichever is easiest for you.
For all of the fun "book club" sayings, I used my sage or white frostings, with tip #3 attached, to outline and fill in the circle cookies. I then used the opposite color as the background with tip #2 attached and wrote a quote. If you aren't the best at fonts, a tip I have for you, and that I use myself, is to go to a font downloading website, such as http://dafont.com. Pick a font and type in your quote or saying into the preview font generator. Then you can use this as a guide when writing your cookie. Of course, you can always just use your normal handwriting. Go slow when writing and if you mess up, simply take a butter knife and gently pick up the frosting to "erase" it from the cookie.
And that's it! I'm curious to know what books you are reading right now, leave a comment below and maybe you will inspire my next read!
I hope you are doing well and staying mentally, physically, emotionally, and spiritually healthy during this pandemic. If you made these cookies, send a photo to my e-mail [email protected] or tag me on Instagram at buttercreamparties for your chance to be featured on the blog!