Heavenly, Almost Melt-in-Your-Mouth Buttercream Cookie Recipe
If you haven't tried a buttercream cookie yet, you are missing out, my friend. Buttercream cookies are exactly what they sound like, delicious soft sugar cookies topped in smooth vanilla buttercream frosting. Yum times a thousand.
Now, to be perfectly clear, these are not your standard decorated sugar cookie. Royal icing rules the world of decorated cookies.
BUT, once you have a buttercream cookie, you'll never go back to royal icing cookies. Royal icing cookies are pretty, that's for sure, but nothing tops the taste of buttercream frosting.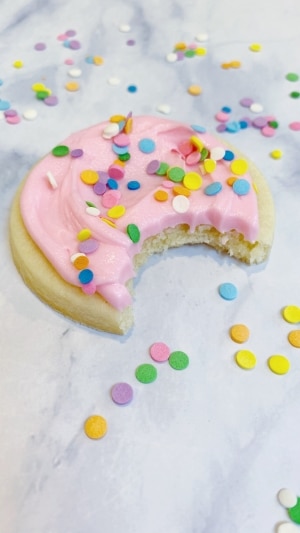 P.S. Decorated buttercream sugar cookies are totally a thing and make up the majority of this site's content. You can find tutorials in the menu bar at the top of the page.
You know buttercream as that delicious frosting that is on GOOD cakes. Not the cakes with "icing" but the ones with real buttercream frosting that tend to have a higher price tag.
To give you an example, my wedding cake had vanilla buttercream frosting.
Don't worry. Buttercream is not super expensive to make at home.
Piping buttercream frosting onto the softest cut out sugar cookies (that hold their shape) is out-of-this-world delicious. Seriously. If you make buttercream cookies for friends & family, you just might get tired of them asking for them at every social event.
So without further ado, I am sharing my favorite recipe for buttercream cookies with you. This entails the delicious buttercream frosting recipe and the soft sugar cookie recipe.
By the way, these buttercream cookies are better than any copycat Lofthouse cookie you will find (and much better than the real Lofthouse cookie.)
So grab your sprinkles & your apron and let's make the most amazing buttercream cookies together.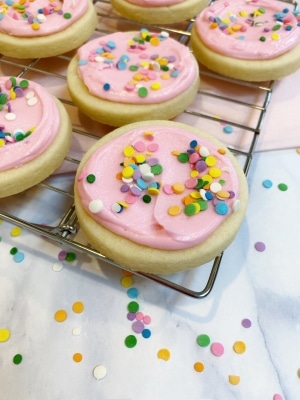 Make sure to read the directions above the recipe card so you don't miss the best hack to the most delicious buttercream cookie you've ever experienced.
*This post may contain affiliate links, which means I may receive a commission, at no extra cost to you, if you make a purchase through a link. Please see my full disclosure for further information.*
How to Make The Best Buttercream Cookies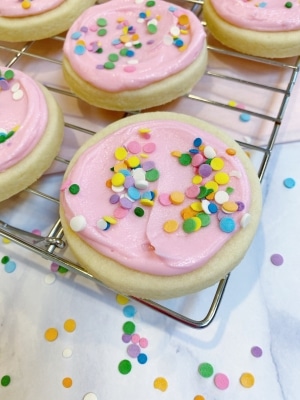 The Soft Sugar Cookie Recipe
To embark on this delicious journey, your first step is to make the soft sugar cookies. Guess what? This is a no-chill sugar cookie dough recipe so there is no need to sit around waiting for your cookies to get cold.
Let's get started. Go ahead and preheat the oven to 350 degrees Fahrenheit. Also, take out one cup of unsalted butter from the refrigerator and set this aside for the buttercream frosting recipe.
DO NOT USE THE SOFT UNSALTED BUTTER FOR THE COOKIES. IT IS FOR THE FROSTING. I just wanted to make that clear.
Grab a medium sized mixing bowl and add in 3 cups of flour. Remember, when measuring flour, do the spoon & scrape method.
What's the spoon & scrape method? Simply use a spoon to spoon flour into your measuring cup. Once you have a mound at the top, take a knife and scrape it over the top of the measuring cup. Obviously don't scrape the excess into your mixing bowl.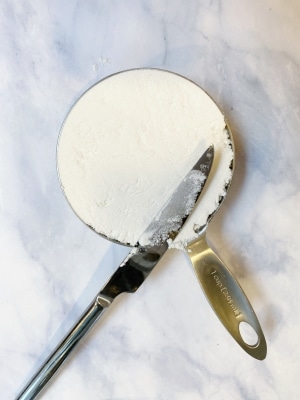 Alternatively, use a kitchen scale and measure out 384 grams of flour.
Next, add in two teaspoons of baking powder into the mixing bowl. Make sure to use baking powder and not baking soda. The baking soda will cause the cookies to puff up and spread. Likely still delicious but not as pretty.
Stir the baking powder into the flour and set this bowl aside.
Grab your stand mixer and attach the paddle attachment. When I was first starting on my baking journey (I was in my 20s) I used the whisk. Whoops. I'll just say we had to throw away that whisk attachment.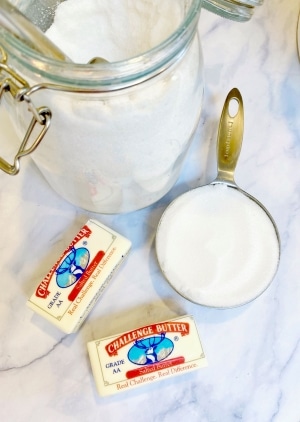 In the stand mixer, add in one cup (or two sticks) of COLD salted butter. By cold, I mean refrigerated and not at room temperature.
You can chop the butter up into cubes before adding it into the stand if you want to speed up the process and reduce the chance of your mixer kicking the butter out onto the floor.
To the butter, cubed or not, add in one cup of granulated white sugar. You don't need to do the scoop & scrape method for the sugar.
Now, cream the butter and sugar together on medium speed. You will know it's done when you can't see any butter lumps. Try not to overmix, as this just adds heat into the butter and increases the chance of spread.
Next up is adding one egg to the mixer. If you have access to duck eggs, I HIGHLY recommend using a duck egg. We have about 20 ducks, so I always use a duck egg.
Baking with duck eggs has a richer taste due to the larger yolk. We all know that the yolk is the yummier part of the egg, too.
If you don't have a duck egg, use a chicken egg and the buttercream cookies will still be delish.
Before turning on the mixer, go ahead and add in at least one and a half teaspoons of vanilla extract. I've been known to add up to a tablespoon.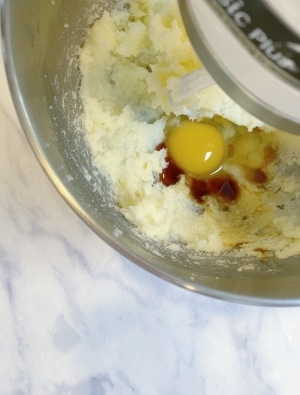 If you love almond extract in your cookie, go ahead and reduce the vanilla extract amount and add in some almond to make up the difference. I just prefer an all vanilla cookie.
Now, go ahead and mix the egg and extract in the stand mixer until the egg is just combined. Again, we don't want to introduce too much heat.
Lastly, spoon in some of the flour & baking powder mixture and mix until it's not a powdery mess. Continue adding in the dry ingredients until it's all been added.
The dough will pull away from the sides when it is ready. If it is too sticky, add in a tablespoon of flour. It's better to go with more than less flour here.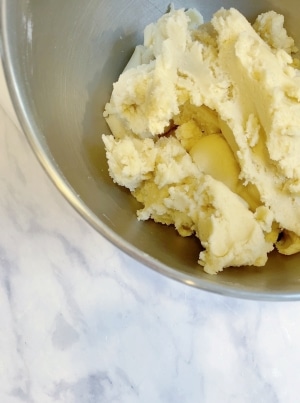 Roll out the cookie dough on a floured surface to 3/8″ thick. I prefer a thicker cookie because buttercream frosting can be overpowering if the cookie is too thin.
I use this Joseph-Joseph rolling pin to ensure my cookies are even and 3/8″ thick. I highly recommend it! It's one of my favorite kitchen tools.
Use a round cookie cutter to cut out the cookies. Place no more than 6 cookies on a standard sized cookie sheet. I find this no chill sugar cookie dough recipe to work wonders on this cookie sheet and a silicone mat.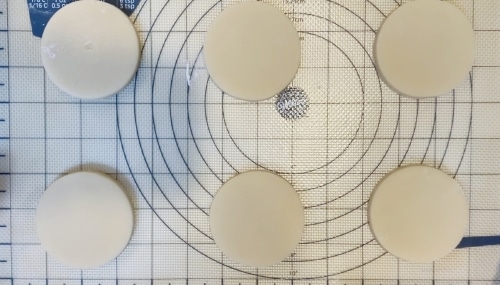 Bake for 7-9 minutes at 350 degrees Fahrenheit, or until the middle of the cookie doesn't look wet. Sometimes it forms a bit of a bump on the top of the cookie which also means they are done.
I always err on underbaking than overbaking. The cookies will continue to cook a bit as they cool on the baking sheet. The egg & flour should be cooked enough for safe eating, assuming the cookies didn't look wet in appearance anymore.
Allow the cookies to cool on the sheet for at least 5 minutes, then use a thin spatula to move them to a piece of parchment paper. Roll out the next set of 6 cookies and repeat this process until all the dough is used.
To take these soon-to-be buttercream cookies OUT OF THIS WORLD, put your just-baked-but-cooled cookies into an airtight container and then freeze them while you make the buttercream frosting.
Freezing the cookies for a bit seals in moisture so you have amazingly soft cookies that almost melt in your mouth. Just heavenly!
I learned this trick when making banana bread back in the day and it applies to these sugar cookies as well. Best hack ever.
The Delicious Frosting for the Buttercream Cookies
Remember the cup of unsalted butter you took out at the beginning of this? Check to see if it is at room temperature yet. To do this, simply press your finger into the butter. If it creates an indentation easily, the butter is ready.
Wash & dry the bowl from the stand mixer since you just made the cookies in it. Now, add in the cup of room temperature unsalted butter.
Using the paddle attachment (make sure it's clean from the cookie dough), cream the butter on medium-high until it is lighter in color. Make sure all of the lumps are gone, too.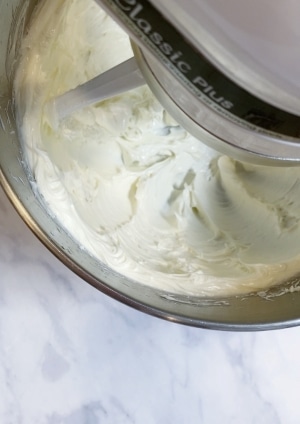 Turn off the stand mixer and add in four cups of powdered confectioner's sugar. Four cups is a lot, yes. However, I promise the flavors will all balance out. And remember? We made thick sugar cookies.
We use four cups of powdered sugar in order for the frosting to form a slight crust. All that means is that the outer layer of frosting will dry to the touch. This helps keep fingers cleaned when picking up the cookies & it acts as a tasty cement if you want to add sprinkles.
The frosting will get nowhere near as hard as royal icing so don't worry about losing your softest sugar cookie award.
With the four cups of powdered sugar, add in at least one and a half teaspoons of vanilla extract. Just like the cookies, I tend to measure the vanilla extract from the heart and it may be around a tablespoon sometimes.
Add in one tablespoon of milk.
Cover the stand mixer with a clean towel or a paper towel and mix on low/stir. Once the frosting is coming together, remove the towel. Add in one more tablespoon of milk, still keeping the mixer on low speed. If the frosting is thicker than a creamy peanut butter consistency, add in one more tablespoon of milk.
Do not turn the mixer higher than low. If needed, use a rubber spatula to stir the frosting. Overmixing buttercream can cause air bubbles. If you do overmix, here's a post on how to fix it. I promise it's not terribly hard to fix, but, as always, prevention is better.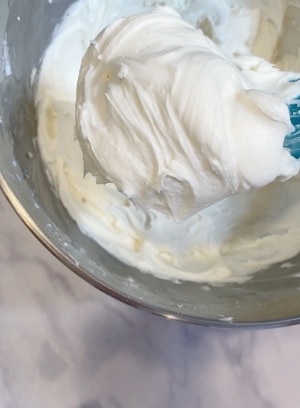 If you want to color your buttercream frosting for the buttercream cookies, now is the time to add in the gel food dye. DO NOT USE LIQUID DYE. I repeat, do not use liquid dye.
Liquid dye will not be strong enough for thick buttercream frosting.
Here is my favorite gel food dye brand and color, because pink's the best. This is a blue toned pink and it's just so pretty. It's okay if you disagree, use your favorite color. Just make sure it's a gel food dye.
You can add in the dye while mixing on low or using a rubber spatula.
How to Pipe the Frosting onto the Buttercream Cookie
Take the cookies out of the freezer & lay them all out on a large piece of parchment paper.
Add the prepared buttercream frosting into a piping bag, only about a cup of frosting at a time. If the piping bag is too full, the bag may burst, or worse, your hand will hate you for making these cookies. Store the leftover frosting in the mixing bowl with a piece of plastic wrap over it.
You can get fancy with the piping bag if you want by adding a decorating tip before you put the frosting in it. Here is a post all about achieving rosette buttercream cookies, for example.
If you don't want to worry about tips, simply cut the bottom of the icing bag off after you've added the frosting to it. Aim for around a half inch diameter.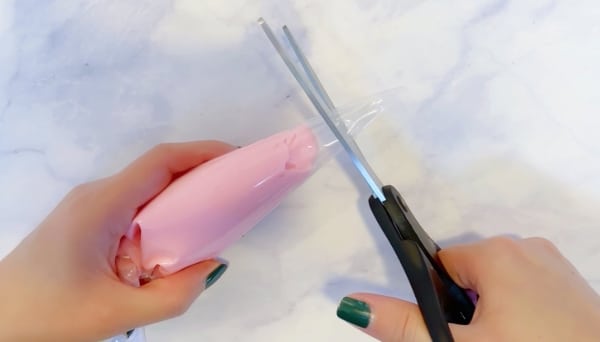 To decorate the buttercream cookies, simply hold the piping bag slightly over the center of each cookie and squeeze out a swirl of frosting. You can have fun with an angled flat spatula if you want to have a bakery look.
Before the buttercream cookie has crusted (the frosting forms a slight crust) add the sprinkles on top.
Eat the cookies now or store them on the counter with a piece of parchment paper loosely laying on them overnight. Once the cookies have sat out overnight, you can store them in an airtight container on the counter for several days, if they last that long.
Enjoy!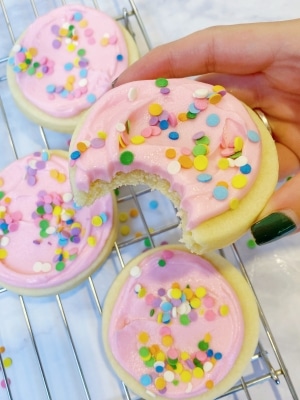 Heavenly Buttercream Cookie Recipe
These buttercream cookies are so soft, almost melting in your mouth. Topped with a kid & adult approved buttercream frosting, you are sure to be everyone's new favorite cookie supplier.
Print
Pin
Rate
Servings:
20
cookies, depending on the cookie cutter size
Equipment
Stand Mixer with a Paddle Attachment

Rubber Spatula

Medium Sized Mixing Bowl

Measuring Cups & Spoons

Cookie Sheet with Silicone Baking Mat

Rolling Pin

Disposable Piping Bag

Angled Flat Spatula & Decorating Tip

optional
Ingredients
Soft Sugar Cookies
3

cups

all purpose flour, plus more for rolling

284 grams

2

tsp.

baking powder

1

cup

cold salted butter

cut into cubes

1

cup

granulated white sugar

1

egg

duck egg is highly recommended if possible

1.5

tsp.

vanilla extract

add up to a tablespoon
Vanilla Buttercream Frosting
1

cup

room temperature unsalted butter

4

cups

powdered sugar

confectioner's sugar

1-3

tbsp.

milk

whole milk is best

1.5

tsp.

vanilla extract

add up to a tablespoon

gel food dye

optional

sprinkles

optional
Instructions
While you will make the cookies first, you will want to set the unsalted butter out so that it comes to room temperature. The unsalted butter will be used when preparing the buttercream.
Soft Sugar Cookies
Preheat the oven to 350 degrees Fahrenheit.

In a medium sized mixing bowl, add in the flour and baking powder. Stir the ingredients to combine them.

In the stand mixer, cream the salted butter and sugar together until all of the butter lumps are gone.

Add in the egg and vanilla extract and mix until just combined.

Slowly add the flour and baking powder mixture into the wet ingredients until the dough forms a ball. If the ball is very sticky, add another tablespoon of flour.

Roll the dough onto a floured surface and use the round cookie cutter to cut out the cookies.

Place six cut out cookies onto a cookie sheet lined with a silicone mat. Bake for 7-9 minutes or until the center of the cookies do not appear wet.

Allow the cookies to cool for 5 minutes on the baking sheet before transferring them to a piece of parchment paper. Repeat the cookie baking process for all remaining cookies.
Vanilla Buttercream Frosting
Add the room temperature unsalted butter to the stand mixer and mix with the paddle attachment until lighter in color.

Add the powdered sugar to the mixer, along with the vanilla extract and one tablespoon of milk.

Place a clean towel over the stand mixer and mix on low speed until the sugar is incorporated. Use a rubber spatula to scrape the sides if needed.

If the frosting is thicker than a creamy peanut butter consistency, add in 1-2 more tablespoons of milk.

Use the rubber spatula to mix in the gel food dye if you want colored buttercream.
Decorating the Buttercream Cookies
Take the cookies out of the freezer and arrange them on a piece of parchment paper.

Add about a cup of prepared buttercream frosting to a disposable piping bag.

Cut a hole at the end of the piping bag that is around 1/2" in diameter.

Squeeze the frosting out of the piping bag onto the center of the cookie until the frosting covers the cookie.

Optional: Use an angled flat spatula to swirl the buttercream and then top with sprinkles.
Save this Recipe for Soft Buttercream Cookies
Use the image below to pin this recipe for cute & soft buttercream cookies to your baking board on Pinterest. Alternatively, use any of the social share icons on the top of the page to share it to your favorite social media site.