Fun Homemade Dunkaroos Cookies for Halloween: Dunk-A-Boos!
Attention 90s parents! These homemade Dunkaroos cookies for Halloween will take you back to those simple TGIF and Saturday morning cartoons times. The good ol' days ya know?
These Halloween Dunkaroos cookies are going to be called "Dunk-A-Boos!" I can't take claim for naming these, as I've seen them floating around in the cookie decorating world. But it's just a perfect name so I'm going along with whoever came up with it.
Naturally, you will need a mini ghost cookie cutter to pull this dessert off. The ghosts will be a cinnamon sugar cookie, because, yum. But also, I feel like Dunkaroos back in the day had a cinnamon graham cracker flavor, right?
Regardless if it was a weird childhood fever dream or not, I ultimately decided to go with cinnamon sugar because it's just a perfect fall flavor. The cinnamon is subtle but you can add more if you really want a cinnamon taste.
We can't forget that we need a delicious sprinkle-filled frosting to dunk the boos in. This one is a delicious cream cheese frosting so it's nice and dip-able.
These Halloween dunkaroos/dunkaboos are so fun to share with your kids and is party-friendly. Let's get to making to it!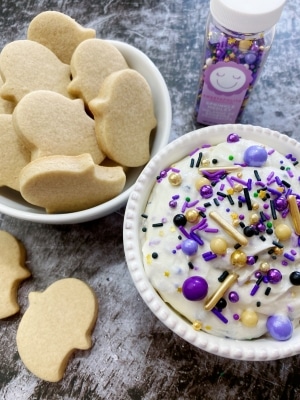 *This post may contain affiliate links, which means I may receive a commission, at no extra cost to you, if you make a purchase through a link. Please see my full disclosure for further information.*
The Dunkaboos Cinnamon Sugar Cookie Recipe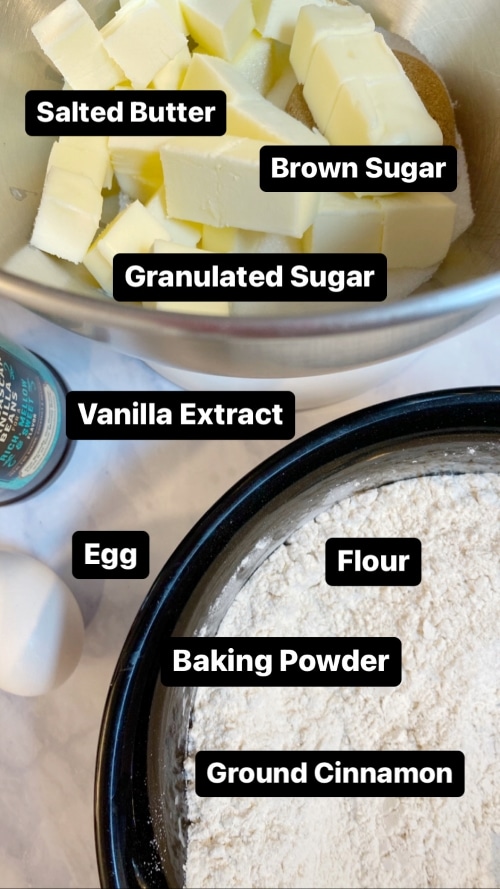 Let's get started! First, preheat your oven to 350 degrees Fahrenheit.
Then, in a medium sized mixing bowl, combine three cups of all purpose flour with two teaspoons of baking powder.
When measuring the flour, make sure to use the scoop and level method. That is, use a spoon to scoop flour into a measuring cup. Then, use a knife to scrape the excess flour off the top so there is a perfectly even measurement.
Stir in a half teaspoon of ground cinnamon to the bowl. I find this to be the perfect amount of cinnamon for my tastes. If you like more cinnamon, add a full teaspoon.
Set the mixing bowl aside.
In a stand mixer, add in one cup of cold, cubed salted butter.
Add in 3/4 cup of granulated sugar and 1/4 cup of packed brown sugar. With the paddle attachment, cream the butter and sugar together.
I like to use a bit of brown sugar in this cinnamon cookie dough recipe as it not only adds more fall-ness to the flavor profile, it makes a harder cookie.
My normal sugar cookie recipe uses all granulated sugar and has a soft bite. These dunkaboos need to be harder to better dip into frosting.
Once the sugars and butter are creamed, add in one egg and one tablespoon of vanilla extract. Mix until just combined.
Add in the flour, baking powder, and cinnamon mixture slowly. The cookie dough will eventually form a ball.
If the dough is not forming a ball and is still too sticky, add in a tablespoon of flour and mix it in.
Now that the dough is prepared, go ahead and flour your counter or place a piece of parchment paper down. Roll out the dough to 3/8″ of an inch and cut out your ghost dunkaboos cookies.
I prefer 3/8″ of an inch for sugar cookies because it holds up better to dipping.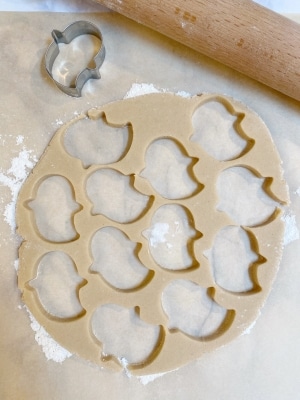 Arrange the cookies onto a lined baking sheet and bake in the oven for 7-10 minutes. The dunkaroos cookies are done when the top of the cookie doesn't look wet.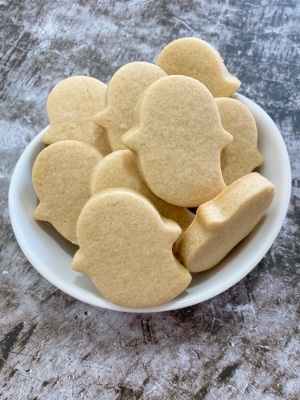 The Dunkaboos Cream Cheese Frosting Recipe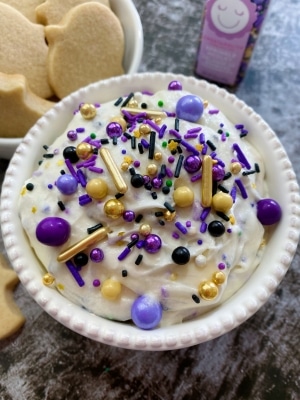 This cream cheese frosting recipe comes together best using a handheld electric beater. You can use a stand mixer with the whisk or paddle attachment if needed, though.
While the dunkaroos cookies are baking, pull out a half cup of unsalted butter and four ounces of cream cheese from the refrigerator. The butter and cream cheese need to be at room temperature for best mixing results.
Once the butter and cream cheese are at room temperature, beat the two together in a medium sized mixing bowl until light and fluffy.
Add in one and a half teaspoons of vanilla extract and two cups of powdered sugar. I like to add in about a half cup of powdered sugar and then STIR IT BY HAND into the cream cheese/butter mixture. Then, add in another half cup and mix together with the electric beaters.
Repeat this process until the powdered sugar has been fully mixed into the frosting.
I like to hand stir some if it in because it saves time. You can add more powdered sugar into the frosting before turning on the electric beaters and not cause a white out in the kitchen.
The last step is to add in your favorite Halloween sprinkles. I went with Sweetapolita's blend named Obsessed because I love purple during the Halloween season.
This blend does have some large metallic dragees and rods which I left out when mixing. I did add them to the top layer of frosting when it came time to share the Halloween dessert. This way friends and family could see the beautiful sprinkle mix but avoid taking a bite of the hard sprinkles.
The cream cheese frosting makes about two cups. You will want to keep this one refrigerated until the event and only leave it out for a couple hours, as the cream cheese is not shelf stable for too long.
That being said, I doubt any of the dunkaboos frosting will even be left after a couple hours!
Equipment
Stand Mixer with Paddle Attachment

Electric Hand Mixer

for the cream cheese frosting

Mixing Bowls

Rolling Pin

Mini Ghost Cookie Cutter

Measuring Cups & Spoons

Rubber Spatula

Cookie Baking Sheet
Ingredients
Cinnamon Sugar Dunkaroo Cookies
3

cups

all-purpose flour

2

tsp.

baking powder

1/2

tsp.

ground cinnamon

add up to a teaspoon for a more prominent cinnamon flavor

1

cup

cold, cubed, salted butter

8 ounces

3/4

cup

granulated sugar

1/4

cup

packed brown sugar

1

egg

1

tbsp.

vanilla extract
Cream Cheese Buttercream Frosting
4

ounces

unsalted butter

room temperature

4

ounces

cream cheese (half a block of cream cheese)

room temperature

2

cups

powdered sugar

1/2

tbsp.

vanilla extract

1/8-1/4

cup

Halloween sprinkles mix
Instructions
Cinnamon Sugar Dunkaboos Cookies
Preheat the oven to 350 degrees Fahrenheit. Take 4 ounces of cream cheese and 4 ounces of unsalted butter out of the refrigerator to come to room temperature. You will use the cream cheese and unsalted butter later when making the frosting.

In a medium sized mixing bowl, add the flour, baking powder, and cinnamon and stir to combine. Set this aside.

In a stand mixer, cream together the sugars and cubed salted butter with the paddle attachment.

Mix in the egg and vanilla extract until just combined.

Slowly add in the flour, baking powder, and cinnamon mixture.

Once the cookie dough forms a ball, roll it out onto parchment paper or a floured surface to 3/8" thick. Cut out mini ghost shapes and bake on a lined baking sheet for 7-10 minutes.
Dunkaroo Cream Cheese Buttercream Frosting
Whisk the room temperature cream cheese and unsalted butter using the electric hand mixer until fluffy.

Add in the vanilla extract and slowly add in the powdered sugar, mixing until fully incorporated.

Pour in the sprinkle mix and mix on low until combined.
Frequently Asked Questions About Homemade Dunkaroos Cookies
Yes, you can freeze the cookie dough. Roll the dough into a ball and then flatten it a bit into a disk shape. Cover the dough with plastic wrap and place in the freezer. I have kept dough in the freezer for up to three months and it was still good. Allow the dough to defrost in the refrigerator before using.
Please note, the dough is more likely to spread after being chilled. This is the opposite of how we expect cookie doughs to behave but since this is a no-chill sugar cookie recipe, the science is a bit different.
If you do have spread, use a knife or the cookie cutter itself to quickly re-shape the cookies immediately after pulling them from the oven.
If your cookie dough is still spreading, there are some ways we can counteract this. First, make sure that the butter and egg were cold prior to mixing and that your oven was already preheated. You also want to make sure that you have enough flour. If the dough was still sticky when you were done mixing, you want to add a bit more flour.
You can also check to make sure that the baking powder wasn't expired. This is pretty common since we only need a bit of baking powder at a time for various recipes, so don't forget to check that expiration date.
One last recommendation is to make sure you aren't baking these cookies when your house is really hot. If your house lacks air conditioning like mine, bake the cookies early in the morning or after the sun has gone down at night.
My baking powder says double acting, is this the correct one to use?
Yes, double acting baking powder is the standard baking powder. Double acting baking powder just means that it will react twice, once while cold and once while hot. You can purchase single acting baking powder, but don't use that for this recipe.
I have not had the chance to play around with a gluten free cut out sugar cookie recipe yet. If you have found a way to make these gluten free, I'd love to hear how you made them in the comments below!
Can I make the cream cheese frosting ahead of time?
Yes, however I would leave the sprinkles out. When you refrigerate the cream cheese frosting, the texture will change. Remix the cream cheese buttercream frosting after refrigerating it and then add in the sprinkles.
The cream cheese frosting can be made a few days in advance if needed.
How long can the cream cheese frosting stay on the counter?
Since this is not self-stable, only leave the frosting out for a couple of hours.
Save This Halloween Dunk-A-Boos Recipe For Later
Use the image below to pin this homemade dunkaroos cookies recipe to your Halloween board on Pinterest. Alternatively, use any of the social share icons on the top of the page to share it to your favorite social media site.