How to Make Burgundy Buttercream Without Food Coloring
Burgundy is a shade of red that has blue and purple undertones. But what if you are avoiding Red 40 yet still want a vibrant burgundy frosting? You're in the right spot. Here I will teach you a simple way for how to make burgundy buttercream without food coloring.
Even better, the dye free frosting will be just as delicious, if not more, knowing there aren't serious associated health risks.
More and more information has become available to us about the concerns of artificial food dye. While buttercream frosting is often reserved as a special treat, avoiding Red 40, Blue 1, and Blue 2 when one can is best.
According to researchers Sarah Kobylewski and Michael F Jacobson, artificial food dye is contaminated with known carcinogens. In the same report, these dyes, which are derived from petroleum, have also been associated with hypersensitivity. An example of hypersensitivity is exhibiting ADHD symptoms.
If there are ways to avoid artificial dyes and not compromise taste or appearance, there's really no reason to not use a natural method. There is always the option of eating buttercream frosting without added dyes, but color brings dessert to life.
So, let's celebrate life with fun desserts that aren't loaded with carcinogens. Let's learn how to make burgundy buttercream without food coloring.
*This post may contain affiliate links, which means I may receive a commission, at no extra cost to you, if you make a purchase through a link. Please see my full disclosure for further information.*
How to Make Burgundy Buttercream Using Beet Powder
The Amazing Benefits of Beet Powder
If you are unfamiliar, let me introduce you to beet powder. Beet powder is derived from dried, ground beets and is often marketed as a "superfood." Beet powder is also sometimes called beetroot powder.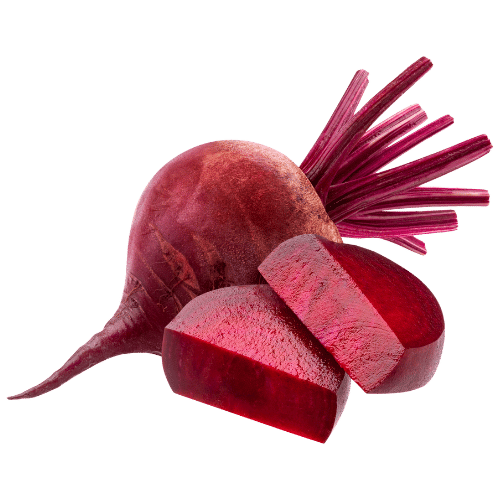 What's amazing about beet powder for frosting is that it is a bright red purple powder. Mix it with some frosting and you have a nice, beautiful shade of burgundy buttercream.
Not only that, but you get to add the nutrients of this vegetable into your frosting. According to Tegan Shields at Fresh Cap, beet powder contains protein, fiber, vitamins, and iron, among other minerals.
Who knew eating vegetables for dessert could be so good?
Swapping carcinogenic food dye with nutritious beet powder sure sounds like a win. Now the big question, does beet powder affect the taste?
What Does Beetroot Powder Taste Like?
You may be concerned about beet powder affecting the taste of your buttercream frosting. Fortunately, beetroot powder has a sweet, earthy taste. If you have strong tastebuds, you may taste the earthy tones once mixed in the frosting. However, most would find that the buttercream taste is unaffected by the powder, so long as you don't add too much.
I do think it's important to note that all added coloring agents, natural or artificial, will affect the taste of buttercream in some way. If you were to take a spoon of Red 40 (yuck, don't!), you would note a taste. It all depends on what you grow used to and what you are okay with putting in your body.
Those that have been eating naturally dyed foods may already be used to beet powder and not notice the taste at all.
Can You Use Beet Powder as Food Coloring for Dye Free Frosting?
Yes. Beetroot powder is often using to make red foods, especially in the "natural" and "organic" food aisles. For example, Target's Good & Gather brand includes red tortilla chips that are colored with beet powder.
To make your own liquid food coloring using beet powder, simply mix the powder with a liquid, such as water or milk.
How Much Beet Powder Does it Take to Make Burgundy Buttercream?
To make burgundy buttercream, you will first want to start with your regular buttercream recipe. As this is a buttercream cookie decorating site, I will be showing you how I add beet powder to my crusting buttercream frosting.
If you aren't using a crusting buttercream frosting, rather a "standard" buttercream frosting, you will likely use less beet powder. A crusting buttercream recipe uses more powdered sugar.
First, in a stand mixer with the paddle attachment, cream a half cup of room temperature unsalted butter. You will know the butter has been creamed when the lumps from the butter are gone and the butter is lighter in appearance.
In a small bowl, combine two teaspoons of beet powder with three tablespoons of warm whole milk. The warm liquid will help the powder to dissolve.
Pour this mixture into the butter and mix on medium speed until fully incorporated. Use a rubber spatula as needed.
Next, add in two cups of powdered sugar and a teaspoon of vanilla extract. Cover the mixer with a towel and mix on low until combined. Use a rubber spatula to scrape the sides as needed.
If the frosting isn't dark enough, you can add a teaspoon of beet powder into the mixer at a time. You do not need to make the paste, as there should be enough liquid in the mixer at this point to dissolve the powder.
Make sure to taste test along the way in case the beet flavor is coming through too strong. You can also add more powdered sugar to offset the beet taste if you need a more vibrant shade of burgundy.
If the buttercream becomes too thin of a consistency, add in more powdered sugar until the frosting becomes thicker. Adding too much powdered sugar can make the frosting appear lighter, as powdered sugar is white, so add slowly.
You should be able to achieve a burgundy buttercream frosting using 2-4 teaspoons of beet powder. This buttercream recipe will yield about one cup of burgundy buttercream. You can easily double, triple, quadruple, etc. this recipe according to your frosting needs.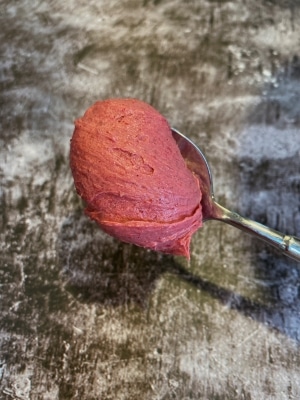 Burgundy Buttercream Frosting Without Food Coloring
You can skip the Red 40 & Blue 1 dyes and still obtain a beautifully vibrant shade of burgundy buttercream frosting. Simply use beet powder to color your buttercream burgundy. Bonus points: you get to add a bit of veggie into your dessert.
Print
Pin
Rate
Equipment
Stand Mixer with Paddle Attachment

Rubber Spatula

Measuring Cups & Spoons

Small Dish
Ingredients
1/2

cup

room temperature unsalted butter

2

cups

powdered confectioner's sugar

1

tsp.

vanilla extract

3

tbsp.

whole milk

warmed

2-4

tsp.

beet powder
Instructions
Bring the unsalted butter to room temperature.

Cream the unsalted butter in the stand mixer using the paddle attachment.

In a small dish, combine three tablespoons of warm milk with two teaspoons of beet powder. Stir until the beet powder is dissolved.

Add the beet powder food dye into the butter and mix on medium until well combined. Use a rubber spatula to scrape the sides as needed.

Add in the powdered sugar and vanilla extract. Cover the mixer with a towel and mix on low speed until the powder has started to mix with the burgundy colored butter.

If needed, add up to two more teaspoons of beet powder into the mixing bowl. You do not need to make the paste, as there is now enough liquid in the buttercream to help it dissolve. Continue to mix on low until the powder is dissolved completely. Add more powdered sugar to help bring it together or offset a beet taste, if needed.
Notes
If you need a dark shade of burgundy buttercream and the 4 teaspoons didn't obtain a dark enough shade, add in more beet powder until the desired shade is reached. To offset the beet taste, add in more powdered sugar.
Alternatively, you can add in a bit of cocoa powder. This will make the burgundy a dark burgundy shade rather than a vibrant burgundy. 
Does Beet Powder Stain?
You will need to be cautious while working with the beet powder, as it will stain. If you have porous countertops, such as granite and marble, protect it by placing a towel or parchment paper over it.
While making the burgundy buttercream, you will mix the beet powder with milk in a small dish, rather than adding the beet powder straight into the mixer. We all know how much of a pain it is to clean a kitchen filled with powdered sugar flying out of the mixer, beet powder is worse.
Adding the beetroot powder to liquid will help contain the powder and lessen the chance that it flies out of the mixer. As a bonus, the beet powder will more easily blend into the frosting.
How to Store Dye Free Frosting
As this is a crusting buttercream recipe, the ratio of fats to sugar will help preserve the frosting. You can store the unused frosting in an airtight container on the counter for several days at room temperature. If you aren't planning on using the frosting within this time, freeze the frosting in an airtight container or plastic bag for several months.
When you are ready to use the frozen buttercream, allow the frosting to come to room temperature in the container. You may need to remix the frosting to get it to a good consistency, but it usually isn't necessary if piping.
To store decorated buttercream cookies, follow my post here that outlines how to store, transport, and package buttercream sugar cookies.
Can I Make Red Icing Using Beet Powder? Or Other Colors?
I personally have not been able to make a red buttercream frosting using beet powder. It will always come out too purple for a real red. However, you can make a darker burgundy by adding more beet powder. You will be able to taste the beets if you add too much.
You can also make a brown burgundy by adding in a tablespoon or two of cocoa powder into the burgundy buttercream recipe.
Save this Guide on How to Make Burgundy Buttercream Without Food Dye
Use the image below to pin this easy tutorial on how to make burgundy buttercream and dye free frosting to your baking board on Pinterest. Alternatively, use the social share icons on the top of this page to share to your favorite social media site. Thank you for sharing and for your support!