Butterfly Decorated Sugar Cookies for a Fun Garden Party
Some fun facts about me: I am scared of butterflies. I have a butterfly tattoo. I bravely went to the Tropical Butterfly House at the Seattle Pacific Science Center and actually enjoyed it. I mostly enjoyed the warmth of the exhibit. Here's some proof of me conquering my fear and sitting next to a butterfly.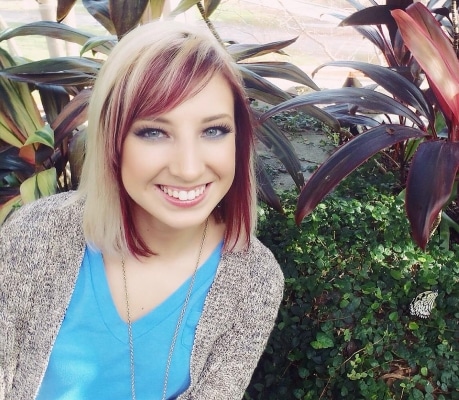 Now, while I am scared of butterflies in real life, I think the drawn version of them is beautiful. Anyone with me? That being said, I wanted to create these beautiful butterfly decorated sugar cookies, perfect for a birthday garden party, baby shower, or girl's birthday party.
These cookies are great for beginners, as there is a lot of room for error. The frosting does not need to be perfectly smoothed over on the top and you only need to mix two colors! Of course, you are welcome to create butterflies in more that one color, as I have done. To simplify for the tutorial purposes; however, I will just be showing how I made the pink butterflies. Don't worry, there are notes if you want to make more than one color!
Follow along for the step-by-step photo series tutorial, as well as a video tutorial, so that you can create these butterfly decorated sugar cookies yourself.
*This post may contain affiliate links, which means I may receive a commission, at no extra cost to you, if you make a purchase through a link. Please see my full disclosure for further information.*
Part 1: Gathering your Supplies for your Butterfly Decorated Sugar Cookies
To create these butterfly decorated cookies, you will want to gather:
2 Icing bags *note, if you want to create butterflies in more than one color, add an extra bag for each added color*
One Wilton tip #12 & one Wilton tip #2
2 Couplers *note, if you want to create butterflies in more than one color, add an extra coupler for each added color, essentially you will have one coupler for each icing bag*
An angled flat spatula
Butterfly cookie cutter – You can get the exact one that I used here: Liliao Butterfly Cookie Cutter
White and pink (or more colors if you'd like) buttercream frosting*
Fancy Sprinkles Prism Powder in your choice of color. I used Rose Quartz for the pink and purple butterflies and Aquamarine for the blue butterflies.
A small paintbrush
Your favorite sugar cookie dough recipe – if you don't have a favorite, I recommend Katrina's Best Sugar Cookie Recipe
Optional: pointed knife to fix any errors
Part 2: Baking the Cookies and Setting up Your Icing Bags
Roll, cut out, and bake your butterfly sugar cookies according to your cookie dough recipe.
Make your buttercream icing and separate it into two bowls (again, more if you want more than just one color of butterfly). Add the gel food coloring of your choice to one of the bowls and leave the other undyed.
Set up your icing bags as follows: Place couplers into each icing bag. If you don't know how to do this, just hop over to my Getting Started: Learn How to Decorate Buttercream Cookies page.
Part 3: The Fun Part! Frosting Your Butterfly Decorated Sugar Cookies
Check out the video tutorial below to see how these beautiful butterfly decorated sugar cookies come together! Then, check out the step-by-step photo series for all of the details.
Your first step will be to attach the tip #12 to the pink bag of frosting. Squeeze out dots of frosting randomly onto all of your butterfly cookies that will be pink. Then, remove/rinse/dry the tip #12 from the pink bag of icing and attach it to the white bag. Roughly fill in the rest of the butterfly surface area with the white frosting.
 Use your angled flat spatula to smear the white and pink frosting together. You can make swirls or whatever you'd like! Use the flat spatula to clean up the edges of the cookie as well.
Take your paintbrush and pick up some of the prism powder with it. Then, sprinkle your cookie with the prism powder. Soo pretty, right?!
Attach tip #2 to the pink bag of frosting to outline and fill in the butterfly's body.
Now draw in the wings with the same tip #2 attached. I kept the same wing pattern on all of my butterflies to keep it easy! Check out the photo series here to see how I made drawing the wings easier on myself – one step at a time.

Outline the outer edges of the wings first. Make sure the wings are attached to the body of the butterfly and not the head or tail.

Draw the same pattern on the inside of each wing.

Create a triangle shape inside of the top wing and then repeat all of the same steps onto the other side of the butterfly.
Here they are finished! I especially love how the purple butterflies turned out with the rose quartz prism powder!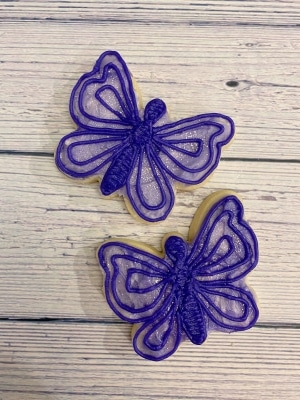 These butterfly decorated sugar cookies are just so gorgeous. Any girly-girl would love to have this as a party theme during the spring and summer months.
Save the Tutorial for These Butterfly Decorated Sugar Cookies for Later
To save these cute buttercream iced cookies for later, use any of the social share icons at the top or side of this page. Alternatively, hover over the image below and pin it to your Pinterest account. Make sure you're following me on Pinterest, too! buttercream parties | decorated sugar cookie tutorials