Honey Buttercream Frosting Recipe for Cookie Decorating
This honey buttercream frosting recipe is perfectly balanced in flavor and forms a slight crust that works well for cookie decorating.
Buttercream frosting can be sweet on its own, especially American buttercream used for cookie decorating. Add that with honey and things can get sickly sweet if done wrong.
This honey buttercream has just the right amount of honey flavoring and sweetness profile. Pipe it onto vanilla sugar cookies, cinnamon sugar cookies, chocolate sugar cookies, and many other flavors.
*This post may contain affiliate links, which means I may receive a commission, at no extra cost to you, if you make a purchase through a link. Please see my full disclosure for further information.*
How to Make Honey Buttercream Frosting
Start with Room Temperature Butter
The first step is pulling a half cup of unsalted butter (4oz) and half cup of salted butter (4 oz) out of the refrigerator. You will want the butter to come to room temperature before proceeding.
Using both salted and unsalted butter in the recipe helps to cut the sweetness. You don't want to add too much salt as that can be a distracting flavor for the subtleness of honey.
I also prefer to not salt my unsalted butter, as adding salt can cause spotted or patchy frosting when colored with food dye.
Starting with room temperature butter is key for soft and perfectly pipe-able buttercream frosting. When you start with cold butter, the mixer has to do a lot of work to soften it. This extra work gives the butter more time to accumulate air, which can produce bubbly buttercream.
If you do find yourself with bubbly buttercream, check out my post on how to fix bubbly buttercream.
If you are in a pinch for time (we've all been there) you can get your butter to room temperature quickly with these tips:
Use a cheese grater to grate cold blocks of butter. Using grated butter in the stand mixer will be just fine.
Place water in a medium sized bowl (one that will fit the stick of butter) and microwave the water until boiling. Dump the water out and then flip the bowl over, covering the stick of butter. The butter will come to room temperature rather quickly.
You can tell that the butter is at room temperature by pressing into the butter with your finger. If it makes an indentation easily, it is ready to go.
Once your butter has come to room temperature, cream the butter in a stand mixer using the paddle attachment. Do not use the whisk attachment, as you would with many other types of frosting. The whisk introduces too much air for buttercream.
Cream the butter for 3-5 minutes. This will produce a whiter butter but also a fluffier butter.
Add in the Correct Amount of Powdered Sugar for a Crusting Buttercream
Turn off the stand mixer and add in four cups of powdered confectioner's sugar. Mix on LOW speed only from here on out to reduce the chance of air bubbles.
As for the amount of powdered sugar, four cups is a lot, yes. However, I promise the flavors will all balance out. Remember, we are using some salted butter.
We use four cups of powdered sugar in order for the frosting to form a slight crust. All that means is that the outer layer of frosting will dry to the touch. This helps keep fingers cleaned when picking up cookies & cupcakes.
Crusting buttercream also makes it easier to package buttercream sugar cookies. It is a misconception to believe that buttercream cookies cannot be packaged.
You can find out my best tips and tricks for packaging buttercream sugar cookies on my blog post here.
Adding in the Honey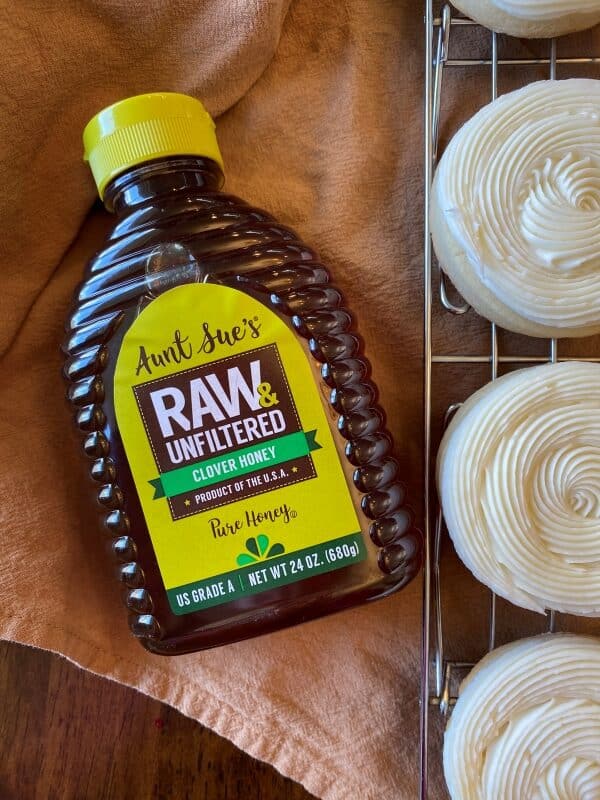 Choose a honey that pours easily and isn't too thick. I personally love raw unfiltered honey for its health benefits.
I'm not too sure that we can really call this honey buttercream healthy per say, but you will have a lot of leftover honey so you may as well get the good stuff.
In Gaurang Joshi's article on raw honey, he writes that raw unfiltered honey contains phytonutrients, anti-inflammatory and anti-fungal properties, antioxidants, and vitamins.
In this honey buttercream frosting recipe, you will use a tablespoon of honey.
Add the honey to the stand mixer and mix on low speed until just combined.
Add in the Milk for the Perfect Piping Consistency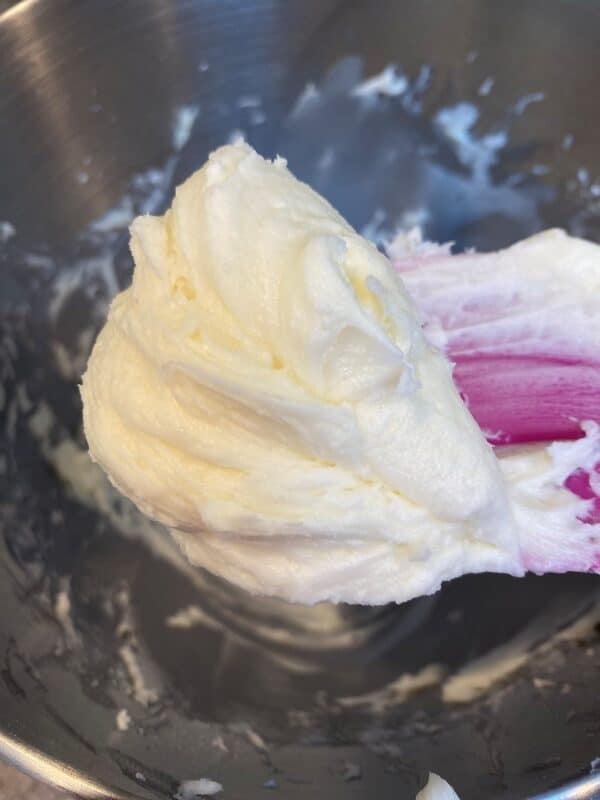 Without adding any milk, cream, or half & half, the almond buttercream frosting will likely be too thick to pipe. Many people new to buttercream cookie decorating make the mistake of making their buttercream too thick.
Buttercream that is too thick will be difficult to pipe and lead to your hands hurting within minutes of the cookie decorating process. No fun there!
I am for the consistency of a smooth peanut butter the majority of the time. This consistency works really well for piping the back & forth lines, piping details, and even smoothing with a palette knife.
If you are piping flowers, you can aim for a slightly thicker than smooth peanut butter consistency. This can come in handy for keeping the petal shapes.
Don't worry about whether or not you have the right consistency for flowers if you're a beginner, though. A peanut butter consistency will still produce beautiful florals.
This honey buttercream frosting recipe calls for 2-4 tablespoons of milk, cream, or half & half. The amount will vary based on which milk product you choose to use and even the humidity in your house and water content in your brand of butter.
How to Pipe Honey Buttercream Frosting onto Cookies & Cupcakes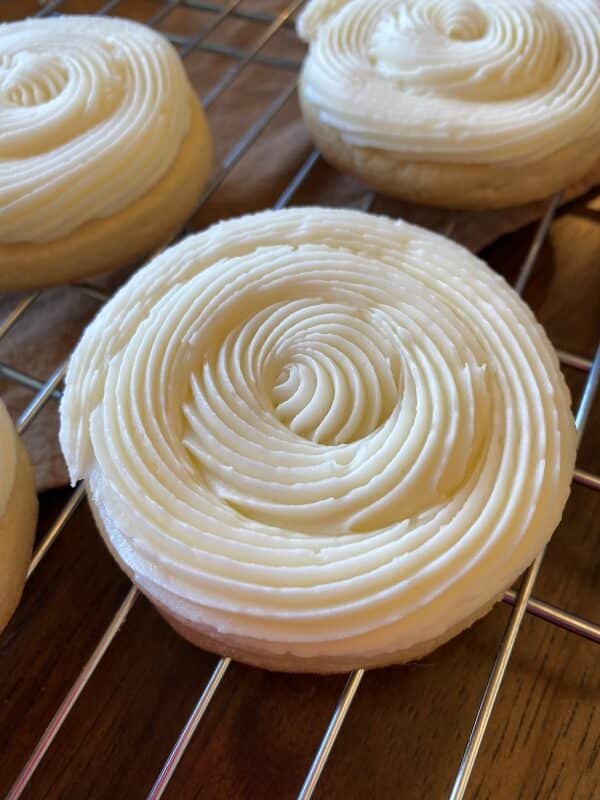 If you wish to pipe this honey buttercream onto cookies or cupcakes, use any decorating tip you prefer.
Add the prepared buttercream frosting into a piping bag, only about a cup of frosting at a time. If the piping bag is too full, the bag may burst, or worse, your hand will hate you for making this frosting. Store the leftover frosting in the mixing bowl with a piece of plastic wrap over it.
If you don't want to worry about tips, simply cut the bottom of the icing bag off after you've added the frosting to it.
You can have fun with an angled flat spatula if you want to smooth the frosting. These come in different sizes depending on if you are decorating cookies & cupcakes or cakes.
I decided to make simple yet elegant swirl cookies with this buttercream. I used a Wilton tip #4B to pipe the frosting onto the cookie quick & easy.
The buttercream also crusted perfectly within a few hours, allowing for the cookies to be packaged up as pretty goodies.
Have fun and enjoy!
Storing Honey Buttercream Frosting
This buttercream recipe is a crusting buttercream, which means there is quite a bit of powdered sugar to fat. This ratio will act as a preservative.
If you are not ready to the use the frosting, store in an air tight container on the counter for a couple days, in the refrigerator for a couple weeks, or in the freezer for a few months.
You can keep decorated buttercream sugar cookies on the counter for several days at room temperature. To maintain their moisture, store in an airtight container. You can stack the buttercream sugar cookies once they have dried completely, in 8-24 hours.
Honey Buttercream Recipe for Sugar Cookie Decorating
You'll love this honey buttercream frosting recipe that works perfectly for cookie decorating. This buttercream is made with real honey and still forms a slight crust to protect your cookie designs.
Equipment
Stand Mixer with Paddle Attachment

Rubber Spatula

Measuring cups and spoons
Ingredients
½

cup

unsalted butter

room temperature

½

cup

salted butter

room temperature

4

cups

powdered sugar

1

tbsp.

honey

2-4

tbsp.

whole milk, half & half, or cream
Instructions
In a stand mixer with the paddle attachment, beat the room temperature butter until soft and fluffy.

To the stand mixer, add the powdered sugar and mix on low speed until fully incorporated.

Add in the honey and two tablespoons of milk. Mix on low until combined. If the frosting is too thick, add up to two more tablespoons of milk.
Notes
This recipe omits vanilla extract to not distract from the subtle honey flavor and uses some salted butter to cut the sweetness of the crusting buttercream.
Save this Recipe for Honey Buttercream Frosting
Use the image below to pin this recipe for honey buttercream frosting to your baking or cookie decorating board on Pinterest. Alternatively, use any of the social share icons on the top of the page to share it to your favorite social media site.