Da Bomb 90s Party Theme Ideas | Recipes, Games, Music, Printables & More
Aw, here it goes! Let's get jiggy with it and party like it's the 90s! Here you will find the ultimate list of 90s themed party ideas for adults. So break out those Beanie Babies from storage and let's get to it!
We're talking 90s food, 90s party decor, 90s printables (free!), 90s songs, and 90s fashion ideas. Everything you need to host the most totally rad 90s theme party.
*This post may contain affiliate links, which means I may receive a commission, at no extra cost to you, if you make a purchase through a link. Please see my full disclosure for further information.*
All That and a Bag of Chips 90s Party Food
Let's start with the 90s party food as everyone knows parties need good food. From classic treats & their spin-offs, popular savory dishes from the decade, and drinks, you'll find it here.
90s Party Desserts and Treats
This is a cookie blog after all, so let's do cookies and other sweet treats first!
I have a few tutorials for 90s inspired cookies that would be a total hit at any 90s party. Fans of Furby, Polly Pocket, and Tomagotchi will love these decorated sugar cookies.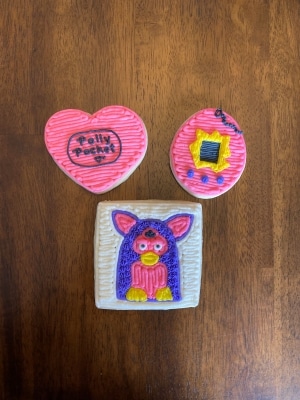 Did you love Lisa Frank like I did? Here's a tutorial for Lisa Frank inspired cookies that are prefect for a 90s theme party. I just love all the fun colors!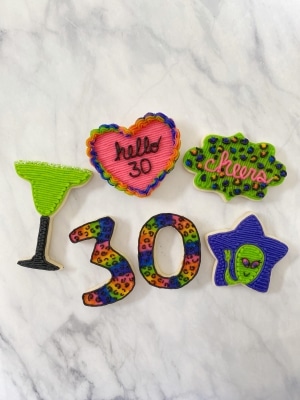 Okay next up are these thick, fudgy brownies smothered in silky smooth chocolate ganache and topped with M&M candies. These taste even better than the Cosmic brownies you ate as a kid.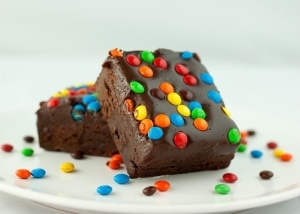 We all remember Dunkaroos right!? Dipping cookies into delicious colorful frosting was a highlight of birthday parties and after school snacks. Check out a wonderful recipe for Dunkaroo Dip here.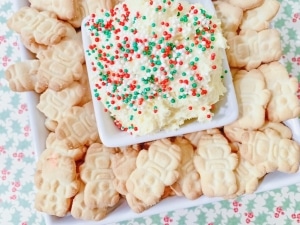 If you are vegan or have vegan guests, you don't have to miss out on the nostalgic Dunkaroo dip. You can find both vegan funfetti frosting and vegan Dunkaroo cookie recipes here. Da bomb!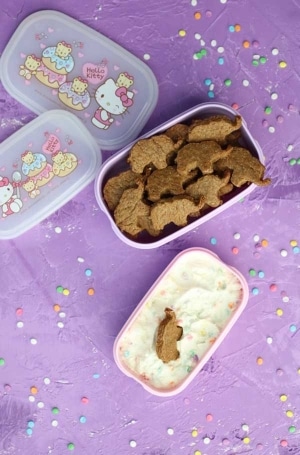 I remember Toaster Strudels were all the rage in the 90s. They were amazing for breakfast or an after school snack, after all. Serve these flaky apple-filled toaster strudels at your 90s party to get everyone reminiscing on the good days.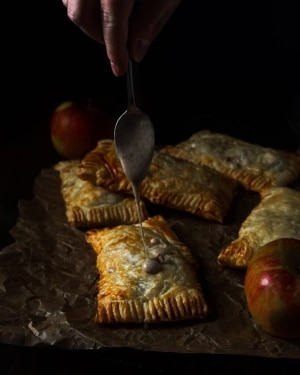 I was all about the pop-tart back in the day. I had these for breakfast, snack, and sometimes packed in my cold lunch. The strawberry, smores, and brown sugar cinnamon were my favorites. Here's how you can make flavorful brown sugar cinnamon pop-tarts at home!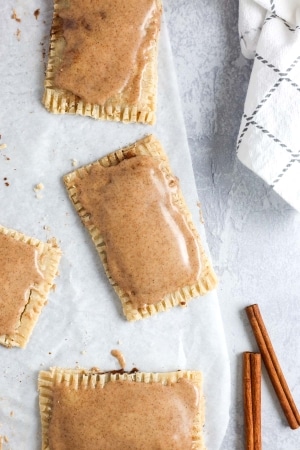 This pie will have your party guests bursting through the walls to get a slice. Okay, maybe they will choose the door. But still, this is a super fun and yummy Kool-Aid pie using an actual Kool-Aid packet. So much nostalgia!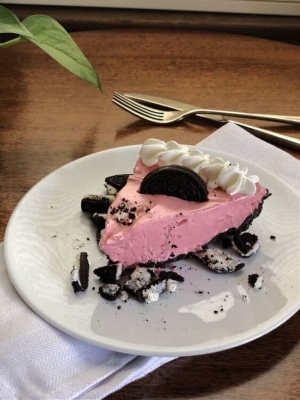 90s Party Candy
Everyone loves a good candy bowl at a party. To really bring in the nostalgia for your 90s party theme for adults, why not bring back the candy we ate as kids?
The Original Vintage Candy Company makes candy boxes for decades and even specific years. To throw the best 90s party, make sure to order the 1990s box. It has over 67 candies!
Hubba Bubba tape, Push Pop, Pixie Sticks, War Heads, Fun Dip, Ring Pop, and Runts were my favorites from the box but there are many more goodies in there!
90s Party Appetizers & Entrees
If you are hosting a 90s birthday party or 90s dinner party, you'll want something a bit more substantial than sugar. Here are some popular recipes from the decade.
When I was growing up in the 90s, I absolutely loved Bagel Bites. Well, now you can make your own delicious bagel bites at home. As a bonus, these are allergy-friendly so everyone at the party can enjoy the pizza goodness.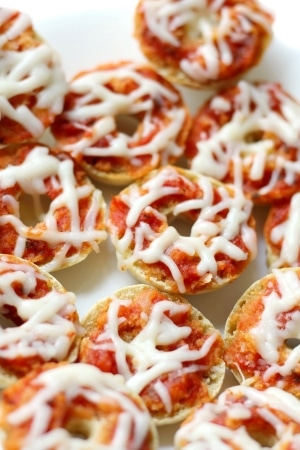 Do you remember when hot lunch was macaroni & cheese day and they served it with smokies? I will always have that memory when I see Pigs in a Blanket, another 90s childhood favorite. Here is a delicious Pigs in a Blanket recipe for your 90s party. Bonus, it is made in the air fryer! Word!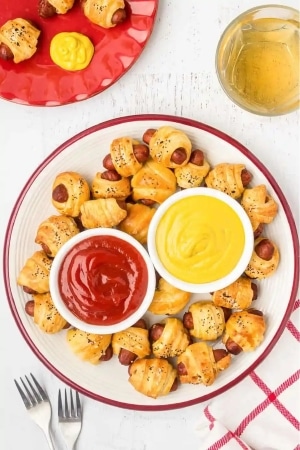 Okay how fun are these adult lunchables? Instead of making a large charcuterie board, put together some adult lunchables to hold the meat, crackers, and cheese. Guests can either take a whole container as an entrée or they can pick and choose what they want from all the lunchables. So fun!
You can always go with the classic Kraft Macaroni & Cheese as well. To kick up the flavor & creaminess, try making Kraft Mac & Cheese in the instant pot.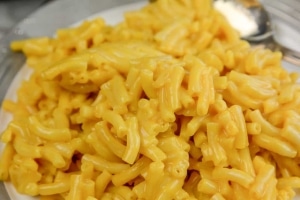 A real winner at a 90s party would be Hot Pockets of course. Make your own Hot Pockets to impress your friends for a fun throwback appetizer.
Fans of Pizza Hut's BOOK IT! program will love these personal pan pizzas.  By the way, this program still totally exists in case you didn't know. I would so like to be a kid again.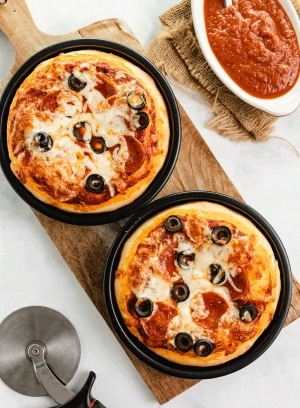 If your family resembled mine in any way, I am guessing you had Hamburger Helper from time to time. It was so easy and there was just something about prepacked dinners we loved in the 90s. To serve a healthier option that pleases the tastebuds, check out this cheeseburger macaroni from scratch.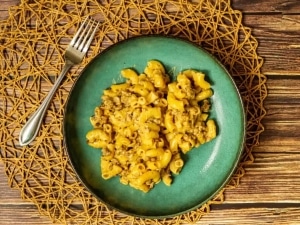 Da Bomb 90s Party Drinks
The 90s were all about Kool-Aid as a kid. It was so fun when my mom let me choose the flavors at the store and then mix them up in a pitcher once we got home.
You can totally bring back that 90s nostalgia with this amazingly delicious and refreshing party punch.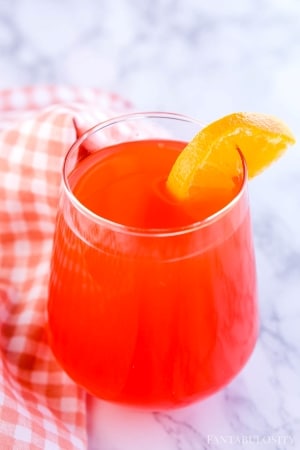 Okay this next drink takes us 90s kids back for sure. I'm talking about a drink inspired by Leonardo, Michelangelo, Donatello and Raphael. That's right, these Ninja Turtle Shots are full of fun and flavor.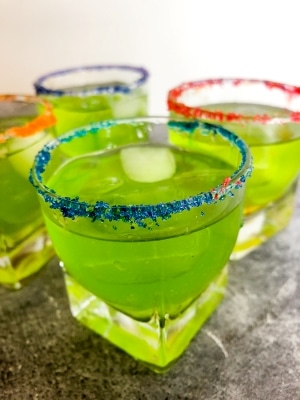 Any Super Mario fans out there? My husband and I love to bring out the Nintendo 64 every once in a while and this next drink is fun for any Mario fans. This Super Mario Piranha Plant Cocktail by Glasgow Foodelicious features it's own edible piranha plant for an extra fun drink.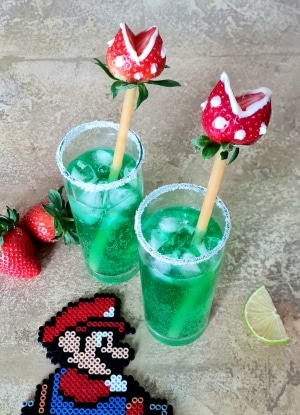 Another popular drink at the time was orange soda. I like to think it was made famous by Kenan and Kel by that is probably a stretch. Although, it's popularity in the 90s likely arose because of the two entertainers.
The 90s also brought lots of fun colors and fruity flavors. Snapple, Fruitopia, Clear Pepsi, SoBe (who has an abundance of cocktail ideas with SoBe as a mixer), Surge, Arizona Tea, and Kool-Aid Bursts come to my mind.
Unfortunately, a lot of 90s drinks have disappeared from the market. You can still find Kool-Aid Bursts, Snapple, and Arizona Tea.
Oh, and we can't forget all of those got milk? advertisements! It may be fun to throw some cartons of milk into an ice bucket. Who knows, maybe someone will grab one!
Popular 90s Cocktails
If you are throwing a 90s theme party for adults, you may want to consider adding some alcoholic beverages that were popular at the time. Here are some popular drinks from the decade that will have you feeling like a professional bartender.
White Russian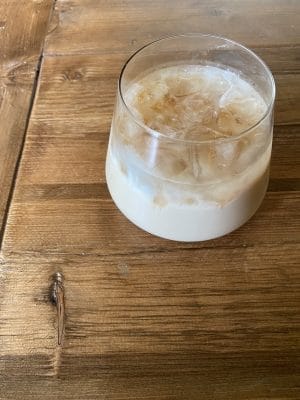 Speaking of milk, the White Russian was a popular drink in the 90s. To make a simple White Russian, mix 2 ounces of vodka with one ounce of Kahlua and a splash of cream.
Appletini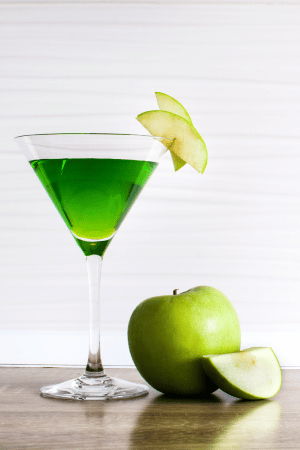 Just as non-alcoholic fruity drinks were popular in the 90s, so were alcoholic drinks. The Appletini was commonly ordered at the bar during this time.
To make an Appletini, mix one ounce of vodka with one ounce of Sour Apple Schnapps, one ounce of Triple Sec, a half ounce of lemon juice, and a half ounce of simple syrup.
Lemon Drop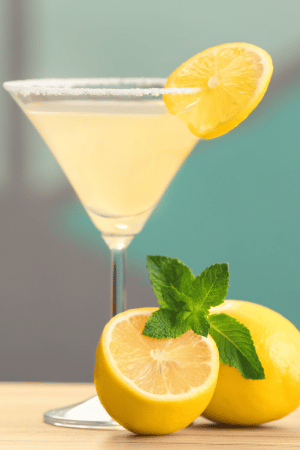 Another popular martini from the 90s was the lemon drop. To make a simple yet delicious Lemon Drop, start with lining the rim of your martini glass with lemon juice. Then, dip the glass into sugar.
For the cocktail, combine two ounces of vodka, 3/4 of an ounce of Triple Sec, one ounce lemon juice, and 3/4 of an ounce of simple syrup into a cocktail shaker with ice. Strain over the sugar rimmed martini glass.
Mint Mojito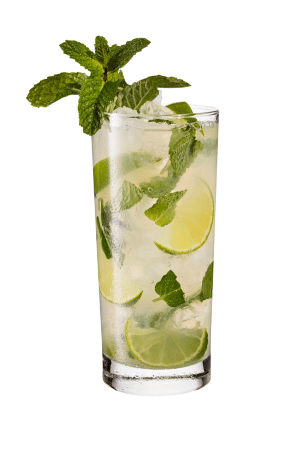 The Mint Mojito was another popular choice in the 90s.
To make a Mint Mojito, combine 10 mint leaves and the  juice from half a lime into a cocktail mixer. Muddle the mint leaves into the lime juice to help bring out the mint flavor.
Then, add two tablespoons white sugar and 1.5 ounces of white rum into the cocktail shaker with some ice. Shake and then strain over a Collins glass and top with club soda. Garnish with some extra mint leaves.
Aiight 90s Party Decorations
To throw a phat 90s party, you'll need a few decorations. I've included some free printable downloads to get you started.
You'll find a welcome sign "Aw, here it goes" to print and place for your guests to see right away. You'll also get a fun printable of 90s pop culture so you can properly experience the nostalgia.
Lastly, I've included popular songs from the country, rap/hip hop, rock, and pop music of the 90s. Set these out around the room/house/party venue and your guests will have lots of memories to share.
Grab your free full size 90s party printables here.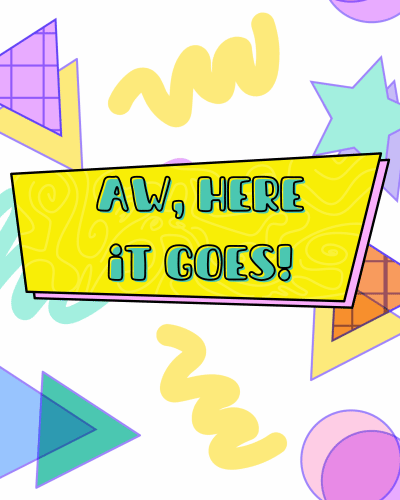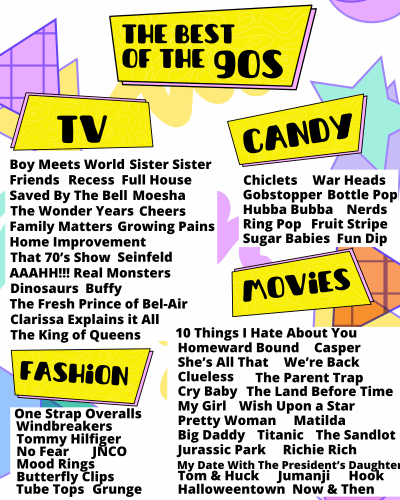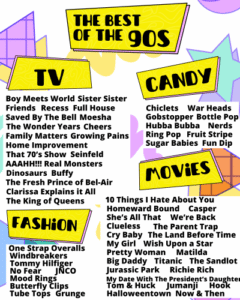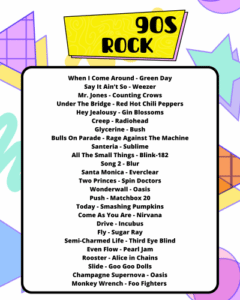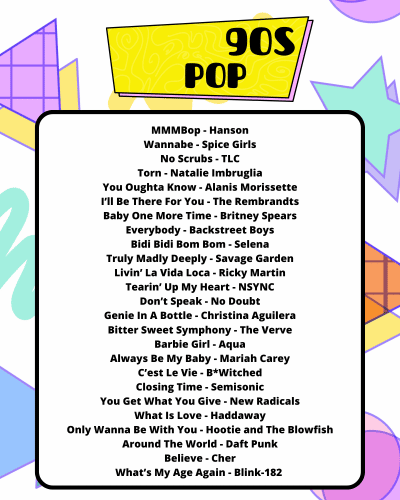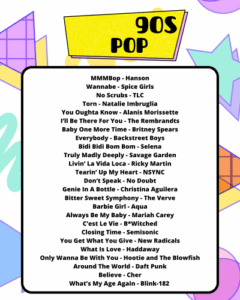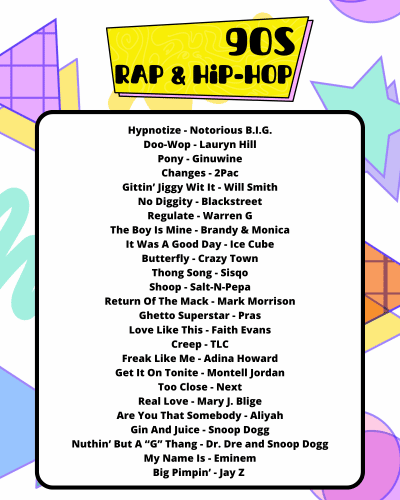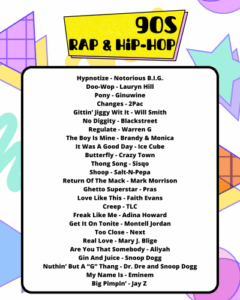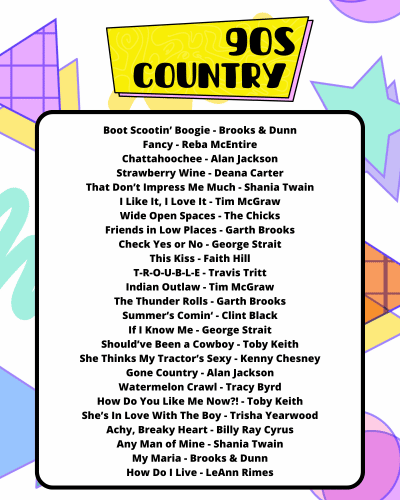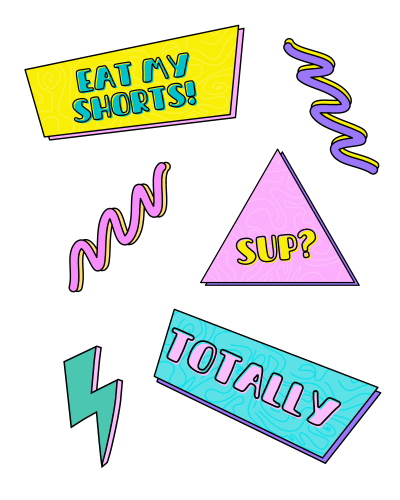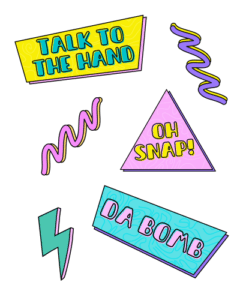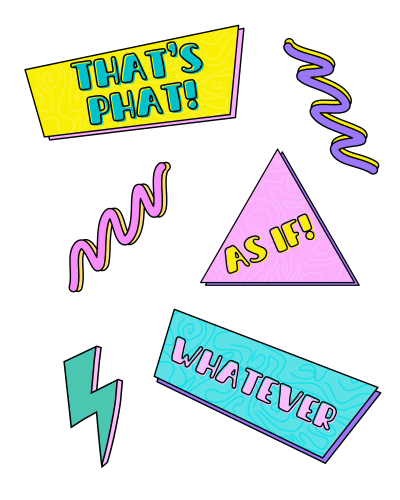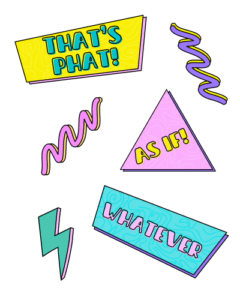 Grab your free full size 90s party printables here.
While free printables are pretty rad, you're going to want a bit more decor to spruce up your 90s party. Here are some fun ideas I found on Amazon for a 90s party theme for adults.
First up are these awesome hanging clip art decorations. I love the idea of putting them right at the entrance to the party so your guests are immediately thrown back to the 90s. Plus, there are some really fun quotes from popular TV back then and my favorite 90s clipart, the alien head.
I'm bringing Lisa Frank up again because it really was a core memory from the 90s. These dolphin balloons with the rainbow leopard table runner just need to be at any 90s party in my opinion.
Can we have a moment for these plates?! These paper plates will be a conversation starter for sure when guests are getting their 90s party food. Hey Arnold! Move it, Football Head!
If 90s cartoons aren't your focus for the party, check out these floppy disc napkins and CD paper plates! Jiggy.
Don't forget, if you still have VHS tapes or CDs you've held onto, bring those out for decoration as well! As I mentioned above, bring out those Beanie Babies, plastic heart covered tags & all!
100 Songs for Your Fly 90s Party Songs Playlist
Here's a list of popular songs from the 90s to add to your playlist. If it were my party, I'd add all these songs and have a major 90s throwback across all genres.
90s Country Music Hits
Boot Scootin' Boogie by Brooks & Dunn
Fancy by Reba McEntire
Chattahoochee by Alan Jackson
Strawberry Wine by Deana Carter
That Don't Impress Me Much by Shania Twain
I Like it, I Love it by Tim McGraw
Wide Open Spaces by The Chicks
Friends in Low Places by Garth Brooks
Check Yes or No by George Strait
This Kiss by Faith Hill
T-R-O-U-B-L-E by Travis Tritt
Indian Outlaw by Tim McGraw
The Thunder Rolls by Garth Brooks
Summer's Comin' by Clint Black
If I Know Me by George Strait
Should've Been a Cowboy by Toby Keith
She Thinks My Tractor's Sexy by Kenny Chesney
Gone Country by Alan Jackson
Watermelon Crawl by Tracy Byrd
How Do You Like Me Now?! by Toby Keith
She's in Love With The Boy by Trisha Yearwood
Achy, Breaky Heart by Billy Ray Cyrus
Any Man of Mine by Shania Twain
My Maria by Brooks & Dunn
How Do I Live by LeAnn Rimes
90s Rock Music Hits
When I Come Around by Green Day
Say it Ain't So by Weezer
Mr. Jones by Counting Crows
Under the Bridge by Red Hot Chili Peppers
Hey Jealousy by Gin Blossoms
Creep by Radiohead
Glycerine by Bush
Bulls on Parade by Rage Against the Machine
Santeria by Sublime
All the Small Things by Blink-182
Song 2 by Blur
Santa Monica by Everclear
Two Princes by Spin Doctors
Wonderwall by Oasis
Push by Matchbox 20
Today by Smashing Pumpkins
Come as You Are by Nirvana
Drive by Incubus
Fly by Sugar Ray
Semi-Charmed Life by Third Eye Blind
Even Flow by Pearl Jam
Rooster by Alice in Chains
Slide by Goo Goo Dolls
Champagne Supernova by Oasis
Monkey Wrench by Foo Fighters
90s Pop Music Hits
MMMBop by Hanson
Wannabe by Spice Girls
No Scrubs by TLC
Torn by Natalie Imbruglia
You Oughta Know by Alanis Morissette
I'll Be There for You by The Rembrandts
Baby One More Time by Britney Spears
Everybody by Backstreet Boys
Bidi Bidi Bom Bom by Selena
Truly Madly Deeply by Savage Garden
Livin' La Vida Loca by Ricky Martin
Tearin' Up My Heart by NSYNC
Don't Speak by No Doubt
Genie in a Bottle by Christina Aguilera
Bitter Sweet Symphony by The Verve
Barbie Girl by Aqua
Always Be My Baby by Mariah Carey
C'est Le Vie by B*Witched
Closing Time by Semisonic
You Get What You Give by New Radicals
What is Love by Haddaway
Only Wanna Be With You by Hootie and The Blowfish
Around The World by Daft Punk
Believe by Cher
What's My Age Again by Blink-182
90s Rap & Hip Hop Music Hits
Hypnotize by Notorious B.I.G.
Doo-Wop by Lauryn Hill
Pony by Ginuwine
Changes by 2Pac
Gittin' Jiggy Wit It by Will Smith
No Diggity by Blackstreet
Regulate by Warren G
The Boy is Mine by Brandy & Monica
It Was a Good Day by Ice Cube
Butterfly by Crazy Town
Thong Song by Sisqo
Shoop by Salt-N-Pepa
Return of The Mack by Mark Morrison
Ghetto Supastar by Pras
Love Like This by Faith Evans
Creep by TLC
Freak Like Me by Adina Howard
Get It On Tonite by Montell Jordan
Too Close by Next
Real Love by Mary J. Blige
Are You That Somebody by Aliyah
Gin and Juice by Snoop Dogg
Nuthin' But a "G" Thang by Dr. Dre & Snoop Dogg
My Name Is by Eminem
Big Pimpin' by Jay Z
90s Party Games Bada Bing Bada Boom
Let's start off with some DIY games and activities. After all, in the 90s, things were simpler.
We all remember Tetris and the adrenaline rush we'd get wondering if we'd be able to fit our piece in time. Well this fun activity involves making your own Tetris game pieces. I'm envisioning these placed onto the fridge and having party guests play as they mill around the kitchen.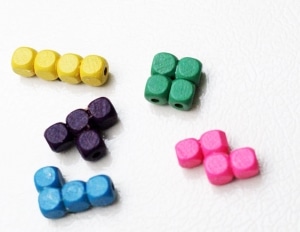 Some more options: take out some paper and pens & have everyone play MASH. Play a game of Truth or Dare, not forgetting to double-dog-dare, of course.
You could also ask guests to bring their favorite games from the 90s. Here are some ideas:
Twister
Operation
Guess Who?
Yahtzee
The Settlers of Catan
Dream Phone
Girl Talk
Mouse Trap
Sorry!
Hungry Hungry Hippos
The Game of Life
Candy Land
Chutes and Ladders
Jumanji
Cranium
Taboo
Jenga
Battleship
Connect Four
Bop It
If you want some fresher options, we can look no further than Amazon.
For instance, did you know you can buy a Tamagotchi? I definitely thought those things were extinct. I don't suggest buying everyone at the party their own Tamagotchi but it would be so fun to have one out for a bit of nostalgia.
For the ultimate 90s trivia game, check out Hella 90s. You will not be disappointed! Some of this trivia is super difficult so even the biggest 90s buffs need to be up for the challenge. Trivia is always a good idea at parties to get everyone into the spirit.
If you are a fan of Cards Against Humanity, you should know that they have a 90s card pack edition. I can say from experience that this one is a lot of fun.
Now to throw it back to the actual 90s, remember Cat's Cradle? This is a great activity to have out on a coffee table or just someplace where people may be chatting. I'll bet someone will pick it up and show off their skills!
This game I will admit I have not played. HOWEVER, it has amazing reviews and sounds like a fun time for the adult crowd so I had to include it. The description states it is a 17+ game so let's make sure the kiddos are in bed or at home with a babysitter.
If you are anything like my family, you may have some Nintendo gaming consoles laying around in a basement or garage. I love to bring out the Nintendo 64 and some Mario Kart or Diddy Kong when I have people over for a party, 90s or not.
I will warn you, there may be some bragging rights for the winner until the next party. Booyah!
Majorly Fun 90s Party Fashion Finds
The 90s bring me back to overalls, fun colors and wacky prints, JNCO jeans, daisy flowers, fanny packs, smiley faces, and let's not forget, friendship bracelets.
Prepare for your 90s party by making some 90s friendship bracelets to share with everyone. Alternatively, have a friendship bracelet making station set up at the party.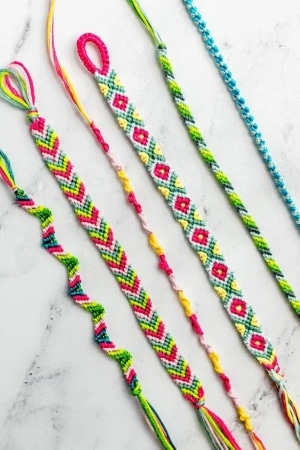 Remember butterfly clips? Of course you do. We don't want to leave those out so make sure to pick some of those up for guests to spruce up their hair at the party.
While we're at it, let's not forget to add the iconic choker necklaces.
For some reason it was all about the gold chains back in the 90s, too.
Our 90s party ensemble would be incomplete without our D.A.R.E. fanny pack!
For the main outfit, try rummaging through your childhood bedroom storage. If you can't find your old windbreaker, D.A.R.E. shirt, JNCOs, overalls, tie-dye, sports jerseys, or wacky patterned clothes, I've found some fun options on Amazon.
Save the Ultimate 90s Party Theme Ideas for Later
Whew, that was a lot of 90s. But I do love the 90s so we had to cover it all. To save this compilation of 90s party ideas for later, simply pin one of the images below or use the social share icons at the top of the page. Thank you for sharing!