3 Easy & Quick New Year's Sugar Cookies
Well, it's just about the end of 2020 and I think we are all ready to say good-bye to the past 12 months! Many of us may be feeling discouraged about what 2021 may bring. I challenge us all to remain optimistic and hopeful for the New Year, there is always something to be thankful for! So with that said, let's ring in the New Year with these quick & easy New Year's sugar cookies! We can celebrate at home with our families and/or roommates, we don't need a big party! Follow along for all the steps so you, too, can create these fun decorated New Year's sugar cookies.
*This post may contain affiliate links, which means I may receive a commission, at no extra cost to you, if you make a purchase through a link. Please see my full disclosure for further information.*
Part 1: Gathering Your Supplies For Your New Year's Sugar Cookies
To create these New Year's sugar cookies using buttercream frosting, you will want to gather:
*Your buttercream frosting should, ideally, be a frosting that "crusts." This means that the frosting will form an outer crust to protect it while traveling. I use the Jenny Cookies recipe that you can find on her blog here: Jenny Cookies Buttercream Frosting. I prefer to use the Wilton gel food dye since gel is more vibrant (i.e. more cost effective because you use less) than liquid and doesn't change the consistency of your frosting. You can get that here: Wilton Gel Coloring 12 Count.
You may be asking, "What are couplers?" Couplers allow you to change your tips on your icing bags. Check out my page, Getting Started: Learn How to Decorate Buttercream Cookies, to learn how to do this. Essentially, you will attach a coupler to each icing bag. When you need to attach a tip, just make sure to rinse out the previous color from the tip with hot water. Purchasing a set of couplers is pretty affordable on Amazon: 4 Count Wilton Coupler Set.
Part 2: Baking the Cookies and Setting up Your Icing Bags
Roll, cut out, and bake your sugar cookies according to your cookie dough recipe. You should be able to make at least 4, but likely more, of each New Year's sugar cookie if you used the recipe I linked above with your dough.
Make your buttercream icing and separate it into two bowls. Mix one bowl with black gel food dye. Pro tip: achieve black frosting by mixing in just enough dye to get to a dark gray color. Cover your frosting with plastic wrap and let it sit out on the counter overnight, or at least a few hours. You will notice that your frosting will darken in color. Less dye means saving more money, better flavor, better consistency, and less likely to bleed onto your lighter frosting colors! You don't need to achieve a true black during this step. If you have a very dark gray, the decorated cookies will crust and be even darker in color. Leave the other bowl of frosting undyed, of course.
Set up your icing bags as follows: Place both your white frosting and your black frosting into their own icing bags, each with a coupler in it. If you aren't sure how to do this, no worries, just hop over to my Getting Started: Learn How to Decorate Buttercream Cookies page. You do not need to add the tips to the couplers yet.
Part 3: The Fun Part! Frosting Your New Year's Sugar Cookies!
*Special Note – make sure to complete each step on all of your New Year's Eve buttercream sugar cookies before moving onto the next step. This saves time and energy since some of the colors will be sharing the same tip and you will need to rinse/dry the tip between color changes.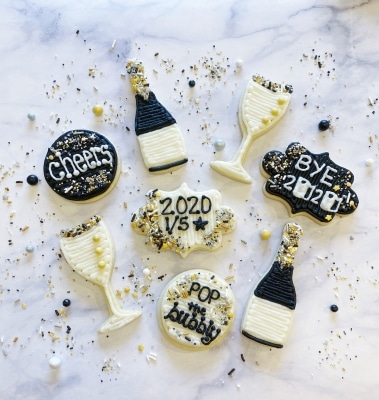 New Year's Sugar Cookies – Written Cookies
Don't be discouraged with writing in buttercream frosting! Buttercream frosting is very forgiving & you can easily erase your mistakes. All you need to do is use a pointed knife to either pick up the frosting mistake and remove it from your cookie (into your mouth?) OR you can roll the frosting where you want it if it's a minor mistake. This is even easier to do if you allow your base layer (the first step below) to crust before you start writing. If you aren't confident in your writing and think it will take a lot of practice, practice writing on parchment paper first. Then, scoop up that icing and place it right back into your bag!
To create black cookies with white writing, simply attach the #5 tip to the black frosting and the #2 tip to the white frosting. If you prefer white cookies with black writing, just flip around the tip sizes. Your first step will be to outline the shape of your circle and/or plaque cookies with your frosting that has tip #5 attached. Then, fill in the shape with that same frosting.
Next, use your frosting with the tip #2 attached to write whatever saying you want. For saying good-riddance to 2020, you can be quite creative with these New Year's sugar cookies! Use the sayings I mention or create your own! Full disclosure: I do not know how to draw toilet paper rolls and had to re-do this many times! But remember, just use a knife to pick up and "erase" any mistakes and you're good to go. I think I eventually got these to resemble toilet paper rolls!
Pour some of the sprinkle mix onto a plate or a clean counter/tabletop. Carefully dip part of your cookie into the sprinkles. If you want your sprinkles to be more precisely placed, use a spoon to pour some sprinkles into the desired place. Pro Tip: Use your sprinkle placement to fix any spacing errors in your writing!
Here are some additional designs I came up with for New Year's sugar cookie sayings! Feel free to use the same or to create your own!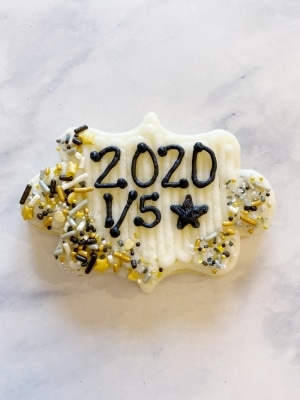 New Year's Sugar Cookies – Champagne Flute
Attach your tip #5 to your white frosting if it isn't already attached. If you used it for the black frosting previously, just make sure to rinse/dry the tip between color changes. Make one line of frosting along the rim of your champagne glass.
Separate your sprinkle mix into two piles, one will have the round balls "dragees" in a pile and the other will have the remaining mix of sprinkles. Dip the frosted part of your cookie into the mixture of sprinkles with everything but the dragees in it. This is your festive rimmed glass! Use your pointed knife to move the sprinkles so they aren't too wonky.
Outline and fill in the rest of your champagne flute with the white frosting, still with tip #5 attached.
Pick out some of the gold balls and create little bubbles in your champagne.
New Year's Sugar Cookies – Champagne Bottle
Attach your tip #5 to your white frosting if it isn't already attached. Outline and fill in a "foil wrapper" along the top of your champagne bottle. Carefully dip the frosting into your mix of sprinkles that doesn't have the balls in it. Then, outline and fill in a rectangle in the center/bottom of your champagne bottle.
Remove/rinse/dry your tip #5 from the white frosting and attach it to the black frosting. Outline and fill in the rest of the champagne bottle.
These New Year's sugar cookies are the perfect skill builder for beginners. Most of this involves piping lines and then placing sprinkles over the top. Sprinkles are great at hiding mistakes, by the way!
I wish you and your loved ones a very happy New Year! Let's start off the year with always looking for the positives in any situation. The first positive will be decorating and then consuming these New Year's sugar cookies, of course!
To save these New Year's Eve buttercream sugar cookies for later, use any of the social share icons at the top or side of this page. Alternatively, hover over the image below and pin it to your Pinterest account. Make sure you're following me on Pinterest, too! buttercream parties | decorated sugar cookie tutorials